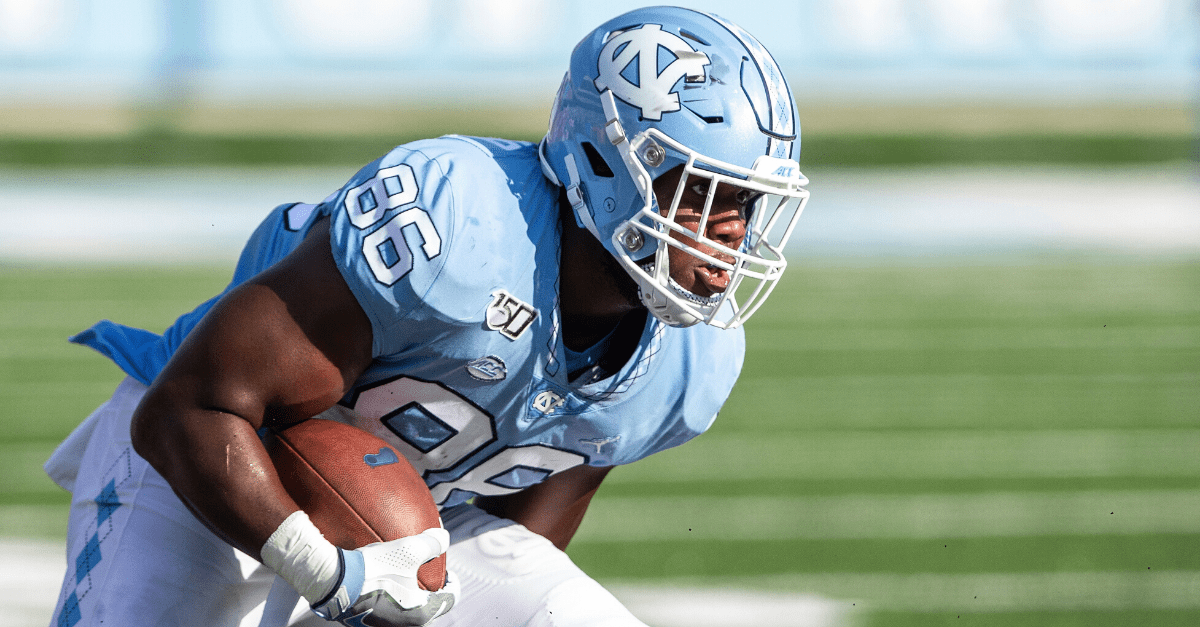 AP Photo/Ben McKeown
The Alabama Crimson Tide will look a little different next season. Head coach Nick Saban is still there and the roster will be loaded with elite talent once again, but some new names will be thrust into the spotlight to help the boys in Tuscaloosa return to the College Football Playoff.
With quarterback Tua Tagovailoa and top targets like wide receiver Jerry Jeudy gone to the NFL Draft, the offense will be the most notable change in 2020. Although there are tons of players ready to keep the SEC powerhouse at the top, adding another weapon never hurts.
That?s exactly what happened. North Carolina tight end Carl Tucker announced he will be a graduate transfer with the Tide for his final season on social media.
TE Carl Tucker Transfers to Alabama
A 6-foot-2, 250-pound tight end from Concord, North Carolina, Tucker was a three-star prospect coming out of high school in the 2015 recruiting class. He wasn?t the biggest target for the Tar Heels offense, by any means, but he was effective during his career playing in the ACC in Chapel Hill.
In four seasons, Tucker caught 36 passes for 549 yards and four touchdowns.
The grad transfer hoping to have a bigger role and impact for Alabama football with his last year of eligibility.
?First, I would like to thank God for the opportunity to be able to play one more year of college football. Second, I would like to thank my family & friends for their endless support. Lastly, I would like to thank all of the coaches who reached out and were willing & ready to give me another opportunity to succeed.

?With that being said, I am excited to announce that I will be attending The University of Alabama for my final year. #RollTide?
According to College Football Talk, Tucker chose Alabama after an official visit last weekend. He chose the Crimson Tide over Florida State and had received interest from the likes of Missouri, Tennessee, Wake Forest and Washington as well.
What Tucker will bring to the Alabama football team next year remains to be seen, but it?s yet another solid offseason pickup for the Crimson Tide.