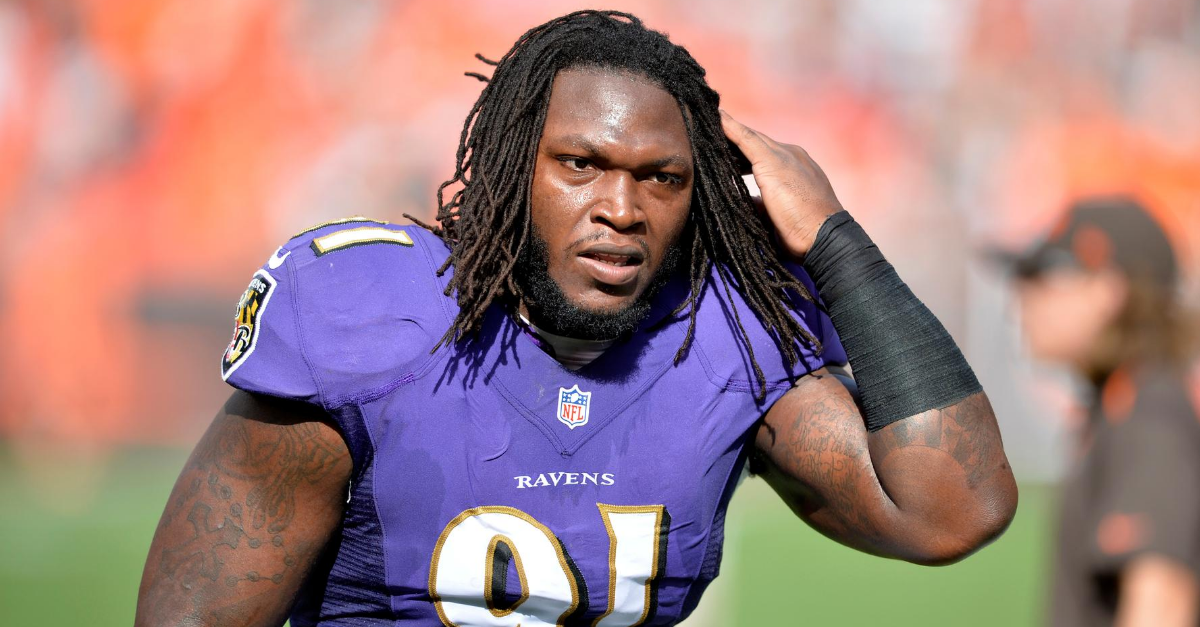 AP Photo/David Richard
Courtney Upshaw is undoubtedly one of the fiercest linebackers to play in the last decade. Wherever he suited up, success followed. He was an amazing college football and NFL player, and now he hopes to have a similar impact during his new coaching career.
Upshaw?s resume speaks for itself. He was an All-SEC and All-American linebacker for the Alabama Crimson Tide with two BCS National Championship rings, won a Super Bowl with the Baltimore Ravens, and helped the Atlanta Falcons reach the Super Bowl as well.
Although he hasn?t played since the 2017 season, Upshaw has returned home to the Yellowhammer State to become a volunteer coach for the UAB Blazers next season.
Former Alabama LB Courtney Upshaw Joins UAB Football Staff
RELATED: Eddie Lacy?s Spin Move TD Made Notre Dame Look Silly
After successful stints and six seasons in the NFL with the Baltimore Ravens and Atlanta Falcons, Courtney Upshaw was released by the New York Jets before the 2018 season and hasn?t played since. It?s a little surprising how someone so dominant left the league so quickly, but the 6-foot-2, 275-pound outside linebacker is here to help the next generation of star football players.
Upshaw, who made nearly $8 million in the NFL, has officially joined head coach Bill Clark?s staff as a volunteer coach for the UAB Blazers in Birmingham. He has reunited with former Alabama teammate and defensive lineman Nick Gentry, who is UAB?s outside linebackers coach, according to 247Sports.
It seems like the perfect fit for a new career.
A native of Eufaula, Alabama, Upshaw dominated at Eufaula High School and took the Tigers to new heights before playing at the University of Alabama for head coach Nick Saban in Tuscaloosa.
In four seasons with Alabama football, Upshaw recorded 141 tackles, including 36.5 tackles for loss, with six forced fumbles and an interception returned for a touchdown. He won an SEC title against Florida on CBS and two national titles for the Crimson Tide, including being named the Defensive MVP in the national championship game against LSU.
Upshaw then became a second-round pick in the 2012 NFL Draft. He immediately helped the Ravens win Super Bowl XLVII and recorded 131 tackles with 7.0 sacks during his six-year career, including four seasons in the playoffs.
Only time will tell if there is an NCAA football season in 2020 due to the coronavirus pandemic and COVID-19 outbreak, or how far the #WeWantToPlay movement led by Clemson quarterback Trevor Lawrence will go, but you better believe former Alabama linebacker Courtney Upshaw is going to help his new football team in a big-time way until a decision has been reached.