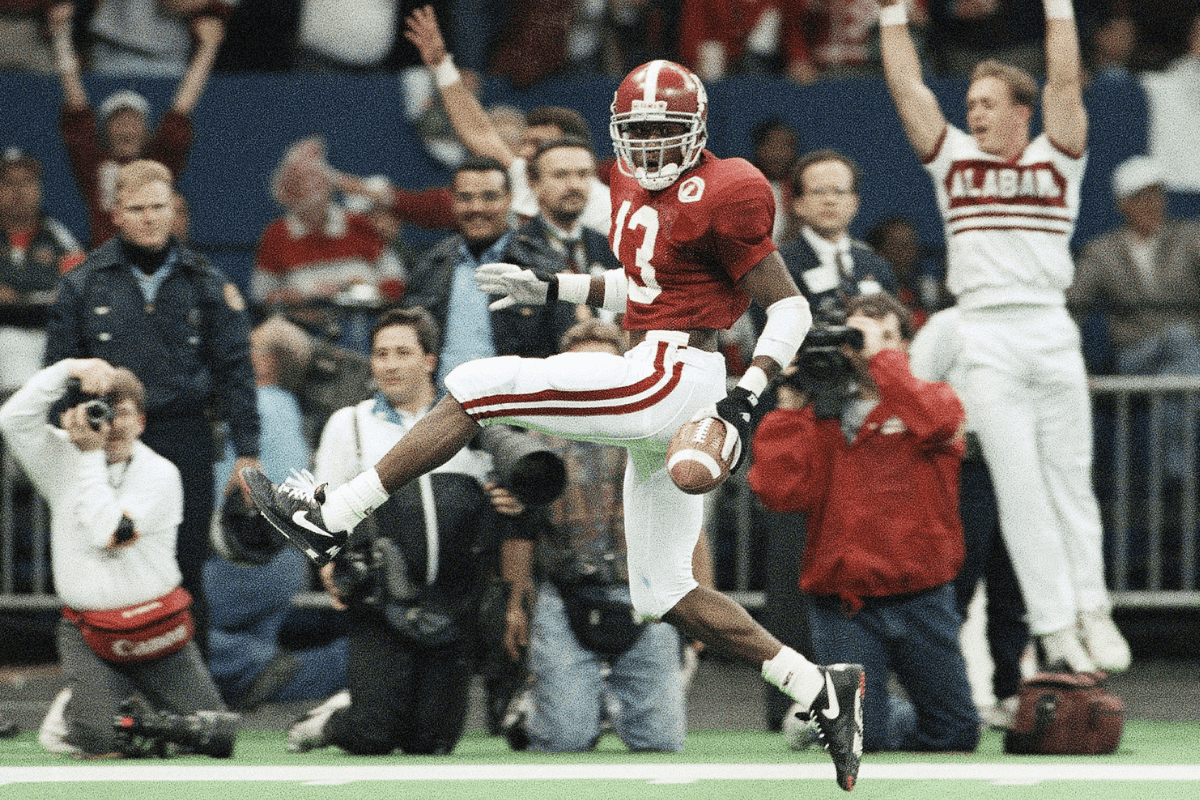 AP Photo/Rick Bowmer, File
George Teague was one of the most integral members of the University of Alabama football team that won a national championship.
"The Strip" play that the defensive back made against Lamar Thomas is one of the greatest plays in college football history. Even though it didn't count, it helped the Crimson Tide knock off the heavily-favored Miami Hurricanes in the 1993 Sugar Bowl.
Now, Teague spends his time as a high school football coach in Texas.
Let's take a look at both his playing and coaching careers.
George Teague at Alabama
Teague was born in Michigan but attended Jefferson Davis High School in Montgomery, Alabama. He was recruited as a cornerback and proved he had a nose for the football rather quickly.
In four years and 45 NCAA games for the Tide, he had 14 interceptions.
Nick Saban has brought Bama to an elite level year after year, but the team was not always a complete juggernaut. The win against Miami was the first championship game won by the Crimson Tide since 1979.
Teague was introduced to the national spotlight for his performance against the Hurricanes. He returned an interception for a touchdown early in the game and then stripped Thomas, preventing him from getting to the end zone.
RELATED: ?The Strip? is Alabama?s Greatest Play That Never Counted
It took a bit of polishing to become a defensive stalwart, but Teague's switch from cornerback to free safety is the reason his career took off. He was a hawk on defense, following the action and swooping in when the time was right.
After being crowned a Second-Team All-American in 1992, the NFL was next on his journey. He was selected in the first round of the 1993 NFL Draft by the Green Bay Packers.
George Teague's NFL Career
George Teague was an impact player for the Packers early on. In his three-year stint in Wisconsin, he made 119 tackles and had six interceptions.
In 1996, Teague was traded to the Atlanta Falcons but was released before he could play a single snap for them.
The Dallas Cowboys scooped him up, and he would become the most well-known during his NFL career while playing on Jerry Jones' squad. He got plenty of work in the NFC playoffs and was great when he participated, especially against the Minnesota Vikings.
However, he is best known for his involvement in a Terrell Owens celebration.
When the San Francisco 49ers wide receiver scored a touchdown and made his way to the midfield logo, it was Teague who tackled him. He is forever a member of Cowboys' lore because of that moment. It is still shown on ESPN countdown shows to this day.
Following the September 11 attacks, Teague proudly ran on the field with an American flag.
For a player who never made a Pro Bowl, he was involved in plenty of iconic moments. His playing career wrapped up in 2001 following stints in Green Bay, Dallas, and a one-year stay with the Miami Dolphins in 1997.
George Teague Now
Today, George Teague is the head football coach of John Paul II High School in Plano, Texas. Following three other stints at Carrollton Christian Academy, Harvest Christian Academy, and Shelton High School, he was named the coach of the Cardinals in 2017 and became athletic director in 2018.
High school football in Texas is incredibly competitive, so it makes sense that a school would look to hire someone with collegiate and professional playing experience.
The team has made the playoffs, but they have yet to win a state championship. The COVID-19 pandemic has been challenging for many, including Teague, but he seems to enjoy his role, no matter how different it may look in 2020.
George Teague was a former Alabama star who had a great NFL career as well. The love of football has a way of following you for your entire life. It is great to see him getting the chance to help young players turn into future stars, too.