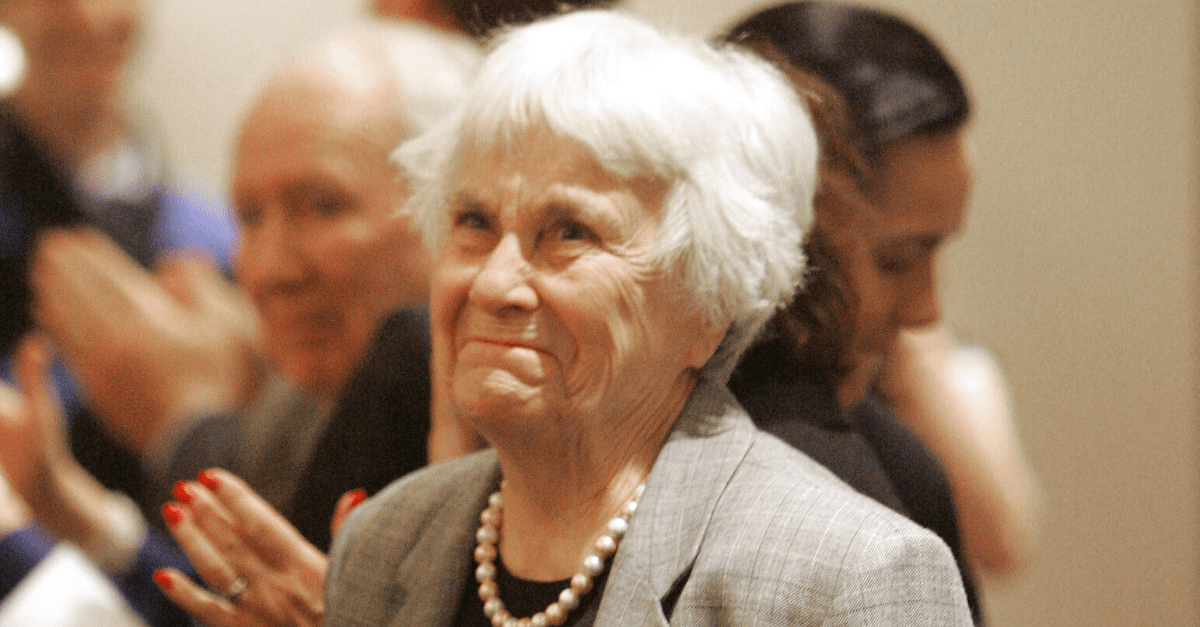 AP Photo/Jamie Martin
If you had to guess who the biggest fan of Alabama football is, you might say any one of these famous University of Alabama alumni. Julio Jones, Mark Ingram, and the rest of the school's former All-Americans aren't bad guesses.
You might even say this viral, Tennessee-hating Crimson Tide fan or Halen Smith, the adorable 8-year-old girl who wants to be an Alabama cheerleader, are diehards. And you'd be right. They are diehards. So is the man who has a giant Nick Saban tattoo on his back and Harvey Updyke, who poisoned Auburn University's oak trees.
But even they don't compare to one of the most recognizable authors in American history, one that you've probably read before: Harper Lee.
Yes, the famed author of To Kill a Mockingbird, one of the must successful novels in history, was a massive Alabama football fan. Just how big? She has a few good stories (surprise, surprise) to back her up.
Harper Lee: Alabama's Biggest Fan
For starters, Nelle Harper Lee said she was a football fan long before she was a writer. When she was a little girl, the Monroeville, Alabama, native used to walk to the bank on Saturdays with her older sister Alice to watch the Crimson Tide square off on the gridiron. She ended up attending Alabama like Alice did.
It wasn't until 1997, as The Mockingbird Next Door: Life With Harper Lee author Marja Mills wrote, that she succumbed to technology and began watching the games on a TV set in her home. She and her sister Alice would watch them in the back bedroom of the house, likely screaming and cussing as any SEC fan should.
Lee listened to Paul Finebaum's radio show on ESPN, and I wouldn't rule out her ever calling in to the show. She even skipped the Cannes Film Festival to meet her idol, legendary Alabama head coach Bear Bryant.
"Bear talked about literature, and I talked about football," Lee said, according to the Wall Street Journal.
Her defining moment as an Alabama football diehard — no THE diehard-est — came at a time when everyone was expecting her next great literary work.
From Pulitzer Prize to Alabama Football Writing
Three years after her iconic novel was published in 1960, and months after it was turned into a movie, the Pulitzer Prize winner finally had her next topic worthy of putting pen to paper. A scandal had rocked the schools of Alabama and the University of Georgia, and Lee had plenty to say about it.
It began with a headline of a story in the Saturday Evening Post that read "The Story of a College Football Fix" that accused Alabama coach and athletic director Bear Bryant and Georgia athletic director Wally Butts rigging a 1962 game between their two schools.
An Atlanta insurance agent named George Burnett accidentally dialed in on a call between the two powerful men and purportedly heard Butts sharing Georgia's game plan with Bryant. Alabama crushed Georgia, 35-0.
Burnett relayed what he heard to UGA coach Johnny Griffith, who then told school officials. Butts then resigned, and the newspaper didn't come out with the expose until March 1963.
Basically the entire Southeast United States was fixated on the scandal, and that included Lee. Of course, she came to Bryant's defense.
"What we don't know is interesting: we don't know what Butts said to Bryant on the telephone! All we have are terrible pronouncements on what was alleged to have been said!" she wrote in one note to literary agents Annie Laurie Williams and Maurice Crain, according to the Wall Street Journal. "The "notes" the eavesdropper took haven't yet appeared in print-only rounds of accusations and denials."
Both men proclaimed their innocence, admitting they indeed spoke over the phone but not about fixing the game. Butts then sued the company that owned the magazine for a whopping $10 million, and ended up winning the case after it went to the U.S. Supreme Court in 1967.
There was never a doubt in Lee's mind that Bryant was innocent. At least he was until someone could prove his guilt.
"On our side of the river, we believe in our dear Bear until he's proven guilty. (After all, he was at Texas A&M) Bear has a half-million-dollar libel suit going against the Post for its article accusing him of fostering brutality, etc." she wrote to Williams and Crain.

"Monroe County's own Leroy Jordan (of Black Angus bull fame), captain of last year's team, says as far as he knows it ain't so. The Jordans have a reputation for veracity in these parts."
Lee Roy Jordan, for what it's worth, came from a city near Lee's. He was one of the most successful Alabama defensive players of all time. The College Football Hall-of-Famer won a national championship with the Tide in 1961, became a first-round NFL Draft pick, and won a Super Bowl with the Dallas Cowboys.
What's hilarious about Harper Lee's infatuation for Alabama football is that it showed a world-renowned author, one who wrote a groundbreaking book about racism in the South, was just like the rest of us.
She tuned in to Finebaum. She was giddy to meet her team's coach. She made damn sure she was in front of a TV on Saturdays. She was as American as it gets.
HarperCollins famously didn't release another book since her first novel until Go Set a Watchman in 2015. Her second novel, which she actually wrote before To Kill a Mockingbird, was set in Maycomb, Alabama, and published a year before she died.
One can only conclude the reason for her 55-year hiatus was that she was more invested in the Crimson Tide. Alabama won 12 national titles since Lee released her best-seller, and she was able to witness multiple periods of dominance in the 1960s, 1970s and 2010s.
Sure, Lee could've been working on a lifetime of novels. But then again, that's why she was the ultimate fan.
Author Harper Lee's Life
Lee was born the youngest of four children to Frances Cunningham and Amasa Coleman Lee in her hometown of Monroeville, Alabama.
She graduated from Monroe County High School in 1944 and left the small town for the all-female Huntingdon College in Montgomery. A year later, she transferred to the University of Alabama in Tuscaloosa but didn't finish a degree.
In 1949, she moved to New York City, a move partly fueled by the advice of childhood friend Truman Capote. Capote, a writer himself for The New Yorker, published In Cold Blood after Lee helped him research material for the book in Kansas. Lee researched a true-crime book herself called The Reverend that was never published.
Much of To Kill a Mockingbird was based on Lee's life. Atticus Finch was based on her father and lawyer A.C. Lee, who once defended two black men accused of murdering a white storekeeper. Gregory Peck, who played Atticus, won an Oscar in the piece of American literature's Academy Award-winning screenplay adaptation.
Many other characters in Lee's novel were inspired by friends and family like Scout (herself), Dill (Truman Capote), Jem and Boo Radley.

To Kill a Mockingbird, which was turned into a successful Broadway play, was wildly popular and still is to this day is assigned reading in English classes. Lee even earned the Presidential Medal of Freedom from George Bush in 2007.
Lee died in 2016 at 89 years old. She was buried in Monroeville, the place that contributed most of the material to her literary success. Maybe more importantly, at least for her, it's where she found her love for the Alabama Crimson Tide.