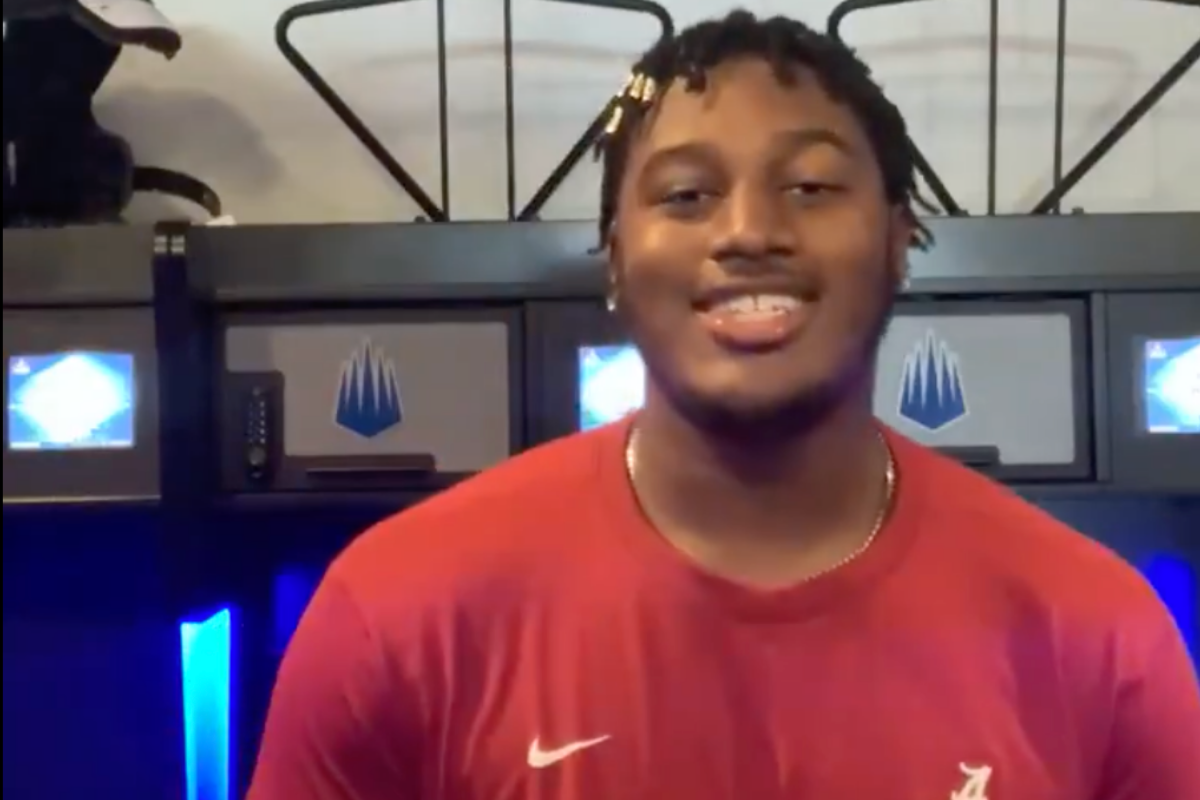 Screenshot from Twitter
With very few exceptions, the Alabama Crimson Tide are one of the best teams in college football each season. They win national championships and churn out Heisman Trophy finalists (including this year's winner Devonta Smith) with impressive frequency.
Playing for head coach Nick Saban means that you will be able to get a taste of success immediately, with the hope that you could one day reach the NFL.
Offensive tackle JC Latham is the latest top player to sign with Bama. The five-star prospect played his high school football at IMG Academy in Bradenton, Florida, and has become one of the most heralded recruits in the entire 2021 recruiting class.
JC Latham Commits to Alabama
RELATED: 5-Star Alabama Signee Will Terrorize SEC Offenses for Years
The Crimson Tide were able to snag JC Latham, but they had a lot of competition.
Auburn, Clemson, Florida, Florida State, Georgia, Georgia Tech, Iowa, Iowa State, LSU, Miami, Michigan, Minnesota, Notre Dame, Ohio State, Oklahoma, Southern Miss, Syracuse, Tennessee, Texas A&M, and Wisconsin all tried to sign the offensive lineman as well.
Alabama won the College Football Playoff National Championship Game against the Buckeyes this year, and as long as Saban is at the helm, the Tide's recruiting classes will be consistently spectacular.
JC Latham Highlights
Offensive line highlights don't trend on social media, but passionate football fans will enjoy watching Latham dominate in the trenches. His athleticism is exceptional for someone his size, and he can work as a blindside blocker with ease.
The 247Sports Composite considers Latham the fourth-best player in the entire class of 2021.
Latham has experience on the defensive line as well, but he will likely shift to the left tackle position once he gets to Alabama.
COVID-19 canceled games and prolonged seasons, but Latham was able to play a full senior year in 2020. He will enter his first year with Bama fresh and ready to make an impact with the Crimson Tide.
JC Latham's tape may not be as dazzling as a stud quarterback or running back, but he is as talented as any recruit in the country, and you can expect his name to be called on ESPN during in the NFL Draft in a few years.