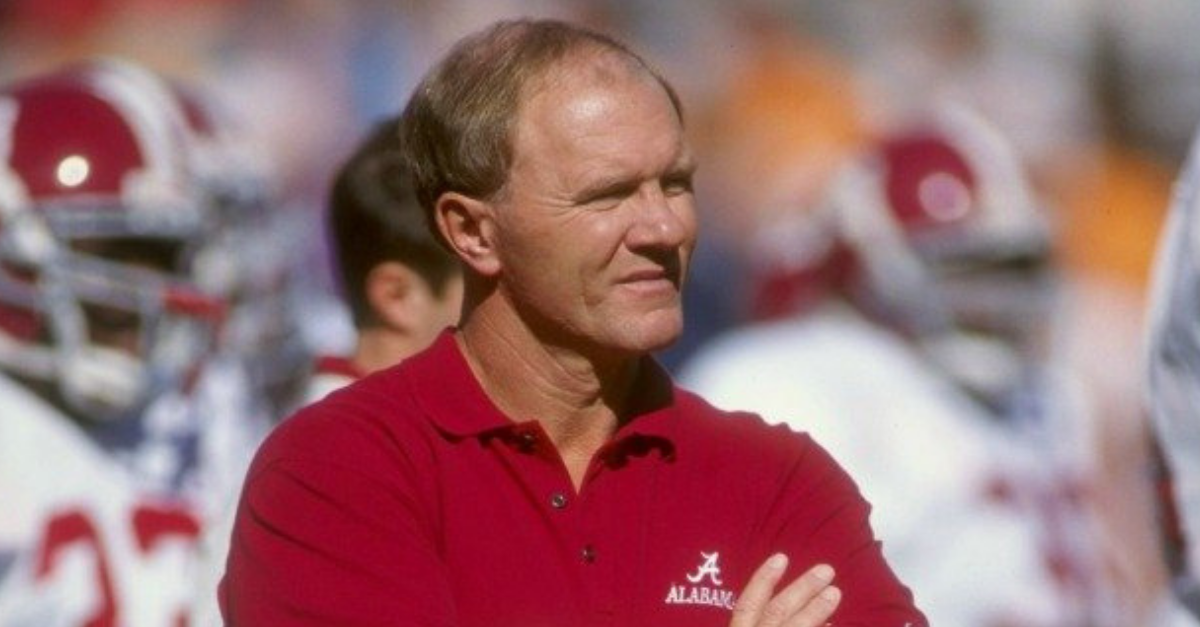 Twitter: BamaOnLine247
Twitter: BamaOnLine247
Former Alabama Crimson Tide head coach Mike DuBose was far from the most successful head football coach in the university's history. The Opp, Alabama native had a short window of success during his tenure from 1997 to 2000, but otherwise he is largely remembered for a recruiting debacle that left the once proud program with sanctions, scholarship reductions and even more questions following three disappointing seasons in four years.
DuBose hasn't been a head football coach in college since, but he's kept busy coaching high school football back in his home state. DuBose has been able to dodge bullets from his past before, but while he was cutting grass on a family-owned property in Covington County, Alabama, the 65-year-old Crimson Tide alum accidentally shot himself with a .38 caliber handgun.
According to the Covington County Sheriff's Office and WAAO radio in Andalusia, AL, DuBose underwent successful surgery at Southeast Medical Center in Dothan after his gun accidentally went off. DuBose's injuries are considered non-life threatening.
"The family member said the pistol was being used for protection against snakes while cutting grass on the farm. Somehow, the pistol accidentally discharged while he was riding the mower, striking Dubose and eventually lodging in the clavicle area of his body. The family member also confirms the shooting was not related to a hunting accident. The Covington County Sheriff's Department confirms Coach Dubose drove himself to Mizell Memorial Hospital in Opp where he was flown to a Dothan hospital for further treatment and surgery to remove the bullet." — WAAO
To get shot and then have the guts to drive yourself to the hospital can only come from a tough and gritty Alabama native who played football for head coach Bear Bryant in the 1970s.
DuBose's Alabama connections run deep, as he played defensive line for the fabled Alabama head coach from 1972 to 1974, racking up 129 tackles, eight forced fumbles and six fumble recoveries. Over that three year span, Alabama went 32-4 and finished in the Top 10 every season.
After coaching stints at colleges like Southern Missouri and Memphis, and a four-year tenure coaching defensive line for the Tampa Bay Buccaneers, DuBose was named head football coach at Alabama in 1997.
The team was handicapped with scholarship restrictions leftover from the Gene Stallings era, and DuBose's team stumbled to 4-7 record in his first season. In 1999, Alabama surged back to prominence with a 10-3 record, winning an SEC Championship over the Florida Gators, and finishing No. 8 in the final AP Poll.
The following season, after a 3-8 flop, DuBose was fired, but left a huge mess behind him. While not directly implicated himself, the university was hit with sanctions for violations surrounding the recruitment of Albert Means that included losing 21 scholarships over a three-year span, a two-year postseason bowl ban, and five years of NCAA probation.
DuBose's time at the University of Alabama is better known for his playing days than the coaching ones, but he's still a member of the Crimson Tide family and has close ties across the state.
Nothing but the best and a speedy recovery to the Crimson Tide alum.