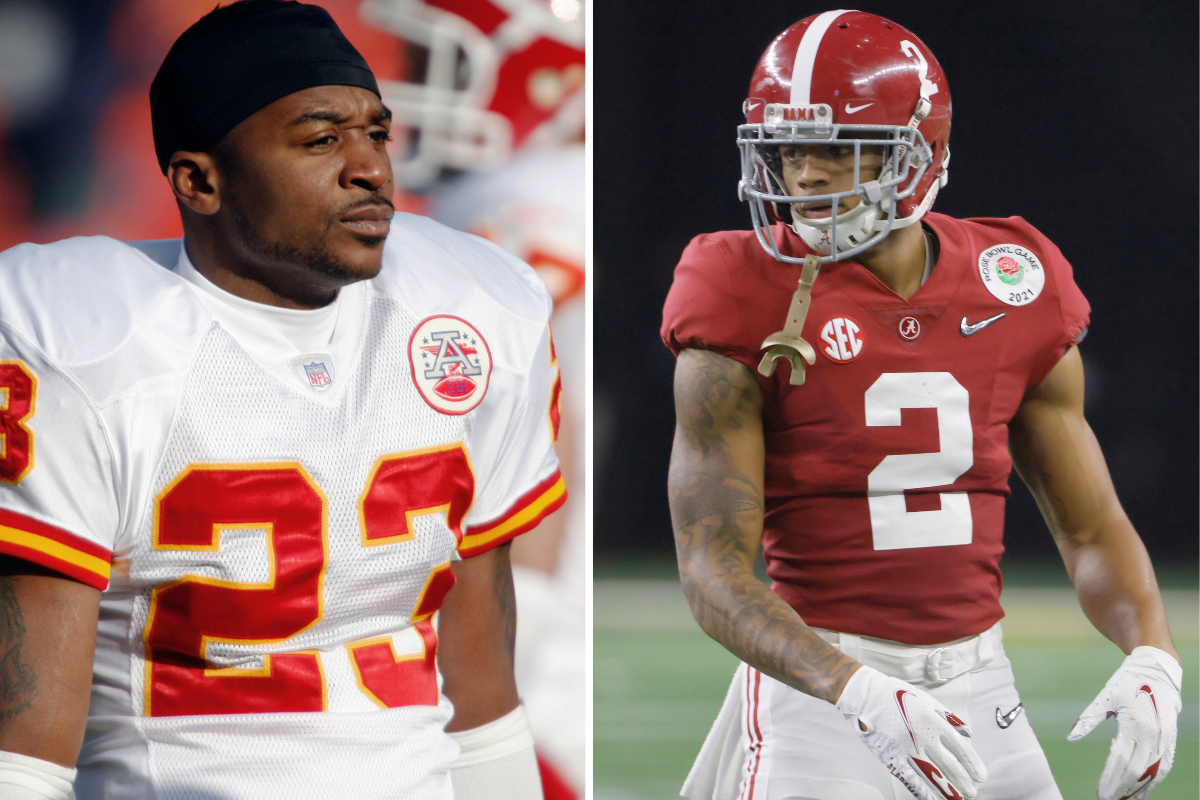 AP Photo/David Zalubowski (left), AP Photo/Ron Jenkins (right)
Alabama Crimson Tide star cornerback Patrick Surtain II has enjoyed a tremendous career in Tuscaloosa, starring on Nick Saban's defense for three seasons.
The Florida native is set to make the jump to the NFL in 2021, but surprisingly, he won't be the first of the Surtain men to play in the league.
Patrick Surtain II is following in his father's footsteps, as his old man had an illustrious 11-year career in the pros.
Early Life and College Career
RELATED: Mac Jones' Parents Were College Athletes Before He Was
Patrick Surtain II was raised in Plantation, Fla., and attended American Heritage High School, under the coaching staff of his own father.
Surtain II was a five-star recruit, and the defensive back opted to take his talents to Tuscaloosa, joining one of the most elite defenses in the nation.
While at Bama, Surtain was immediately given reps on the field, playing in 39 games across his three years at the program. During that time he racked up 113 tackles, four interceptions, four forced fumbles and 23 passes defended.
He was crowned 2020 SEC Defensive Player of the Year, and is projected by mock drafts to be selected in the first round of the upcoming 2021 NFL Draft after he takes on Ohio State in the College Football Playoff National Championship Game.
Patrick Surtain Sr.
The elder Surtain, who grew up in New Orleans, earned his ticket to the league via Southern Miss. He was a second round pick in the 1998 NFL Draft and played at a high level up until his retirement in 2008.
Surtain was a three-time Pro Bowl cornerback for the Miami Dolphins, and earned First Team All-Pro honors in 2002. He spent seven seasons in Miami, logging 82 starts, before joining the Kansas City Chiefs in 2005, where he'd play his final four seasons as a professional football player.
Throughout his career, Surtain recorded 37 interceptions, eight forced fumbles, two touchdowns, and 547 tackles, while making the playoffs in five separate seasons.
After his football career concluded, he focused on coaching, and ended up becoming the head coach for his son's high school football team.
The bond between the Surtain men is certainly strong, and the younger Surtain will use what he learned from his father as he tries to produce an equally admirable NFL career.
The Jaguars and Jets might pass on him in the first two picks in favor of Clemson's Trevor Lawrence, Ohio State's Justin Fields, or maybe Heisman Trophy winner DeVonta Smith, but Surtain will certainly hear his name called early and will live out his dream.