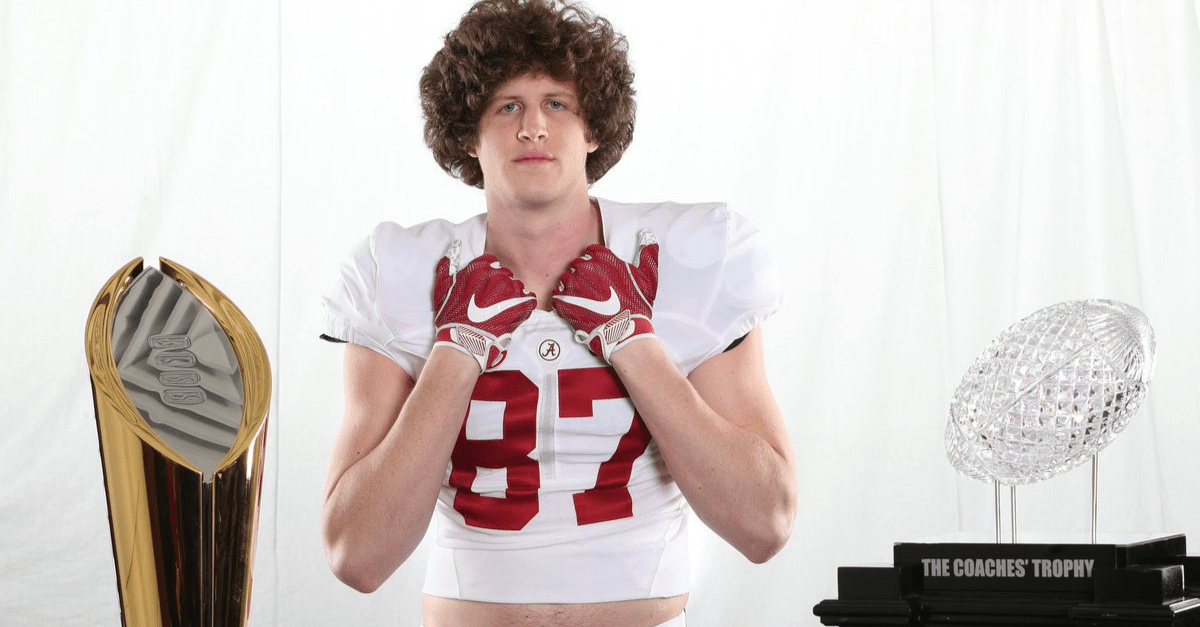 Twitter: Richard Hunt
Alright, so it's a well-known fact that the Alabama Crimson Tide wrangle up the most elite talent in the country every year. They have the top-ranked recruiting class once again heading into 2019, highlighted by the nation's No. 1 running back in Trey Sanders. Nick Saban's unstoppable machine is prepared to once again slap every nonbeliever right in the face as they inevitably race towards another top-10 finish and College Football Playoff berth.
They'll also be doing it with the greatest preferred walk-on in NCAA history: Richard Hunt.
Not to be confused with the Muppet guy, the incoming freshman tight end from Eads, Tennessee (just east of Memphis) is listed at 6-foot-7 and 232 pounds, plus he looks like he's part Andy Samberg and part Rob Gronkowski. Hunt needs a lot of grooming before he's ready to compete in the Southeastern Conference, mostly because he's only been playing football FOR ONE YEAR.
With a name like Dick Hunt, nothing short of a Heisman Trophy, first-round NFL Draft grade and hundreds of highlights would be a disappointment for the University of Alabama.
RELATED: The 11 Craziest Trick Plays in College Football History
According to his MaxPreps profile, Hunt caught only nine passes for 142 yards and four touchdowns during his senior year at Briarcrest Christian High School. His natural size and athleticism on the basketball court did help Briarcrest capture the Tennessee DII-AA State Championship over four-time defending champion Brentwood Academy this past year.
Hunt says he was convinced to play football his senior season by Briarcrest quarterback Jackson Walker, and it sure paid off for the mammoth tight end prospect in the end.
Hunt chose to walk onto the Alabama football team over Tennessee, Arkansas, Mississippi State, Ole Miss, South Carolina and LSU.
"Just sitting down talking with Coach Saban and him telling me the opportunity," Hunt told BamaOnLine about his decision. "Of course he's one of the greatest coaches ever, if not the greatest coach. The way he runs things is just ridiculous. It just made me decide on Alabama."
You might not see him in action for a few years, but when he finally gets the green light from Saban and company to take the field, no one in the SEC, or the country for that matter, will be safe from the man, the myth, and the legend that is Richard Hunt.
WATCH: