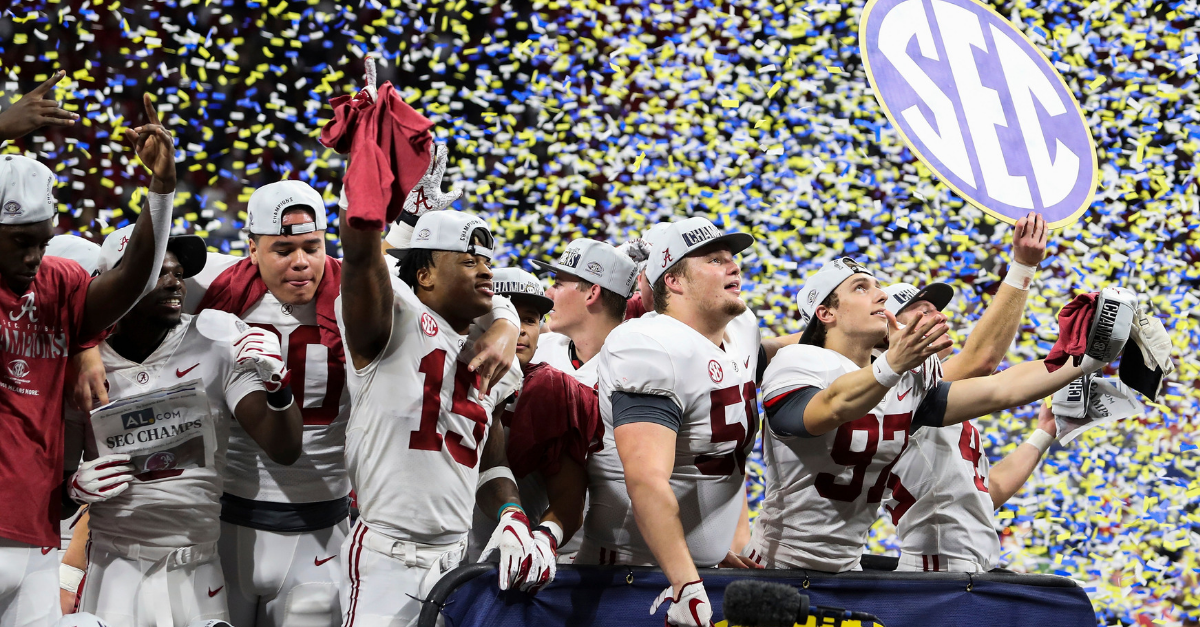 AJ Reynolds/Athens Banner-Herald via AP
AJ Reynolds/Athens Banner-Herald via AP
As Oklahoma quarterback Kyler Murray walked on stage in New York City to claim the Heisman Trophy, many college football fans cried foul that a historic start, rarely playing in the fourth quarter, and all the positive characteristics that accompany being a Heisman winner still didn't deliver Alabama quarterback Tua Tagovailoa the trophy. Some even thought Ohio State's Dwayne Haskins deserved it more, but that's a different argument.
When you step back and consider the fallout from Tua not winning the award, though, the electric sophomore quarterback is actually going to benefit from not earning college football's top individual honor, and there are three big reasons why it was the best case scenario for Alabama.
1. No Rush to Return Post-Surgery
After watching from the sidelines as quarterback Jalen Hurts brought the Crimson Tide back from behind to knock off the Georgia Bulldogs in the SEC Championship game, Tagovailoa's ankle injury turned out to more serious than many thought. Tua underwent surgery to correct the high ankle sprain, almost an identical procedure to the one Jalen Hurts underwent in late October.
Wearing a walking boot while he accepted the Maxwell and Walter Camp Awards — two national player of the year honors — Tagovailoa's recovery was expected to take a minimum of two weeks. With the College Football Playoff semifinal on December 29, Tua can now afford extra rest and not face any added pressure to come back to action too soon.
2. All the Pressure is On Kyler Murray
The two-sport athlete has been crowned as one of the best college football players to ever come through Norman, Oklahoma, and the world will be watching as he faces by far his toughest test in the Orange Bowl. While not talked about nearly as much as the Crimson Tide offense, Alabama's defense is the fourth-ranked scoring defense in the country and allow 295.4 yards per game, which ranks 10th in the FBS.
Murray hasn't seen anything like Alabama, and now that he's the Heisman Trophy winner, he definitely has yet to feel this kind of pressure before. The Sooners have to rely on Murray and his 51 total touchdowns to win this game. With a MLB career waiting on the other side of this season, Oklahoma's star QB is surrounded with distractions. He's already exceeded expectations far and above what many thought was possible this year, and now he's going to be the brightest star on the biggest stage.
3. The Alabama Revenge Tour is On
If Alabama actually needed bulletin board material to get up for the national semifinal, they got plenty of it when Kyler Murray's name was called in New York City. This is arguably the most dominant college football program of all time under head coach Nick Saban, and they got that way because they're a complete, cohesive team.
Alabama players will rally behind Tagovailoa if for no other reason than they'll be playing Kyler Murray and the Oklahoma Sooners with a College Football Playoff national championship berth on the line. Also, this will be the fourth time Alabama and Oklahoma have played each other since 2002, and the Sooners have won all three.
Alabama's Tua Tagovailoa may only be the 2018 Heisman Trophy runner-up, but maybe that's exactly the added fuel the Crimson Tide needed.