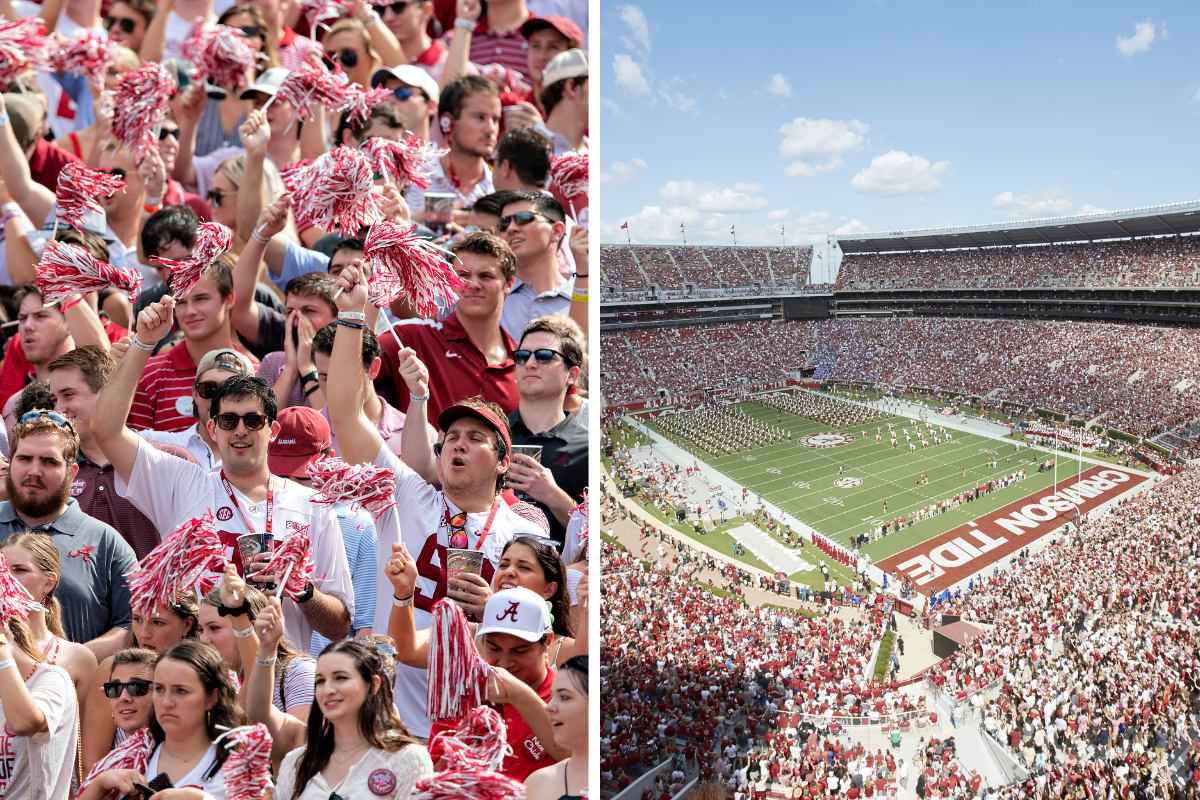 Wesley Hitt/Getty Images (left), Jason Parkhurst /Sports Illustrated via Getty Images (right)
Any college football team who pulls off an upset has the right to rush the field. Rushing the field is a time for fans to celebrate with players on the same stage they just pulled off a miracle.
It's exhilarating. It's adrenaline-inducing. It's the worst-case scenario for those who love field goal posts. It can get a tad dangerous and expensive.
Rushing the field is reserved for when the big boys march into an underdog's home and fall short. Some teams don't know what the word underdog means. When that's the case, rushing the field is a foreign concept.
Just ask the Alabama Crimson Tide.
Why Don't Alabama Fans Rush the Field?
RELATED: If "Rammer Jammer" Plays, Alabama Just Beat the Hell Outta You
There's a statement that circulates whenever someone celebrates a win about acting like you've been there before. Well, Alabama has been there before. A lot.
The reason Alabama fans don't rush the field is quite simple: They're freaking Alabama. The Tide is second in all-time wins in college football history behind Michigan. They built a storied program under Bear Bryant and became a juggernaut under Nick Saban. The Tide have rarely been in a position where storming the field would even cross its mind.
"Saturday Down South" broke it down before the 2016 season:
"Alabama has never rushed the field and, barring some ridiculous period of irrelevance, probably never will. Because Alabama is often the butt of field storming, it's easy to see why fans would view their team as above it."
Alabama has been the favorite in every single game since SDS published that article, according to Covers.com. They've only been a single-point favorite five times in five years, which is downright insane. There hasn't been one opportunity where Alabama would rush the field, and even if there was, it wouldn't happen. Meanwhile, fans from Florida, Georgia, LSU, Arkansas, Auburn, Ole Miss, Kentucky, and South Carolina are chomping at the bit to rush the field after a victory over Bama.
That's more than okay with Alabama fans. Leave the rushing of the field to those who haven't been there before.
Related Videos