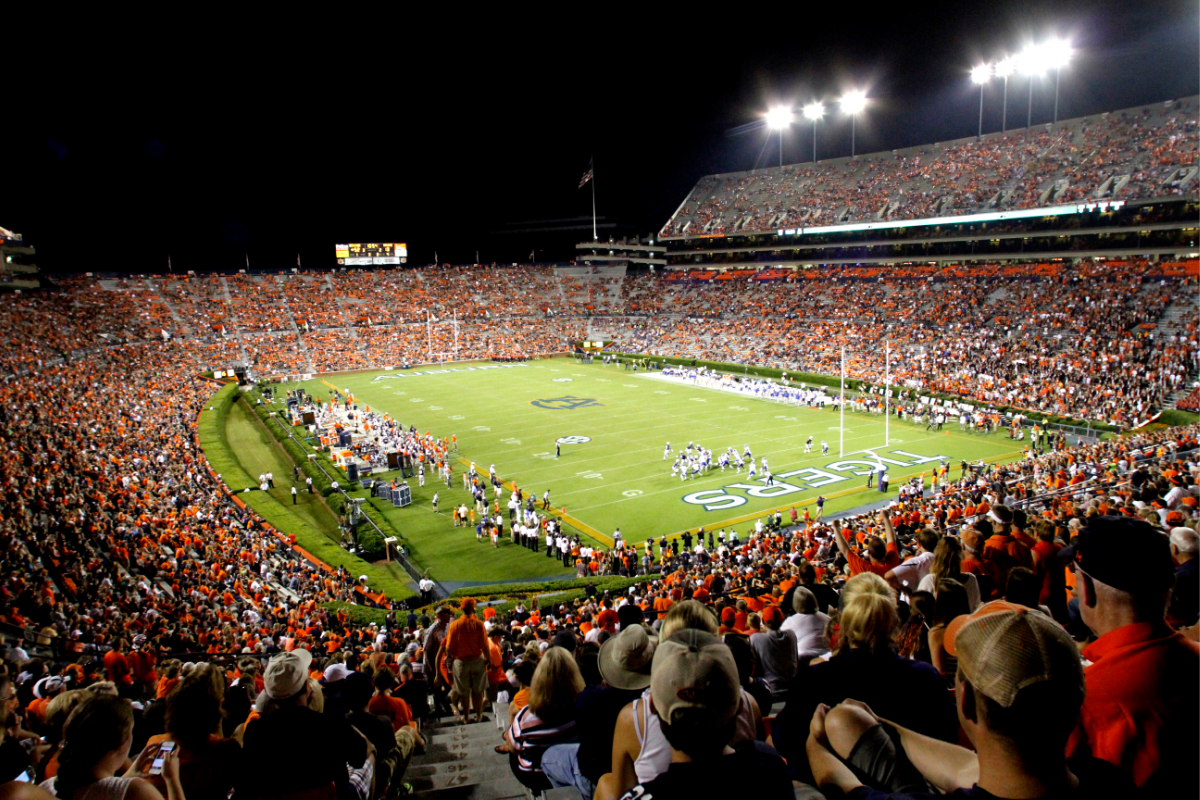 AP Photo/Butch Dill
Auburn University is home to iconic traditions, great memories, and the happiest college in America. Everything about The Plains is special and what makes the college football program great extends beyond the lines inside Jordan-Hare Stadium. The football facilities are second to none and they are only going to get better.
On the corner of Samford Avenue and Donahue Drive is the Auburn Athletics Complex, a 100,000 square-foot facility where so much magic happens. Staff offices, including athletics director Allen Greene, are in there. So are the digital media people who make all of those amazing hype videos.
Being in the Southeastern Conference certainly has its perks, and the virtual tour then-Auburn football co-defensive coordinator and linebackers coach Travis Williams gave in March 2020 is proof how good Tigers? student-athletes have it at times. The best is yet to come, though, because a $91 million facility is on the way.
Auburn Football Facilities Virtual Tour
RELATED: Jimmy Buffett Learned Guitar at Auburn University (So He Could Meet Girls)
Have you ever wanted to see where former Auburn Tigers head coach Gus Malzahn got his team ready for big SEC games against Alabama, LSU and Georgia? How about what the players do when they are not practicing or in class? This tour gives a small glimpse into the football operations.
From the players lounge to the locker rooms to the weight room to the indoor practice facility, this tour allows fans a tiny peak into some of its features.
Oh, and this is just Episode 1 of the tour. While everyone is quarantine due to the coronavirus (COVID-19) outbreak, Auburn is still recruiting big-time high school prospects virtually. Just wait until they see the Harbert Family Recruiting Center at Jordan-Hare Stadium and other team meeting rooms, too.
Some of these things are temporary, too. Allen Greene and the Auburn Board of Trustees are still ?full-steam ahead? on a new $60 million football performance center, according to 247Sports. The new football facility is going to be epic.
?We are grateful for those who have stepped up in support of our vision of a state-of-the-art football performance center. Moving forward, we are confident the Auburn Family will continue to respond to make this project a reality.?

? Auburn Athletics Director Allen Greene, via 247Sports
The athletics department is ready to give the football team even more things to brag about.
Auburn's New $91 Million Facility
UPDATE (January 28, 2021): That new Football Performance Center? Yeah, it's actually expected to cost more than $91 million. A nice $91.9 million, according to AL.com's Tom Green.
Inside will be a locker room that looks like a Las Vegas casino, a (totally necessary) barbershop and not one, but TWO recording studios. Will Bryan Harsin drop a diss track about Alabama head coach Nick Saban before the Iron Bowl? Stay tuned to find out.
This shiny new complex featuring an indoor practice facility and two turf fields is on track to be finished by July 2022. It covers a total of 12.5 acres and 233,400 square feet, according to AL.com.
I'm not sure how necessary some of those rooms are, but hopefully future recruits will like them.