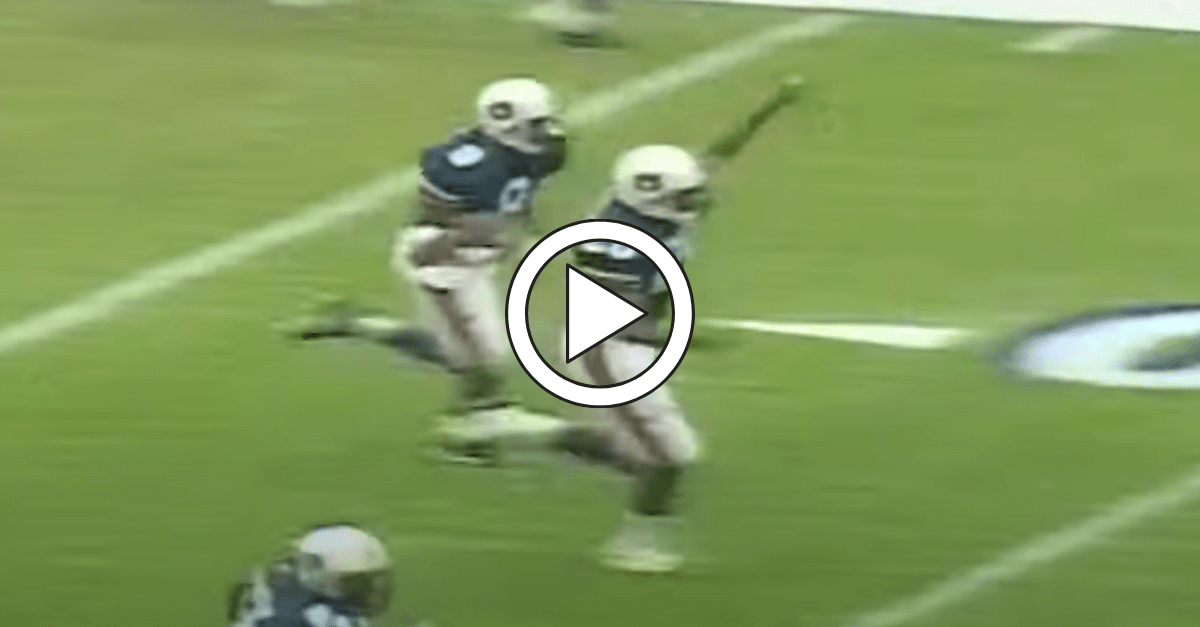 Screenshot from YouTube
For the Auburn Tigers, the 1993 football season was magical. Not only did they go 11-0 under first-year head coach Terry Bowden, but they also earned a national championship. None of that would have been possible without the upset over the Florida Gators.
What many remember about that October night at Jordan-Hare Stadium is the 41-yard field goal by kicker Scott Etheridge late in the fourth quarter to give Auburn the lead and ultimately the victory. However, that might not have happened without defensive back Chris Jackson's interception return for a touchdown.
The momentum shifted to the Tigers, if only for a second, but it was enough for Auburn to believe it could make it happen.
Calvin Jackson's Pick Six vs. Auburn
RELATED: Damon Duval's Field Goal Upset No. 1 Florida and Caused Goal Post Mayhem
Already up 10-0 in the first quarter, the fourth-ranked Florida Gators were rolling and looking to put more points up on the scoreboard. Head coach Steve Spurrier's "Fun 'n Gun" offense with quarterback Danny Wuerffel was hard for anyone in NCAA college football to stop, especially the Auburn Tigers early.
Then, on second down deep in Auburn territory, Wuerffell threw a pass intended for wide receiver Willie Jackson. Instead, he threw it right to Calvin Jackson and the Tigers cornerback was off to the races for a 95-yard touchdown.
Instead of a 17-0 or 13-0 game, Auburn football made it 10-7 and provided a glimmer of hope. Florida still took a comfortable halftime lead, but the second half was a completely different story in the SEC rivalry.
Behind quarterback Stan White, tailback James Bostic, and wide receiver Frank Sanders, the Tigers' offense came to life, the defense held strong, and a 38-35 upset was the result.
After the win, Auburn University went on to beat Arkansas, New Mexico State, Georgia, and Alabama in the Iron Bowl. The Tigers finished with an undefeated season.
Who knows what would have happened if Calvin Jackson didn't intercept that ball.