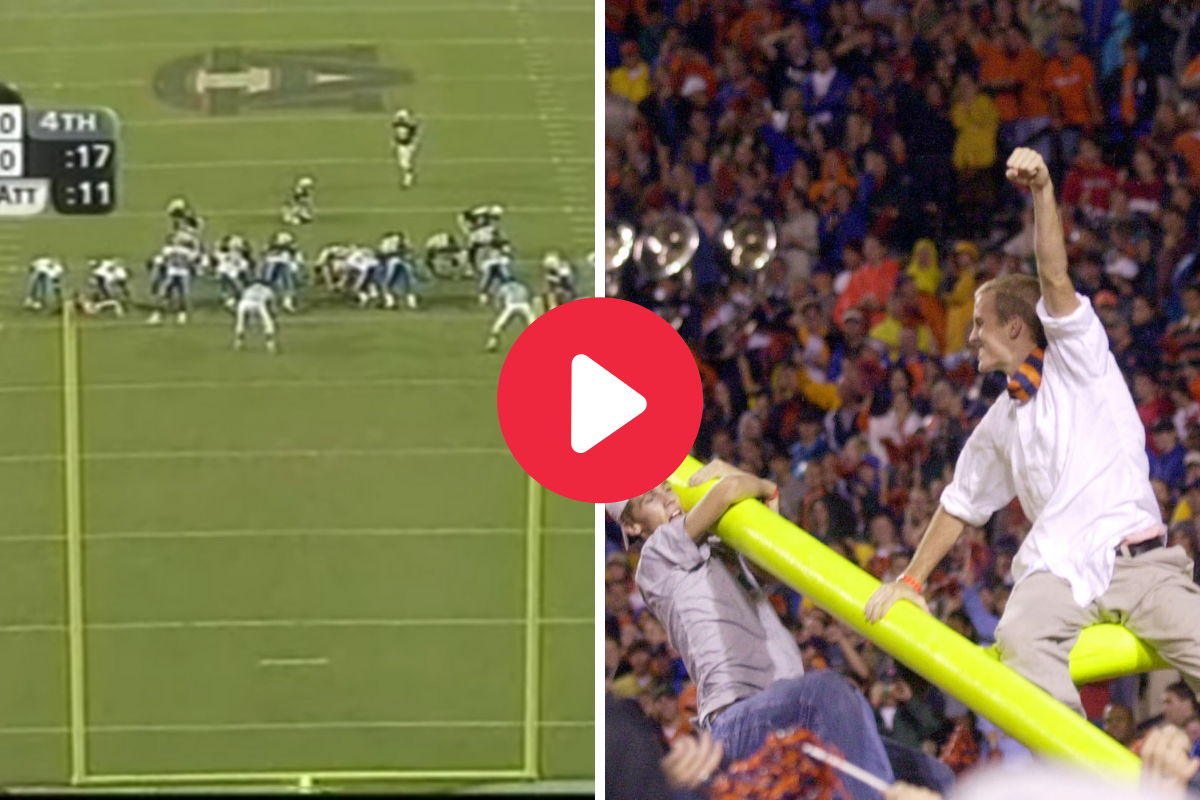 Screenshot from YouTube (left), AP Photo/Dave Martin (right)
With so many terrific, nail-biting college football games throughout the history of the Auburn Tigers football team, some likely get lost in the shuffle in our memories. Games like "The Kick Six" against Alabama, "The Prayer at Jordan-Hare" against Georgia, "Bo Over The Top" and the 2010 BCS National Championship are engrained in our heads forever.
But did you forget the 2003 Iron Bowl that Cadillac Williams opened with an 80-yard touchdown? How about when Cam Newton produced his "Heisman Moment" and toppled LSU? And you'd have to dig deep into the archives for the very first Iron Bowl at Jordan-Hare Stadium in 1989.
One game that often gets overlooked is the Auburn-Florida clash in 2001, when an unranked Auburn University somehow took down the No. 1 Florida Gators. Fans likely remember it well because of the chaos that ensued after the victory.
Auburn vs. No. 1 Florida, 2001
Let's start with the teams here. Top-ranked UF was led by head coach Steve Spurrier, Heisman runner-up quarterback Rex Grossman, two 1,000-yard wide receivers in Jabar Gaffney and Reche Caldwell and a defense loaded with NFL players. They came to Auburn undefeated after pummeling Mississippi State in The Swamp in Gainesville and LSU in Baton Rouge.
Then you had Auburn, who entered the game 4-1 after a loss to Syracuse a few weeks prior. The Tigers trotted out Daniel Cobb under center and relied on backs like Casinious Moore and Cadillac Williams.
Nobody gave the Tigers a shot. Even Auburn head coach Tommy Tuberville called the Gators "loaded" that year. This was truly a David vs. Goliath NCAA game.
What helped Auburn is that it rained heavily on The Plains that night. Wind and rain turned what was supposed to be a cakewalk into a close game. In fact, the teams were tied at 20-20 with 12 minutes left in the fourth quarter following Grossman's 80-yard touchdown pass.
Both teams played sloppily throughout the first quarter, second quarter and into the second half. Fumbles plagued Auburn, but what proved to be key was Grossman's late interception to Auburn linebacker Karlos Dansby. The Tigers then drove down field to set kicker Damon Duval up for a chance to win it on a 44-yard field goal.
Damon Duval Game-Winning FG
RELATED: Michael Dyer?s ?Was He Down?? Run Sealed Auburn?s National Title
With the wind playing a factor, Duval told Tuberville to trust him. He knew what to do.
"The wind was blowing from our home side across the field and Florida called timeout," Tuberville said in a release. "I called Damon over and he said, "Coach, I got it. The wind's blowing and I'm going to have to play it wide right, but I'm going to try to hook it back in there."
Boy did he ever.
"When he kicked the ball, it had to be at least ten to twelve yards right of the goal post and it perfectly hooked center-cut right through the middle," Tuberville said in a release. "As soon as it goes through, we win the game and everybody runs on the field and the good Lord opened the skies and it rained like it hasn't rained in Auburn since."
The ball may have split the upright, but the upright didn't stand upright for much longer.
Auburn upset the No. 1 team in the country, 23-20, and fans inside Jordan-Hare Stadium went absolutely ballistic. After the final seconds ticked off the clock, fans rushed the field and uprooted the south end zone goal post. Some even rode the dang thing like a horse.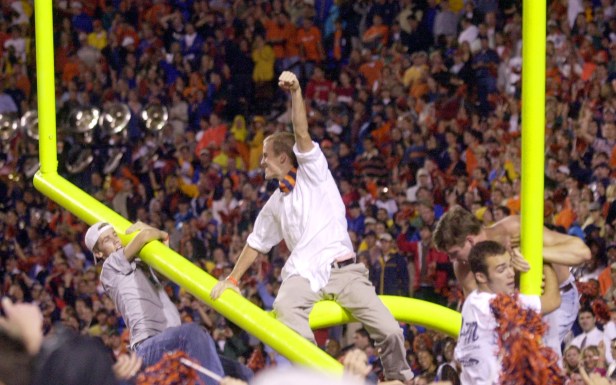 Wow, what a freakin' blast that looks like.
You won't see that anymore. The Southeastern Conference now imposes some heavy fines and punishments to its SEC member schools for rushing the field because uprooting a goal post can be dangerous and sometimes deadly.
Auburn finished the season an average 7-5. Florida later lost to Tennessee, who played LSU in the SEC Championship game in Atlanta. But there's no doubt that this upset victory is one of the greatest in Auburn football history. It was voted the best in the Tuberville era, and even he outlined why it was important.
"That was an exciting game and it was a game in my career that we hadn't beat a team of Florida's stature," he said in a release. "They were the team to beat in the late 1990s and early 2000s. That game put us on the map of credibility and what we were doing and how we were doing it."