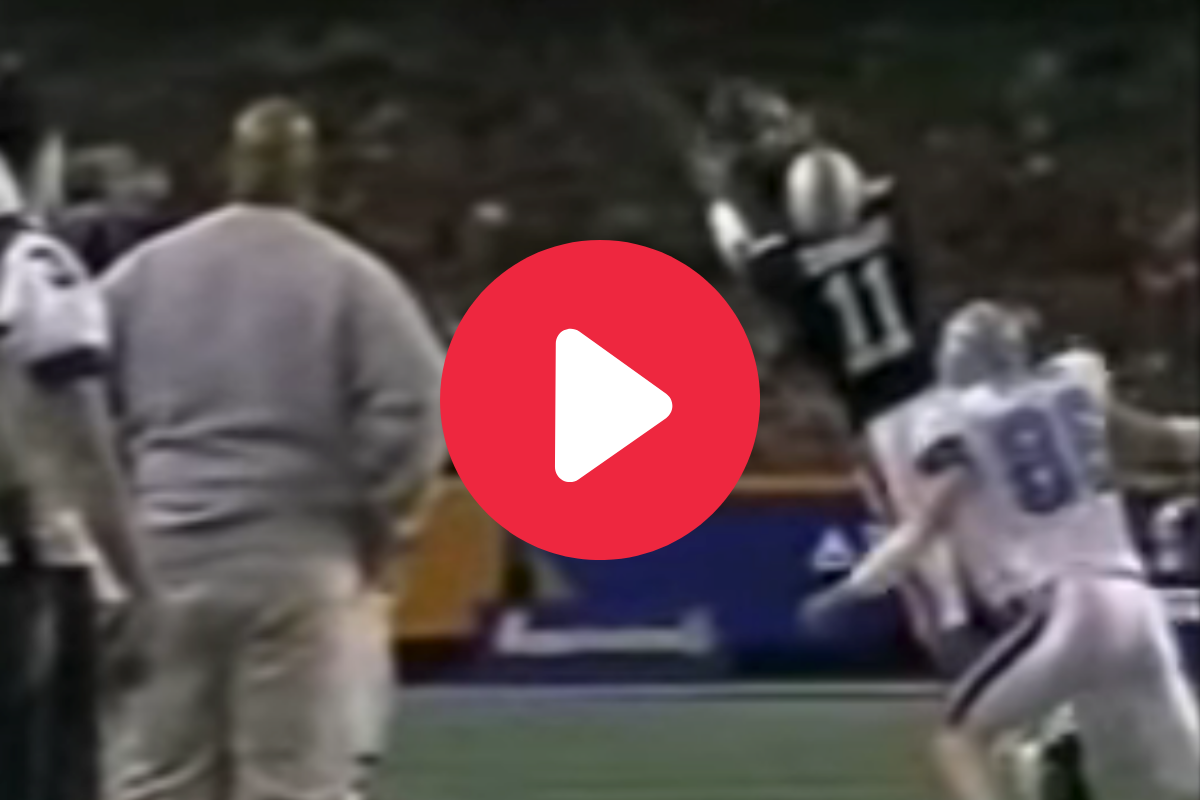 Screenshot from YouTube
Do you remember the kids who could seemingly do anything in backyard football?
The kids who somehow ended up making the catch if the ball bounced off five players' feet, a shoulder, an elbow and a head. You know, the kids who grow up to be college football stars.
Karlos Dansby was that kid.
The only difference is he did it in a college football bowl game instead of at recess.
Karlos Dansby's Assisted INT vs. North Carolina
RELATED: Courtney Taylor Set Receiving Records at Auburn, But Where is He Now?
The Auburn Tigers and North Carolina Tar Heels were squaring off in the 2001 Peach Bowl on ESPN. The Georgia Dome in Atlanta, Georgia was scattered with navy, orange and tar-heel blue.
UNC held a 10-0 lead and was driving at the end of the first half. Quarterback Darian Durant was looking to put another touchdown on the board.
He went into play action and looked for an open man while rolling to his right. He made a pass-rusher miss before he fired to a receiver on the sideline. There's just one problem.
Auburn linebacker Karlos Dansby jumped the passing lane to make the interception. Now, he had a problem of his own. He was falling out of bounds. He wasn't sure if he could maintain possession. So what did he do? He tossed it to fellow linebacker Dontarrious Thomas, who advanced the ball toward midfield.
It's the alley and the oop. The set and the spike. The pitch and the catch. The falling out of bounds and somehow finding your teammate.
Dansby's play baffled the referees. They all huddled to confer.
"Ugh, what just happened?" the side judge likely asked.
They all shrugged their shoulders. A few minutes later the group of zebras ruled that it was an interception but penalized Dansby for an illegal forward pass.
Forward pass, schmorward pass. Do style points mean anything anymore?
Dansby led the Southeastern Conference in interceptions that year with five, as a linebacker nonetheless. Pretty impressive, though his postseason pick was made for the highlight reel.
Auburn ended up losing the game 16-10. However, there was a reason for optimism. Head coach Tommy Tuberville knew he had a special player on his hands. Dansby?a Birmingham, Alabama native?was only a sophomore, and the schoolyard play was a preview of the first-team All-American season he would have a few years later.
It's one of the many great plays from one of the all-time greats in Auburn school history.