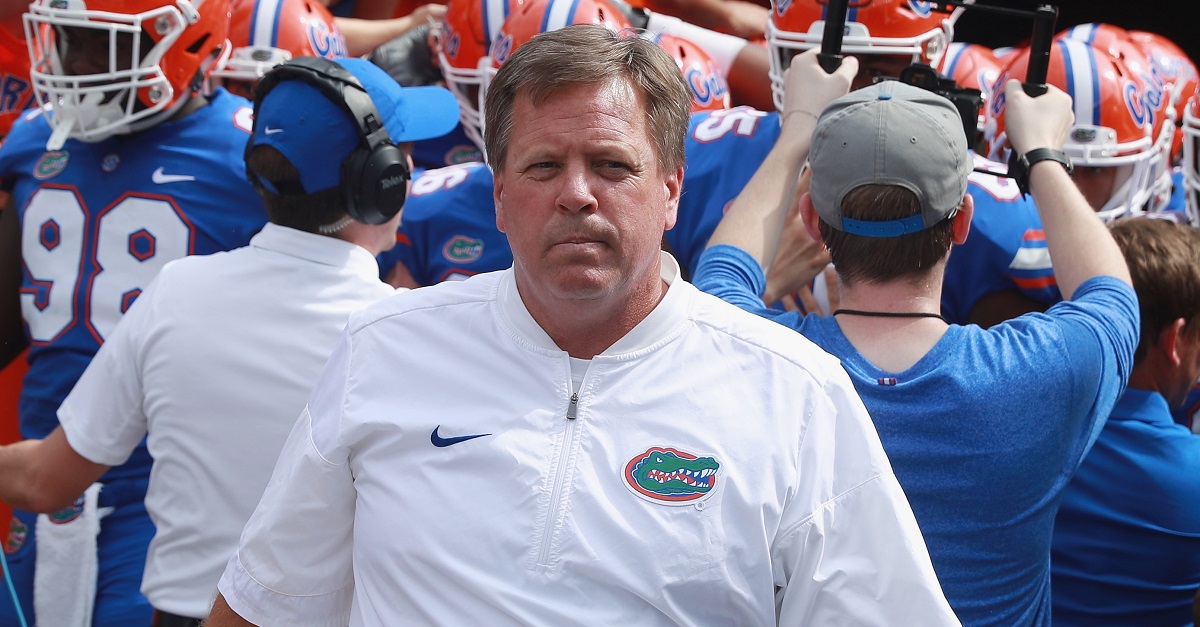 Scott Halleran/Getty Images
GAINESVILLE, FL - SEPTEMBER 16: Head coach Jim McElwain is seen on the field at the start of their game against the Tennessee Volunteers at Ben Hill Griffin Stadium on September 16, 2017 in Gainesville, Florida. (Photo by Scott Halleran/Getty Images)
There were rumors and reports swirling earlier on Saturday that Florida head coach Jim McElwain could be fired after the Georgia game no matter what the result was. Those rumors were shot down by athletic director Scott Stricklin later in the day, but it appears that the wheels on a potential McElwain firing are still turning.
ESPN is reporting that administrators are discussing firing the third-year head coach and using the recent death threat claims by the coach as a major sticking point to avoid paying him his buyout worth almost $13 million. McElwain claimed his family was receiving death threats and reportedly did not give Florida officials any more information on it and that could give the university cause to fire him and void his buyout.
ESPN also said that should McElwain be fired, former Miami head coach and current Florida defensive coordinator Randy Shannon would be asked to be the interim head coach.
McElwain's 19 wins entering this season were the second most by any SEC coach in 2015 and 2016. Those 19 wins also tied Steve Spurrier for the second-most victories by a Florida head coach through his first two seasons. He also took the team to two SEC Championship Games despite not having an offense that was ranked in the top half of the conference both years.