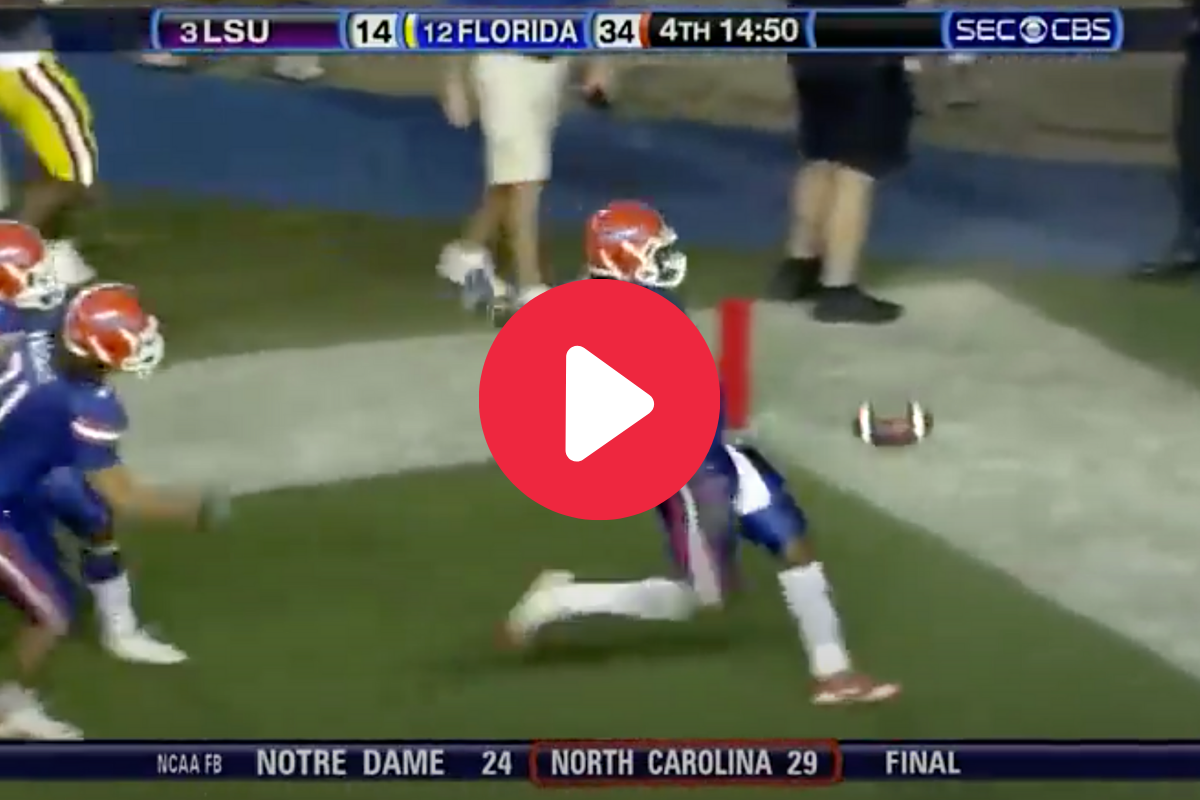 Screenshot from YouTube
Anyway you spin it, Brandon Spikes is a Florida Gators legend. The former NFL player who spent time with the New England Patriots and Buffalo Bills (and played in Super Bowl XLVI) first was a star college football middle linebacker for head coach Urban Meyer in Gainesville.
The Shelby, North Carolina native was part of both the 2006 and 2008 BCS National Championship teams. Spikes was twice named a two-time Consensus All-American and a three-time First-Team All-SEC player.
To this day, the 6-foot-3 linebacker still holds the UF career record for interceptions returned for touchdowns with four. The greatest of those four? When he followed a pick-six against the LSU Tigers with a legendary celebration.
Brandon Spikes' Pick-Six Punt Celebration
RELATED: Major Wright's Hit Set The Tone For Florida's 2008 National Title
Florida's 2008 season was memorable for many reasons.
Tim Tebow's "The Promise" after a loss to Ole Miss is literally cemented in University of Florida history. Major Wright's massive hit to begin the BCS National Championship game against Oklahoma will never be forgotten either. Even Brandon Spikes' crushing hit on Knowshon Moreno against Georgia belongs in this discussion.
In Florida's 51-21 butt-whooping against No. 4 LSU that year, Spikes executed a memorable celebration that even players generations later would pay homage to.
After Spikes returned a pick-six into the end zone to put the Gators up 40-14 in the fourth quarter (and effectively sealing the win on the first play of the quarter), the 250-pound linebacker punted the ball to the heavens at Ben Hill Griffin Stadium.
Of course, he earned an instant excessive celebration penalty. Who cares? The game was over.
A decade later, linebacker Vosean Joseph paid tribute to the legendary celebration. After a Brad Steweart pick-six against LSU at home, Joseph grabbed the ball and drop kicked it into the stands. Some lucky fan got quite the souvenir that night.
"I just had to do it because I (saw) it on Twitter," Joseph said of Spikes' celebration. "This week, someone tagged me in it on Twitter. I was like, that looks kinda interesting."
Awesome. Forget the penalties. Personally, I think this should be a more common celebration. Nothing pumps up a team and a crowd quite like a 50-yard punt into the nosebleeds.
Football should be fun, and Brandon Spikes certainly knew that.
This post was originally published on January 21, 2021. We brought it back before Florida and LSU played in 2021.