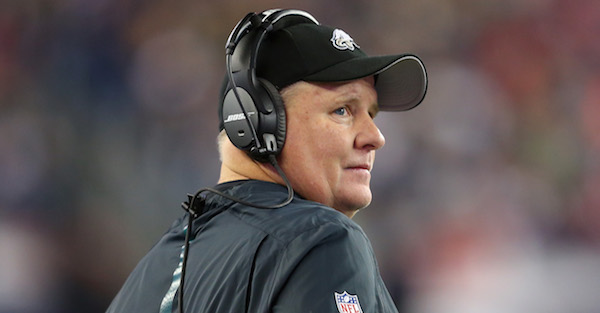 Jim Rogash/Getty Images
FOXBORO, MA - DECEMBER 06: Head coach Chip Kelly of the Philadelphia Eagles looks on during the game between the New England Patriots and the Philadelphia Eagles at Gillette Stadium on December 6, 2015 in Foxboro, Massachusetts. (Photo by Jim Rogash/Getty Images)
Chip Kelly will not be the next head coach of the Florida Gators, according to Yahoo Sports' Pat Forde.
Florida has reportedly decided to move on from Kelly in its coaching search, multiple sources confirmed to Forde on Friday.
UF officials reportedly met with Kelly in New Hampshire hours after UCLA announced the termination of former head coach Jim Mora Jr. The coach was expected to weigh his options and decided between the Gators and the Bruins, according to USA Today.
Florida is expected to turn its attention to UCF coach Scott Frost, who will coach in the Knights' final regular season game against USF on Friday afternoon. After inheriting a winless team, Frost led the Knights to a bowl game during his first season and currently holds a 10-0 record in 2017.
Frost, who played quarterback at Nebraska, was reported to be "nearing a deal" with his alma matter last week, according to Bleacher Report's Lars Anderson. However, the coach said rumors of a deal were "totally false."
The Gators could consider former Mississippi State head coach Dan Mullen, however, would have some stiff competition.
According to Sports Illustrated's Bruce Feldman, the Bulldogs are expected to "go all in" to keep their head coach, while others have linked him to the coaching vacancy at Tennessee.
Mullen currently holds a 69-45 (33-38 SEC) head coaching record and has led the Bulldogs to seven consecutive winning seasons.
In 2010, Mississippi State earned its first No. 1 overall ranking in program history and finished with a 10-3 (6-2 SEC) overall record, earning Mullen several coaching honors including the AP and Athlon SEC Coach of the Year awards and the Maxwell Football Club Coach of the Year award.
Still, Mullen said he planned on staying with the Bulldogs during his postgame press conference following his team's 31-28 loss to Ole Miss on Thursday, so the Gators may need to look beyond the candidates that have been rumored to be linked to the position so far.