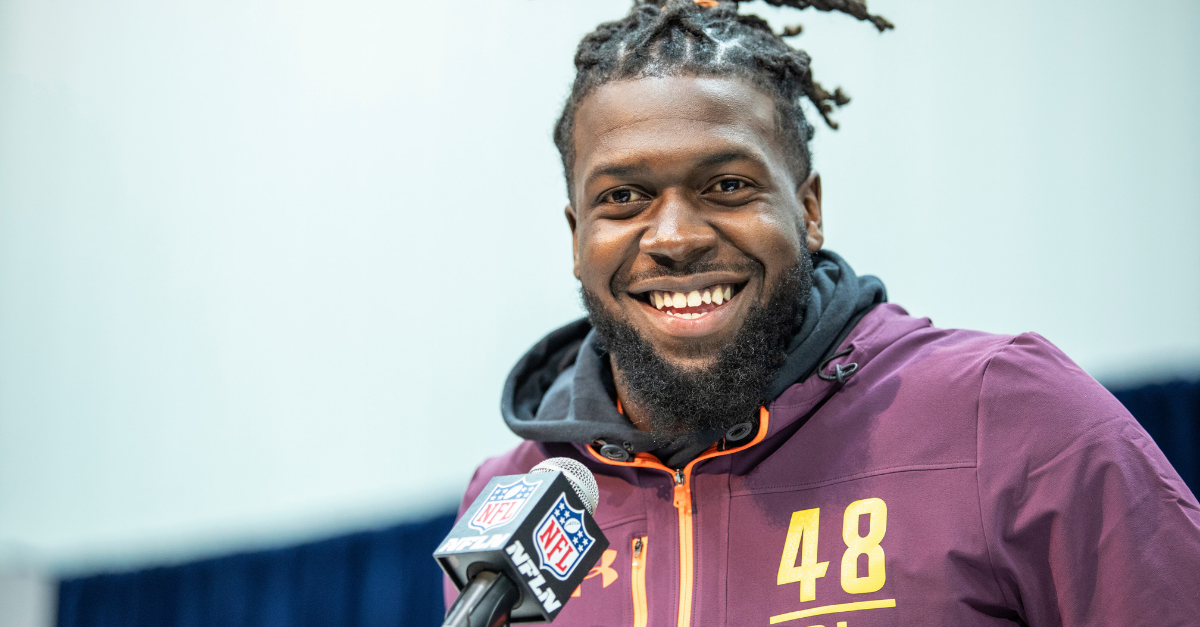 Detroit Lions via AP
The NFL's pre-draft process is an absolute whirlwind for prospects hoping to turn dreams into realities. It?s understandable. Teams scout many aspects of players before investing millions of dollars and their futures in them.
With the 2019 NFL Draft less than a month away, it?s make-or-break time. While some players ? John Ross ? make a name for themselves at the NFL Combine, others ? Randy Gregory ? slide down draft boards. The latter can be applied to Florida Gators defensive end Jachai Polite.
After a monstrous breakout season in which he nearly eclipsed the program?s single-season sack record, Polite?s draft stock is plummeting.
At season?s end, many draft analysts considered him a first-round lock and possibly a top-15 pick. Things have taken an awful turn ever since the combine, however.
Polite essentially badmouthed NFL teams after he was offended at their questions during interviews. He said teams like the Packers and 49ers ?bashed? him because they focused on the negative parts of his play.
Strike one.
His NFL Scouting Combine performance was underwhelming. He ran a 4.84 40-yard dash and blamed a hamstring injury he said he?d been dealing with for his poor measurables. Even so, that's the exact opposite of what you hope for out of an undersized defensive lineman. Polite stands just 6-foot-2.
USA Today said it might have been the worst NFL Combine performance of all time.
RELATED: Gator Fans: Florida Will Be Fine Despite Losing Top Talent to the NFL Draft
Strike two.
Fast-forward to UF?s Pro Day on Wednesday, March 27. Polite again ran a slow 40-yard dash ? reporters clocked him at 4.83 ? and looked sluggish on his drills. Not long after, his hamstring was on ice and his pro day was finished.
To make things worse, he looked overweight (and not in a good way). He said he put on 20 pounds because NFL players are bigger and stronger. That?s fine, but not if it?s bad weight that slows you down.
Strike three.
Scouts are paying attention to all of this. Every single bit. Bleacher Report?s Matt Miller reported that one scout said Polite might not even be drafted in the second round.
Just how did Polite, whose Twitter handle is @RetireMoms, lose so much value so quickly?
He didn?t prepare. At all. He didn?t prepare for the interview process, the workouts or the drills. He didn?t take care of his body. He didn't prepare for the most important job interview of his life.
If he had someone helping him with all of this, they didn?t do a very good job. But that falls on Polite. It shows a lack of care and a lack of effort on Polite?s behalf, which should scare NFL teams.
That being said, Polite could be a huge steal for a team. His tape shows an edge rusher that plays like his life is on the line. He chased down running backs from behind. He forced more fumbles than you can count on one hand. He was truly a force of nature.
It?s not too late for Polite. He?ll still be drafted. He just might have to work a little harder now if he wants to retire moms.