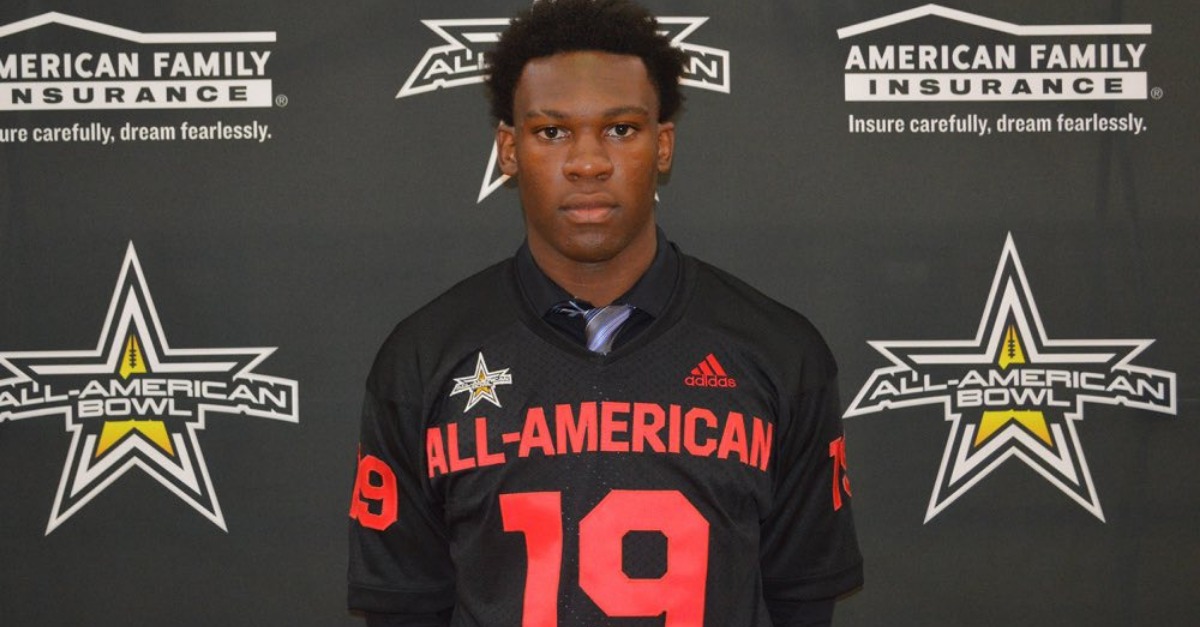 Twitter: ZachAbolverdi
Twitter: ZachAbolverdi
The Florida Gators are making big strides to challenge Georgia for the SEC East crown before they turn their sights on the entire Southeastern Conference. To do that, head coach Dan Mullen's program will have to unseat the kings of the West at the University of Alabama. Well, stealing their elite recruits is certainly one way to start doing that.
Four-star defensive end Khris Bogle committed to the Alabama Crimson Tide during the Under Armour All-American Bowl in early January. After a tumultuous month for the Tide's program that included losing multiple coaches once again, Bogle made the choice to stay in his home state and compete in Gainesville next season as a member of the Florida Gators on National Signing Day.
Bogle made his decision at Cardinal Gibbons High School in Fort Lauderdale (FL) and becomes the 16th four-star recruit to join Florida football's 11th-ranked recruiting class. According to 247Sports, Bogle is the 10th-best high school football player in the state of Florida.
RELATED: The Real DBU: Florida Lands Big-Time Defensive Back Recruit
As a senior, Bogle helped lead Cardinal Gibbons to the FHSAA 5A State Championship despite missing the first six games of the season with a knee sprain. The Cardinals started 0-2, then rambled off 13-straight wins to win the school's second state title. In nine games after returning, Bogle dominated by grabbing 17.5 tackles for a loss. Even missing that many games, Bogle was named first-team All-County in Florida's highly-competitive Broward County.
Bogle grew his national resume as a junior when he registered 70 tackles, 23 for a loss, and 13.5 sacks. Even with all his talent, Bogle wanted a program he could trust and would compete at a high level. He visited Miami, Tennessee and Texas A&M as well. Even after his earlier commitment, that trust wasn't what he felt in the end with Alabama or any other school.
"I just believe in Coach Mullen and what we have to get done at Florida now," Bogle said. "When I went up there for my official visit, I enjoyed it. It was an unbelievable experience. And I just believe in him."
After Alabama's defensive coordinator Tosh Lupoi left the program to join the Cleveland Browns, a switch flipped in Bogle's mind, and he made the decision to join the Gators at the final moment on National Signing Day. His decision came so he could "[play] under the best coaches in the college level."
Bogle said that after staying up all night in prayer, God came to him and said "You're going to Florida."
Call it divine intervention or just one heck of a job to sell his program by Dan Mullen, but the Florida Gators just added another big-time talent to their growing roster. Not surprisingly, Alabama still owns the top-ranked recruiting class for 2019.