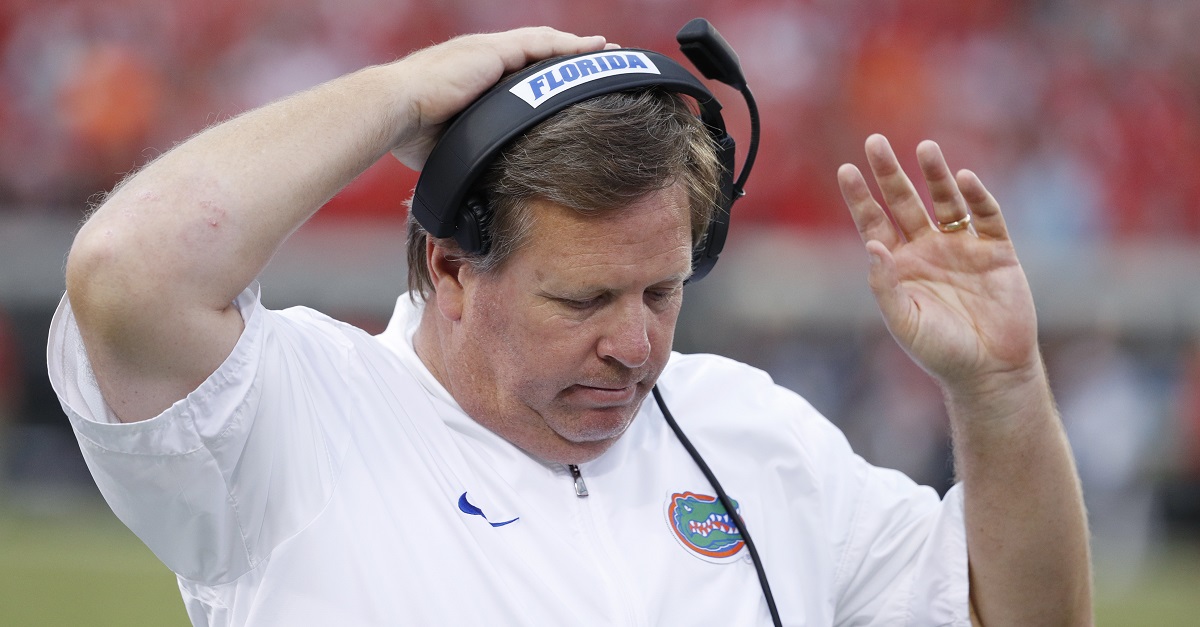 Joe Robbins/Getty Images
JACKSONVILLE, FL - OCTOBER 28: Florida Gators head coach Jim McElwain reacts in the third quarter of a game against the Georgia Bulldogs at EverBank Field on October 28, 2017 in Jacksonville, Florida. Georgia defeated Florida 42-7. (Photo by Joe Robbins/Getty Images)
Florida and head coach Jim McElwain have officially parted ways and now a search will be underway for a new coach. There are going to be some great candidates available and here are three that Florida should be looking at to replace McElwain.
Scott Frost (UCF)
Frost has the top scoring offense in the country right now at 51 points a game so there's an obvious appeal to the Florida athletic department right there. He's doing it with essentially leftover talent in the state that the "Big 3" schools didn't want and he should be able to recruit at a high level with the new facilities and upgrades available in Gainesville.
Frost studied under the great Bill Walsh and Tom Osbourne as well as the likes of Bill Parcells, Bill Belichick, Chip Kelly and Jon Gruden. He knows his offense and he's even had experience on the defensive side of the ball as a linebackers coach and co-defensive coordinator at Northern Iowa. Frost has the Knights averaging over 216 rushing yards and about 313 passing yards per game, which is good for the No. 5 total offense in the country at nearly 530 yards per game.
Justin Fuente's replacement in 2015 — after he took the job at Virginia Tech — has done a nice job with the offense in Memphis (there's a theme here). They are averaging 500.3 total yards per game and Norvell has great experience developing quarterbacks as a QB coach at Arizona State for four years.
He also owns Central Arkansas' all-time receptions record as a receiver as he finished with 213 pass receptions for 2,611 yards and 15 receiving touchdowns, one rushing touchdown, and two passing touchdowns during his career. The young gun is hungry and will have to learn how to recruit on an SEC level, but once he gets there it would be smooth sailing. He's proven he can handle a head coaching job as Memphis is his first experience in that capacity and he went 8-5 in his first year with a 7-1 record this season so far.
Bob Stoops (Retired)
This may seem like a puzzling choice since the former Oklahoma coach is retired and he has spoken out about what he might do next. However, he probably didn't believe that the Florida job would be open and it would give him an opportunity to return to a place he's fond of as he worked there under Steve Spurrier from 1996 to 1998. He was the defensive coordinator and associate head coach while he was there.
Stoops has proven he can win as he has a BCS Championship under his belt and has won the Big 12 a ridiculous 10 times. He would be insanely expensive since he coached at such a high level for so long — he was head man in Norman since 1999 — and because he would have to be coaxed out of retirement. However, he could step right in and recruit at an elite level. He's not necessarily an offensive-minded guy, but he's shown he can hire the right guys to get the offense humming.