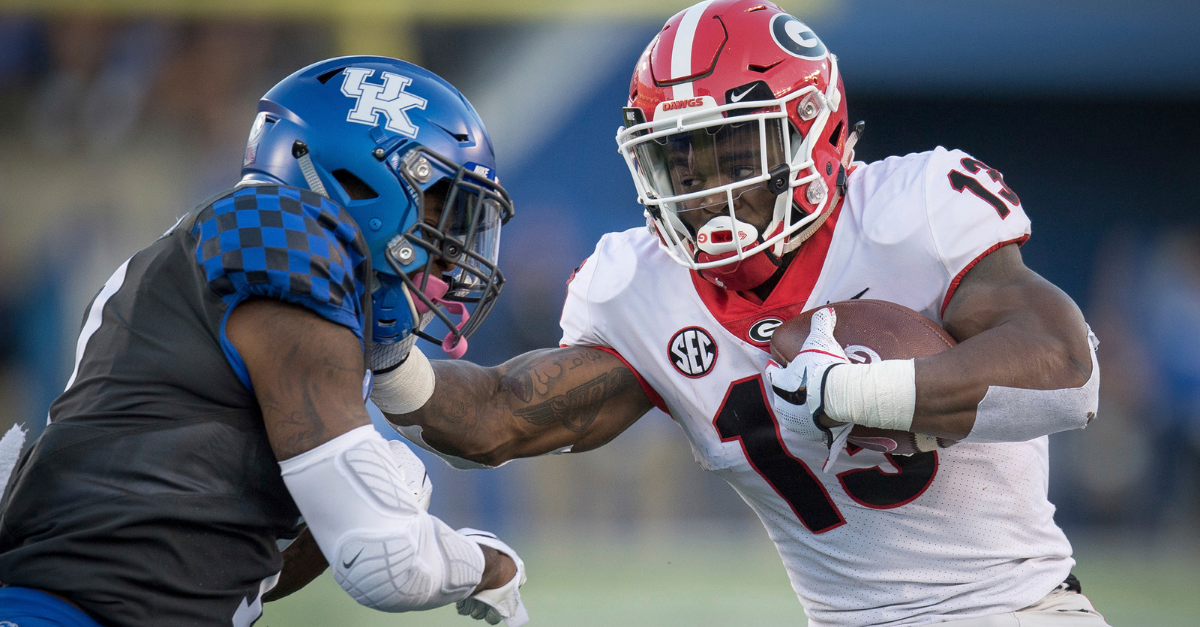 AP Photo/Bryan Woolston
Everybody who loves sports probably knows somebody who hates them just as much. The struggle between sports fans and casual TV watchers culminates at the remote control, but it's important to remember that no matter how much you might hate sports, the game is eventually going to end, and DVR does exist.
Still, the disdain for Georgia Bulldogs football became a full-blown active shooter situation while the Bulldogs faced the Kentucky Wildcats, when one daughter decided she was going to pull out a gun and start shooting when her dad refused to change the channel.
According to The Macon Telegraph and the Baldwin County Sheriff's Office, 28-year-old Tambria Chaprii Palmer of Milledgeville was arrested after an altercation last Saturday because she just didn't want to watch a Georgia football game.
Palmer, who lives with her parents along with her three children, decided she was done watching the Bulldogs roll the Wildcats, 34-17, and win the SEC East division for the second year in a row. According to Baldwin County Sheriff?s Capt. Brad King, Palmer and her father, Darrell Palmer, got into an altercation because she wanted to change the channel, and he refused.
"I think it?s a culmination of things but the last part of it was dad was going to watch the ballgame and she wanted to watch something else," King said.
Her father shut off the television entirely, which prompted Palmer to "[begin] cussing at him and attempt to hit him in the face."
Police say Palmer then threatened to "send everyone in the house to hell," went to her bedroom, loaded a handgun, and began firing shots at her father and mother, Le'Trice Palmer, who was holding Tambria's three-month-old daughter at the time. Also, Palmer's two other children, ages 2 and 10, were inside the house during the incident.
After the shooting spilled into the front yard of the house and into the street, and after firing off the entire chamber, Palmer threw the gun into the bushes. Officers responded to the "active shooter" call and arrested her after she surrendered.
Thankfully nobody was injured, but Palmer is being charged with six counts of aggravated assault, four counts of cruelty to children and one count of reckless conduct.
Needless to say, a lesson should be taken from this: it's just a football game, and if you don't like it, then there are better ways to handle it than reaching for a gun.