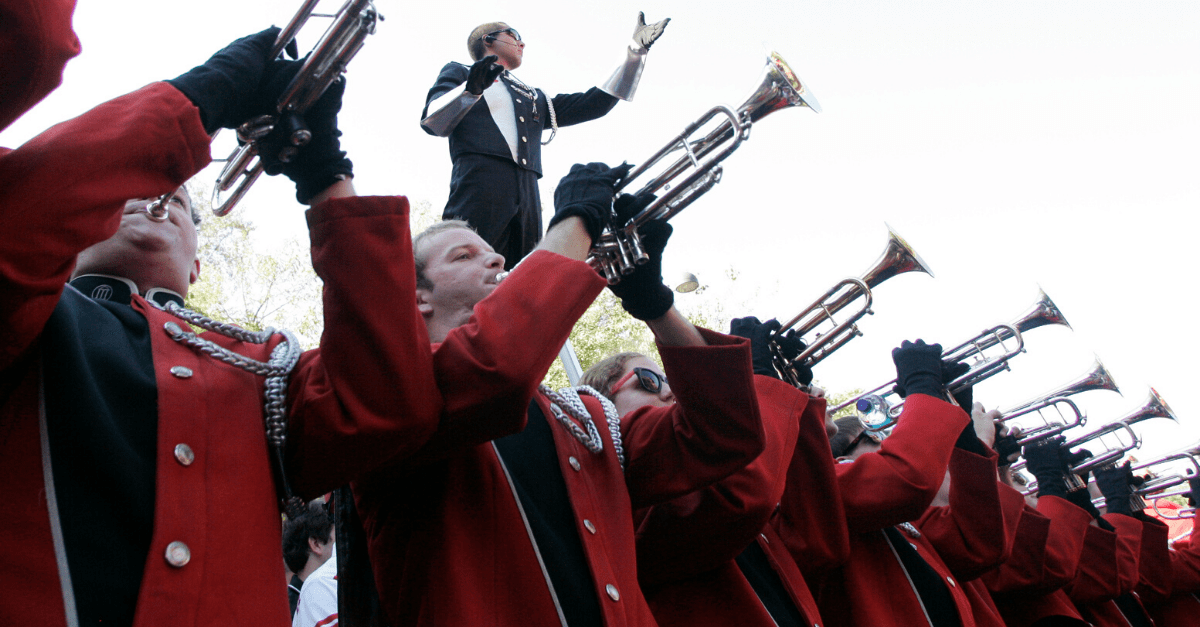 AP Photo/John Amis
For years, as college football fans filed out of Sanford Stadium, the University of Georgia?s Redcoat Band would treat everyone to a postgame concert. It always ended with a performance of ?Tara?s Theme,? and it?s been a lasting tradition. That won?t be the case moving forward.
The Redcoat Band?s acting director Brett Bawcum announced UGA?s marching band will be ending performances of the song ? the opening music and theme from the 1939 film ?Gone with the Wind? ? and will be replaced with ?Georgia on My Mind? following Georgia Bulldogs football games in Athens.
?Though the tradition has been under discussion for months within the band, the current social climate has highlighted the urgency of addressing it and made me conscious of the message that could be interpreted by delay,? Bawcum wrote. ?To be clear, the issue with the tradition is not the motivation of those who have embraced it, but rather the possibilities it may limit in those who haven?t. I value tradition, but I value creating a welcoming environment much more.?
Change is happening.
Georgia?s Redcoat Band Drops ?Tara?s Theme?
RELATED: Why Are Georgia?s Colors Red and Black?
Brett Bawcum?s letter to the Redcoat Band community was beautiful. It addressed the past ? how former director Roger Dancz adopted the name Dixie Redcoat Band, then helped drop Dixie in 1971 ? and how to improve the future.
While the decision to drop ?Tara?s Theme? will please many, he also acknowledges that the work to improve is not done.
?Today, we benefit from Mr. Dancz?s decision and the contributions of hundreds of Black Alumni Redcoats, while being shaken by an uncomfortable reminder that their work is unfinished. As the national conversation surrounds persistent disservices to and abuses of Black persons by those expected to merit the public trust, our attention returns to the environment we create and how we might serve justly.?
?Gone with the Wind? ? a film set in the antebellum South ? has been temporarily removed from the HBO Max streaming service, according to ESPN.com's Dave Wilson.
Additionally, Board of Regents Chairman Sachin and University System of Georgia Chancellor Steve Wrigley have asked an advisory group to ?review and study the names of buildings and colleges on all USG campuses and report to the Board on any recommended changes.?
Georgia football coach Kirby Smart is fully on board, too.
"As both a UGA alum & head FB coach, I fully support the USG Board of Regents & Chancellor?s decision to form this committee to study these important issues," the Bulldogs coach wrote on social media. "This is an important first step in the right direction to help us evaluate our history & work to bring us closer together."
Yes, change is happening during the coronavirus pandemic. ?Tara?s Theme? is in the past. ?Georgia on My Mind? will now be the tradition of the future.