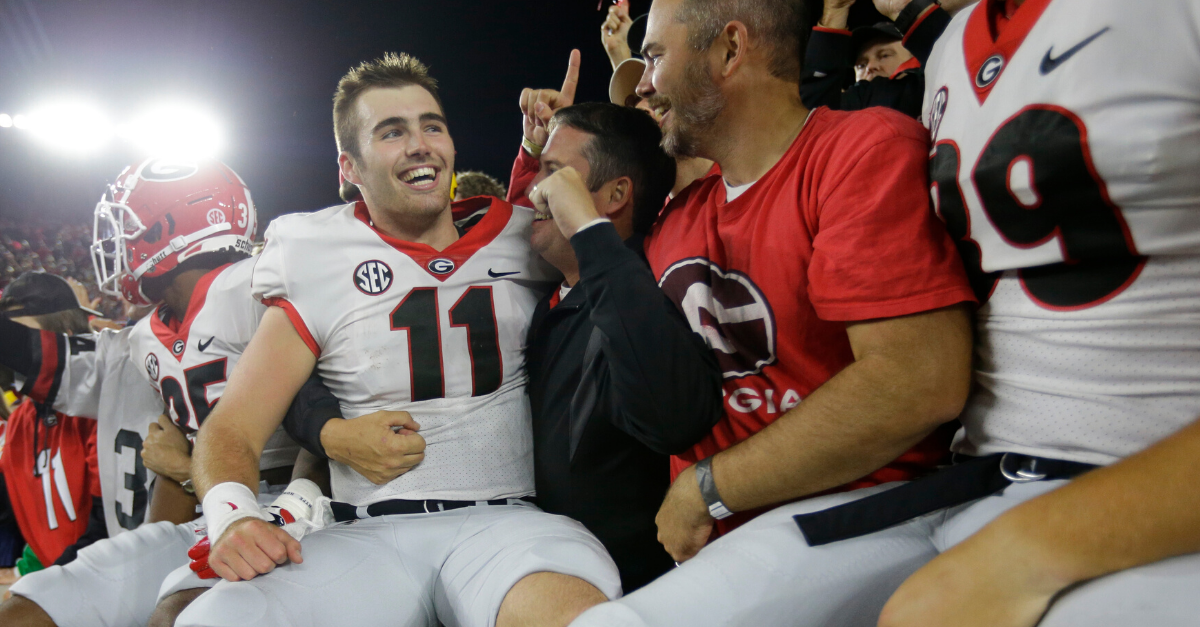 AP Photo/Michael Conroy, File
Jake Fromm remembers the moment so vividly. It was September 9, 2017, and the Georgia Bulldogs just upset the Notre Dame Fighting Irish. A star was born that night in South Bend, Indiana, and it?s been an amazing ride ever since.
Fromm, a Warner Robins, Georgia native, has grown up a lot since that performance as a true freshman. He?s been a big reason for the Bulldogs? rise in the college football ranks, and his accomplishments speak for themselves.
A trip to the College Football Playoff National Championship Game. An SEC Championship. A Rose Bowl victory. Two Sugar Bowl berths. Numerous Top 25 wins. Multiple awards and UGA records. Countless highlights and memories.
Yes, it?s been an incredible three seasons with Fromm under center, but his time playing for head coach Kirby Smart and offensive coordinator James Coley in Athens, Georgia is officially over.
QB Jake Fromm Declares for the 2020 NFL Draft
Although Fromm would have re-written the school record books had he returned, the star quarterback has decided to skip his senior season and enter the 2020 NFL Draft.
Fromm, who guided the Bulldogs to three-straight SEC title games in Atlanta, said goodbye in a heartfelt letter to a special place while announcing his NFL Draft decision.
?Dawg Nation,

?I would like to offer my sincerest thank you to the University of Georgia for giving me the privilege of playing football between the hedges of Sanford Stadium. Thank you to Coach Smart who always believed in me and who over the last three years has helped grow that wide eye, scared, 18 year old kid who got handled the ball in South Bend, into a better man, and secondly a better football player.

?Thank you to all of the coaches and teammates who have been there alongside me for every step of this journey. And to the fans, from the little boy in the 11 jersey jumping up and down in the living room, to the season ticket holder who hadn?t missed a game in years, to the one who didn?t have the money or the health to come to a single game but watched closer than anyone there, and everyone in between, thank you. Through the good times and the bed, I always felt your love and support, and I hope I mean as much to you as you do to me.

?This process and decision has been unbelievably difficult, but through much prayer and counsel, I have decided that it is time for me to take on the next challenge in my life and pursue my lifelong dream of playing in the NFL. It is with both a humbled and excited heart that I announce this, and I can assure you that this decision was not based on anything other than what I strongly believe is God?s Will for my life.

?I have been blessed beyond measure for every day that God allowed me to be your quarterback, and I pray that His light can continue to shine through the University of Georgia. I will forever be at Dawg at heart, and I love each of you in Christ. Romans 8:28.

?Go Dawgs and God Bless,

?Jake?
In his three seasons, Georgia quarterback Jake Fromm completed 63 percent of his passes for 8,224 yards with 78 touchdowns and 18 interceptions. He might not have received the hype of Alabama?s Tua Tagovailoa, LSU?s Joe Burrow or even Oregon?s Justin Herbert, but Fromm certainly belonged in the conversation as the best quarterback in CFB during his playing career.
Fromm won every quarterback battle, too. He beat out Jacob Eason as a true freshman and five-star signal caller Justin Fields, who is now at Ohio State, last season.
He finished his career with 250 yards and two touchdowns in a Sugar Bowl win over Baylor.
Fromm has late first-round potential, according NFL Mock Drafts from ESPN?s Todd McShay. That?s high praise, but he?s earned it.
The Georgia Bulldogs will have to move on without Fromm next season, but there?s no doubt he left an amazing legacy behind and can always call Athens home.