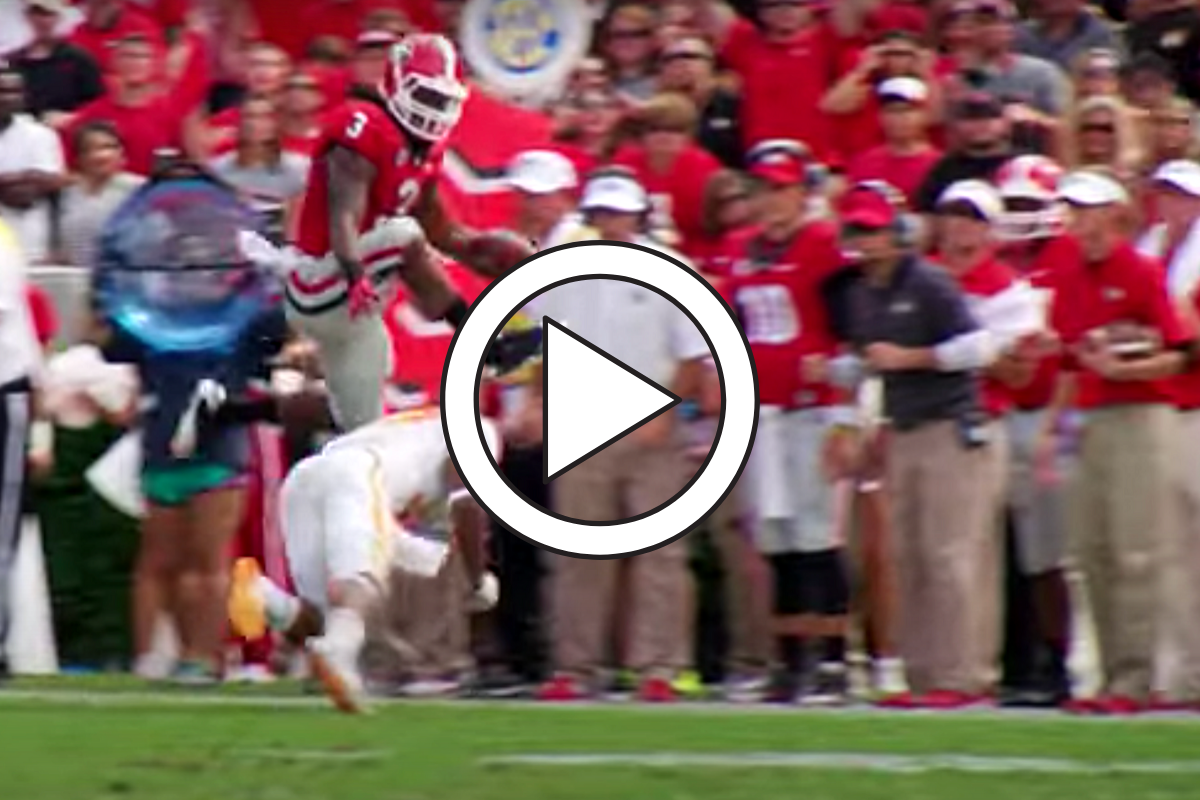 Screenshot from YouTube
Had he not torn his ACL during his junior season, Todd Gurley likely would've reached Herschel Walker territory. The star NFL running back who went on to play for the Los Angeles Rams and Atlanta Falcons had already amassed more than 900 rushing yards through just six games.
Herschel holds the Georgia Bulldogs' top three single-season performances (1,616 in 1980, 1,752 in 1982, 1,891 in 1981) but it's not unthinkable that Gurley could have reached that level. The dude was a bruiser. Tackling him was nearly impossible unless you got two paws on him and had help from teammates. He could cut, juke, bulldoze and even heave 50-yard passes.
He could also hurdle. Boy, could he hurdle.
Todd Gurley's Tennessee Hurdle
RELATED: "My God": Herschel Walker Trucks Tennessee Player for First TD
No. 12 Georgia beat the Tennessee Volunteers in 2014 by a score of 35-32 in Athens, Georgia.
Gurley exploded that game. He tallied 208 rushing yards and two touchdowns on 28 carries, more than 100 of which came in the fourth quarter alone. He even caught another four passes for 30 yards.
However, Gurley's hurdle was what Georgia fans couldn't stop talking about afterward.
With eight minutes to go in the game and UGA leading 28-25, Gurley took a hand-off and broke free from two tacklers in the backfield. He sprinted down the sideline before pulling out a crazy hurdle over a Tennessee defender for what wend down in the box score as a 26-yard run.
Georgia drove down the field and scored again, essentially winning the game.
After the game, then-Georgia head coach Mark Richt had some high praise for the play.
UGA fans know the play he's talking about. Knowshon Moreno's hurdle against Central Michigan in 2008 dropped jaws in Sanford Stadium.
However, Gurley's hurdle may have been better. Plus, it came against an SEC rival in Tennessee.
This post was originally published on October 9, 2020.
Related Videos