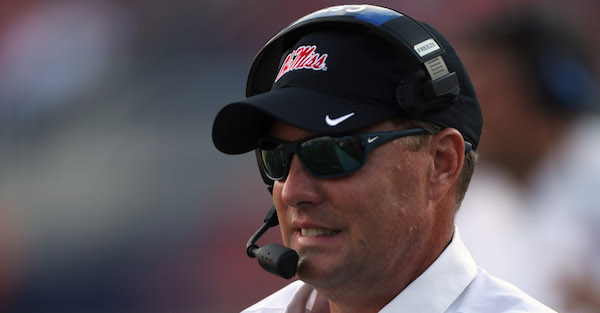 Joe Murphy/Getty Images
OXFORD, MS - SEPTEMBER 10: Hugh Freeze, head coach of the Mississippi Rebels watches the action against the Wofford Terriers on September 10, 2016 at Vaught-Hemingway Stadium in Oxford, Mississippi. Mississippi defeated Wofford 38-13. (Photo by Joe Murphy/Getty Images)
On Wednesday, former Ole Miss coach Hugh Freeze made his first public appearance since being booted from his old job. During it, he begged for people to forgive him for actions that resulted in some of college football's most talked about scandals.
Freeze, who got busted for making calls to escort lines, opened his speech at Liberty University by saying he apologized to his wife for honoring her.
?Today is really the first day that I can tell the Faith family that I am sorry,? Freeze told the crowd at the Christian university. ?Please forgive me.?
Here is where things start to get wayward, as Freeze then began to play a form of the empathy card, citing articles his daughter has to read about her father.
?I tell her ?Baby, your dad did something wrong and he has to be accountable.'?
This entire thing was held at Liberty — a fitting place for the event given some of their recent moves.
Back in December 2016, Liberty University announced that it had hired Ian McCaw, a ?godly man of excellent character,? as its athletic director. For those unaware, McCaw was the athletic director of Baylor during that university's own scandalous situation.
While we're on the Liberty discussion, in early September, it was reported Conference USA had turned down a $24 million admission offer from university to join the league. According to the conference, it was due to not wanting to deal with Liberty's evangelical politics. If you ask Jerry Falwell Jr., it was some form of discrimination toward conservatives.
We aren't done yet.
The university spent a little more than $45 million on athletics in 2015-2016. To put that into some context, at the time, that?s more than Boise State, New Mexico and every school in Conference USA. Moreover, since Liberty was a Football Championship Subdivision program at the time, that $5 million is nearly twice as large as the budget at FCS powerhouse North Dakota State.
Finally, only Virginia and Virginia Tech spent more among state schools.
Anyway, we should all be here for second-chances (to certain degrees). Freeze?s might be considered on another level though, as he was caught with burner phones and he had been contacting an escort service on a school-issued phone.
If Freeze is afforded one, we will have to see how it shakes out. He's reportedly been in touch with Nick Saban on a possible job at Alabama.
If you are interested, you can check out Freeze's appearance at Liberty here.