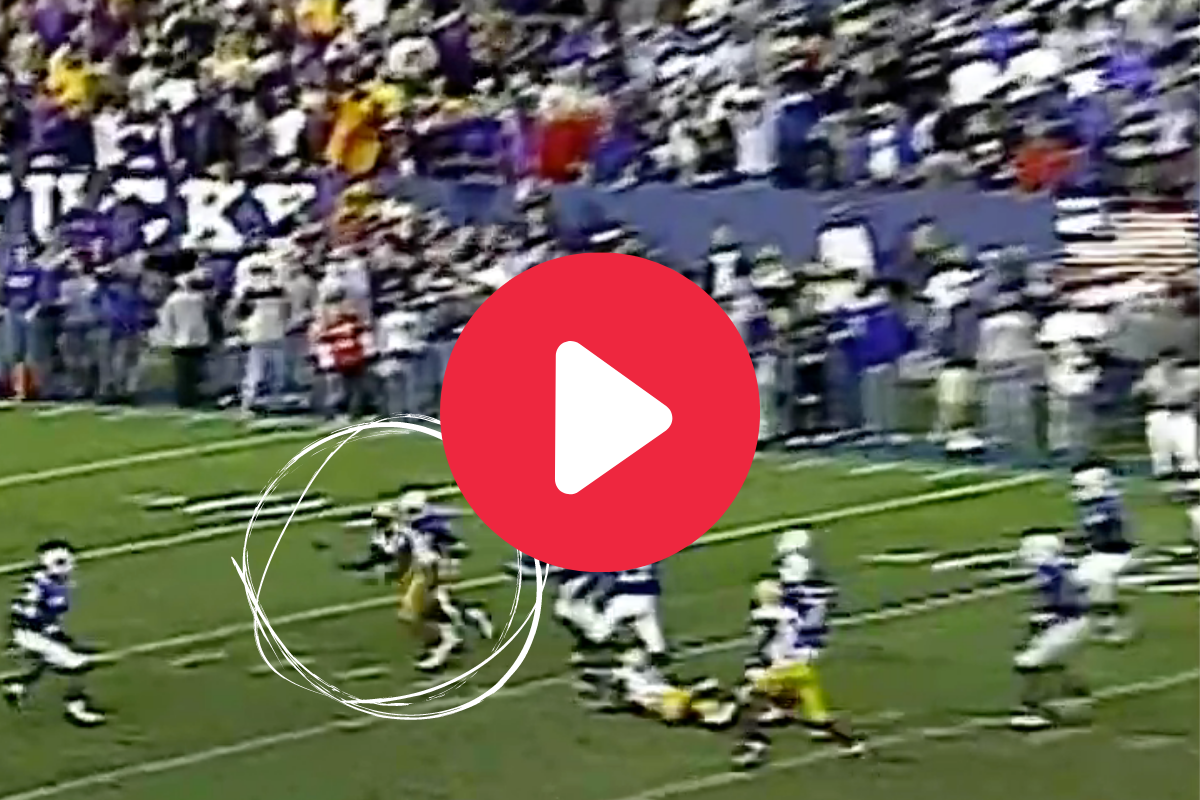 Screenshot from YouTube
The 2002 LSU Tigers weren't the greatest team to ever pass through Baton Rouge. The middle season of head coach Nick Saban's five-year tenure was only the third time between 2000 and 2019's College Football Playoff National Championship season that LSU didn't finish ranked in the AP Top 25. The Tigers ultimately lost to Texas in the Cotton Bowl, but the only game that really matters from that season featured arguably the greatest finish in college football history.
LSU led the Kentucky Wildcats 24-14 early in the fourth quarter. LSU was hitting on all cylinders before Kentucky quarterback Jared Lorenzen led his team on a fierce comeback, capped with a 29-yard field goal to lead 30-27 with 11 seconds remaining in the football game. Kentucky pinned LSU at their own 9-yard line on the ensuing kickoff, Coach Guy Morriss received a Gatorade bath, and all hope seemed lost.
There was only one problem: We're talking about a Nick Saban-led football team.
Quarterback Marcus Randall found Michael Clayton over the middle to reach the LSU 26-yard line. A timeout stopped the clock. Now, if you're familiar with how far a football can fly in the air, it's damn near impossible to reach the end zone from 74 yards away. (Unless, of course, you're Patrick Mahomes.) LSU needed a miracle, and only one play in the playbook was available.
Dash Right 93 Berlin.
What Is The Bluegrass Miracle?
RELATED: ?Mauck to Green? Showed LSU?s National Championship Resilience
As Randall loaded up and sent the ball flying into the air, Kentucky fans ? thinking their Southeastern Conference squad had just upset the 16th-ranked team in the country ? began to storm Commonwealth Stadium. Into a sea of blue and white jerseys the ball fell, deflected, and landed into the arms of LSU wide receiver Devery Henderson around the 15-yard line.
The tiny window appeared, and Henderson escaped a shoestring tackle to reach the end zone for the game-winning touchdown pass.
LSU football players erupted from the sideline. In a poll by over 10,000 LSU fans, the Hail Mary finish was voted to be forever named, 'The Bluegrass Miracle.' It won the 2003 ESPY Award as Play of the Year.
LSU Beats Kentucky on The Bluegrass Miracle
Henderson finished the game with five catches for 201 yards and three touchdowns, while redshirt freshman Joseph Addai led LSU with 91 rushing yards on the day. The late, great Lorenzen threw four touchdowns in the loss for Kentucky.
When we talk about iconic sports finishes, it's impossible to leave out The Bluegrass Miracle. Then again, I'm sure many Kentucky fans would like to forget all about that fateful day in Lexington.
This article was originally published February 28, 2020.