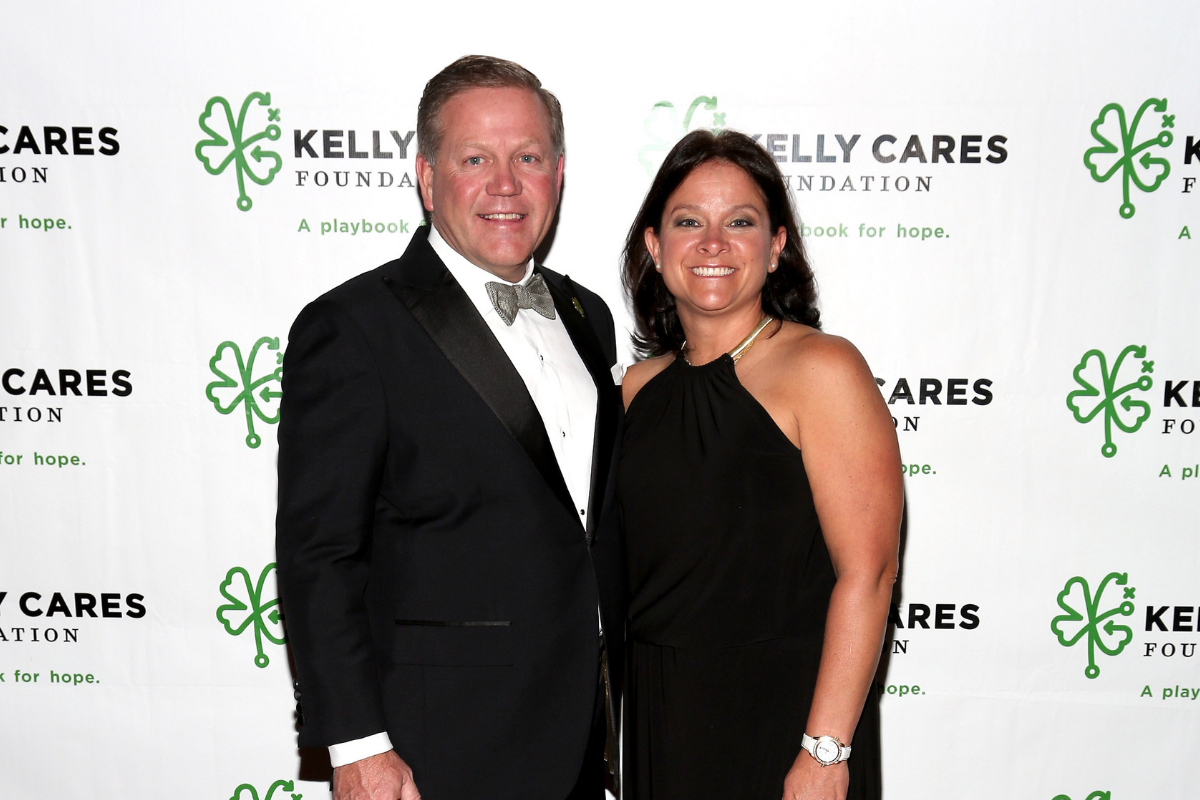 Paul Zimmerman via Getty Images
Brian Kelly is the new LSU football coach. It feels weird typing that.
Kelly is the second college football coach in a two-day span to leave his comfy job at a prestigious program for another opportunity. First, Lincoln Riley left Oklahoma to take the head coaching job at USC. Then, out of nowhere, Kelly took the LSU job.
Kelly was reportedly looking for a new challenge after 12 years at Notre Dame. A 10-year, $95 million contract with the Tigers that will skyrocket his net worth doesn't hurt, either. His success at every stop of his coaching career proves he's worth it.
Kelly made Notre Dame football relevant again by reaching the 2012 national championship game. He also led the squad to the College Football Playoff in 2018 and 2020. Say what you want about the Fighting Irish having an apt for getting crushed by Nick Saban's Alabama Crimson Tide in the postseason, Kelly was consistent. Over 12 years in South Bend, Indiana, he sported a 113-40 record and had 10 or more wins in his last five seasons.
Kelly's head coaching career began at the same time as his relationship with his wife Paqui, who has supported him for nearly 30 years. While Brian has been busy beating teams on the gridiron, Paqui has faced a different, much scarier opponent.
Brian Kelly's Wife Paqui Kelly
RELATED: Ed & Kelly Orgeron Built a 23-Year Marriage Before Splitting Up
Brian and Paqui Kelly met when Brian was coaching at Grand Valley State. While Brian was leading the football team, Paqui, which is short for Francisca, was teaching chemistry at the local high school.
The two tied the knot in 1994.
The couple has three children together: sons Patrick and Kenzel, and daughter Grace. The Kelly children take after their father and also have an interest in athletics. Kenzel is currently a linebacker at Grand Valley State while his older brother Patrick coaches him as a student assistant. Grace is a student broadcaster at Notre Dame and does play-by-play and color commentary for Fighting Irish sporting events.
Paqui, along with the rest of the Kelly family, stays out of the spotlight on the Brian's social media accounts.
She Beat Breast Cancer Twice
Despite living a healthy lifestyle — she never drank nor smoked, Paqui Kelly learned she had breast cancer after a routine check-up in 2002. She was 37. She underwent chemotherapy and beat the disease. Five years later, she was diagnosed a second time.
"Of all my sisters, I'm the healthiest," Paqui, who has five sisters, told the University of Notre Dame. "Of all the people it shouldn't have happened to, it shouldn't have happened to me."
Paqui chose to have a double mastectomy in her second bout, which significantly decreased the odds of the cancer returning. Her experience led her and Brian to establish the Kelly Cares Foundation in 2008. Kelly Cares focuses on breast cancer in addition to health, education and community.
The foundation hosts several events throughout the year, including Giving Tuesday where deserving children in the South Bend area went holiday shopping with a Notre Dame football player. I'm sure Kelly Cares will bring several of its annual events to Baton Rouge as well.
The two-time Associated Press Coach of the Year has had success wherever he's gone. He's sent several players to the NFL and won many big games. However, the new LSU head football coach would probably argue his biggest win is in his personal life, where his wife Paqui has been his biggest supporter.
Brian Kelly's Early Life & Career
Brian Keith Kelly played his high school ball at St. John's Preparatory School in Danvers, Massachusetts. He went on to play linebacker at Assumption College and got his first coaching opportunity there after graduating with a bachelor's degree in political science. He led the linebackers, served as the defensive coordinator and also coached softball.
After four seasons at his alma mater, Kelly became a graduate assistant at Grand Valley State University and coached the defensive backs. He moved up the ranks to defensive coordinator by his third season, and by his fifth, he was named head coach. In 13 years at the Allendale, Michigan school, Kelly led the Lakers to two NCAA Division II national championships.
The American football coach went on to establish a program at Central Michigan University and win two Big East championships at the University of Cincinnati before accepting the University of Notre Dame job in 2009.
Now, Brian Kelly has his work cut out for him in the SEC West at LSU. Luckily for him, his family has fought bigger battles.
Related Videos