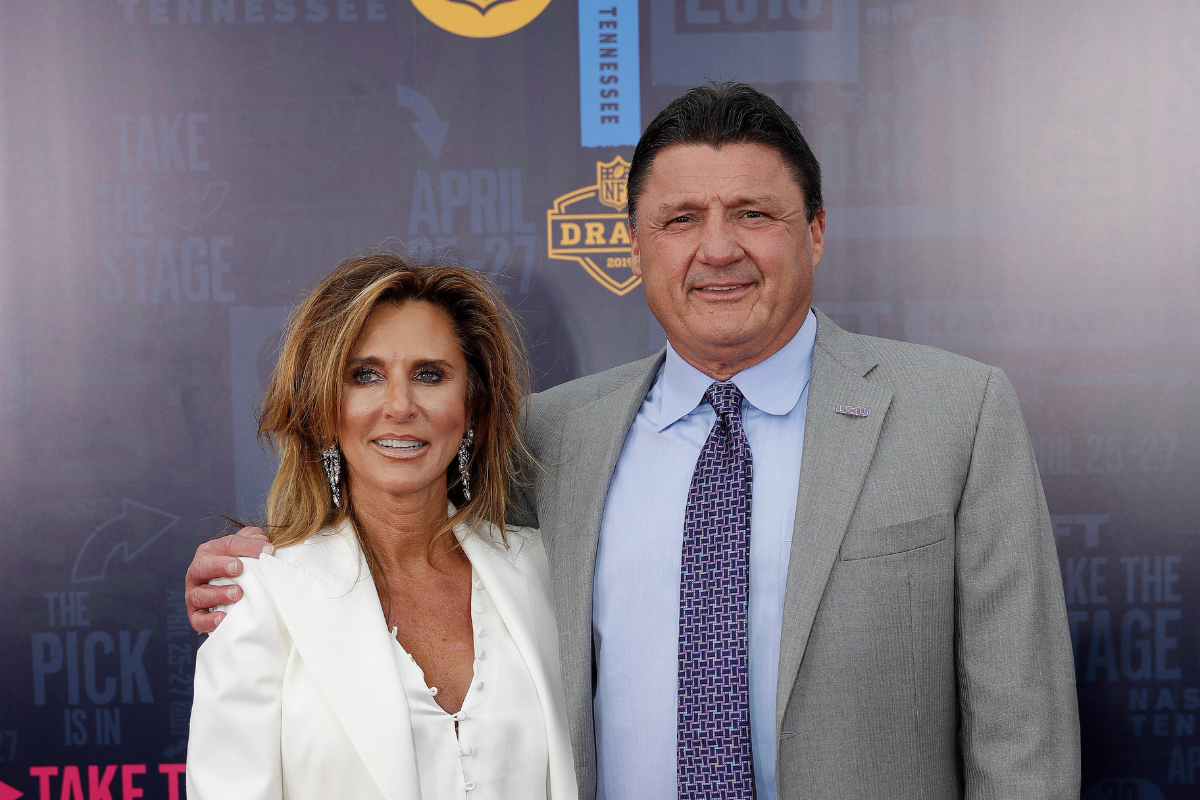 AP Photo/Mark Humphrey
UPDATE (April 2, 2020): According to The Advocate, Ed Orgeron filed for divorce in East Baton Rouge Parish Family Court back on February 26. The petition states that he and wife Kelly "have lived separate and apart without reconciliation since that date."
News of their divorce comes after 23 years of marriage that revealed the couple's character and determination, even in the face of overwhelming adversity.
---
The following article was originally published March 27, 2020. It was updated following news of the Orgeron's divorce.
College football is a family ordeal as much as it is a contact sport. Sometimes fans can only relate to such a cut-throat, billion-dollar sport because of the wives, sons, daughters, brothers and sisters in the stands.
LSU head coach Ed Orgeron is a good example. We know so much about him — that he's of Cajun descent, battled alcoholism in his younger days and makes a boatload of money recruiting elite players, coaching games and winning national championships in Baton Rouge. But it's hard to understand what he's saying let alone relate to him at times.
Ed Orgeron's wife, Kelly Orgeron, is a different story. She's the woman right by his side on field after wins and the one he can't wait to kick back and eat a ham sandwich with at home. If you look at the boisterous college football coach through his partner's lens, you'll see their narrative is a family one that nearly faced tragedy three years ago.
While Ed Orgeron might seem like the mighty, rowdy, rough-and-tough coach his image portrays, he's a softy and a family man who loves his sons and his wife. It turns out Kelly is the tough one.
She's also a survivor.
Who is Kelly Orgeron?
RELATED: Heisman Trophy Winner Joe Burrow and His Girlfriend Are The NFL's Next Power Couple
You can't tell LSU football coach Ed Orgeron's story without telling Kelly's.
Kelly was born in Lake City, Arkansas, a city with a population of about 2,000. She was one of four children (Scott, Russ, Kelly, Misty) born to Bobby and Janis Owens. Her father was a farmer and her mother a beauty salon worker.
Kelly was an athlete growing up. She played basketball at Lake City High School, albeit with a metal rod in her back. Scoliosis forced her to wear a full-torso cast for years before the rod helped correct it, according to Sports Illustrated.
This Arkansas girl picked up tennis along the way and, while her husband was off coaching, she won USTA state championships in Arkansas and Louisiana, according to The Advocate. She even influenced one of her sons to play the racket sport growing up.
How Did She and Ed Orgeron Meet?
Call it fate.
The two met at the suggestion of a mutual friend at the 1996 Liberty Bowl. Ed Orgeron was serving as Syracuse's defensive line coach and, after a loss to the Miami Hurricanes, was sentenced to play in Memphis, Tennessee. The one hour drive for Kelly turned into the best blind date she'd ever been on.
"I went to their bowl practice," Kelly told Sports Illustrated. "He was walking off the field and I said, 'You must be Bébé.'"

"Why, yes I am," Ed answered.
Bébé was Ed's french nickname that meant "baby." Kelly and Ed — who had both gone through divorces already — got married two months later in a Louisiana courthouse.
Kelly and Ed Orgeron had twin sons, Cody and Parker. She also had a son, Tyler Spotts-Orgeron, from Kelly's previous marriage. Cody Orgeron is the starting quarterback for McNeese State who threw for 2,600 yards and 24 touchdowns in 2019, and Parker played wide receiver there before concussions cut his career short.
How Kelly Orgeron Nearly Died
Kelly needed back surgery in 2017. Scoliosis was giving her trouble for simple tasks such as walking.
After two grueling, 10-hour surgeries in which surgeons put screws and rods in her body in May 2017, something went wrong. Early the next morning her stomach had grown swollen enough for Ed to have to phone the doctor.
Medical stuff had accidentally cut her colon during surgery and didn't realize it. She needed a colostomy, which led to the creation of a hole in her abdomen that released the waste from her intestines into a bag.
"I wish they would have never woken me up from this one," she recalled to Sports Illustrated.

"Me and the boys can't do this life without you!" she said Ed Orgeron yelled.
After a 21-day hospital stay, Kelly was able to return home with a bag attached to her. Following a reverse colostomy in July 2017, she was finally able to return to a somewhat normal lifestyle.
The First Lady of LSU Football
One look at Kelly Orgeron and you'd never think of the surgeries and scars. Words like "beauty," "elegance" and "grace" come to mind. But the Louisiana State University staple is one of the more relatable wives in college football.
She shops at T.J. Maxx. She's a country girl at heart who grew up helping her farmer father. Of course, she still looks the part as LSU's First Lady.
After each win, Kelly is always right by Coach O's side. She's been his support system along coaching stops at USC, Ole Miss, Tennessee and for the NFL's New Orleans Saints. Their big break (yes, their) came when Ed Orgeron was named LSU Tigers interim head coach in 2016.
After LSU beat Texas A&M to finish Orgeron's brief 2016 season 4-2, it was Kelly wedged between Coach O and the LSU football team singing the alma mater to fans inside Tiger Stadium. LSU made him their full-time head football coach after that.
Things are good for the Orgerons now. A national title that required wins over Alabama and Clemson last season. Three healthy sons. Ed Orgeron is at the top of his profession in the SEC with Kelly Orgeron by his side.
Their story, though, provides a meaningful lesson: never judge a tiger by its stripes.
---
Ed Orgeron Files For Divorce