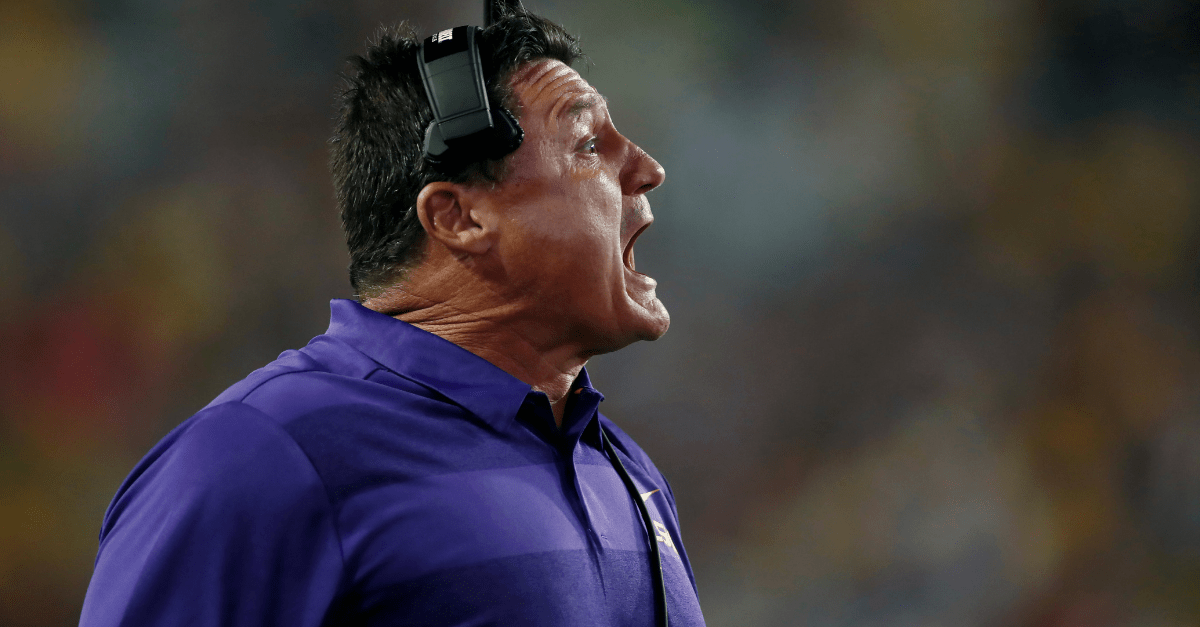 AP Photo/Tyler Kaufman
LSU head coach Ed Orgeron is a treasure, and fans in Louisiana wouldn't trade the fiery man in charge of their program for the world.
Besides the obvious reasons he's beloved in Baton Rouge and the Bayou — top-notch recruiting, leading LSU football to an SEC Championship and College Football Playoff and molding Heisman hopeful Joe Burrow — Coach O has one distinctive trait we all can't seem to get enough of: his voice.
There's something about Orgeron's deep Cajun accent and the way words rattle around in his throat before they are uttered that is simply awesome. If you weren't fired up after his postgame "Roll Tide What? F*** You!" rant after LSU beat Alabama or don't shed a tear every time he says "Go Tigers" at the end of every interview or press conference, you might not be a real fan.
Orgeron's voice, sometimes hard to understand, is also apparently the reason he was overlooked for a past coaching job.
Orgeron used to work as an assistant coach at USC under Lane Kiffin from 2010 to 2013, and upon Kiffin's firing, he took over as interim head coach. Orgeron coached the Trojans to a 6-2 record during that time and looked poised to take over full-time.
USC Passed on Ed Orgeron Because of His Voice
According to FS1 college football reporter Bruce Feldman, however, the USC Trojans passed on Orgeron because of his accent and personality. That would seem to be an odd reason, because winning football games is all that should matter.
"I think what you have is a guy who has continued to evolve. He made a huge jump from when he was at Ole Miss to when he was at USC. I think he's made a significant jump after that, but I really think it's a USC issue. You have a lot of people at USC, especially during the Pat Haden regime, who couldn't get past what Ed Orgeron sounded like. They didn't listen to the players. They didn't listen to the staff. At the end of the day, Ed Oregeron is not a country club guy. I think he can relate to just about anyone. The Governor of Louisiana was waiting outside the locker room. He's very street smart, and I think that's one of the things that made him a very good recruiter. He can read people very well. I don't think Pat Haden, who was the decision maker at the time, that's just not the type of guy he wanted. I don't think he could get past it."

— Bruce Feldman on The Rich Eisen Show
That's USC's loss. Orgeron might not be a country club guy, but he sure as hell knows how to coach and run a program.
After Les Miles was fired at LSU during the 2016 season, Orgeron took over as interim head coach and eventually won the full-time job. He's 38-9 as head football coach of the LSU Tigers football team since then.
USC went the opposite direction. The school hired Steve Sarkisian, who lasted just two seasons, and moved on to Clay Helton, who has failed to bring the historical NCAA powerhouse to national prominence.
LSU stomped nearly every Southeastern Conference team they played in 2019 — Auburn, Georgia, Texas A&M, Ole Miss, Alabama, Florida, Mississippi State, Arkansas — and the LSU coach is a big reason why.
Orgeron's offense has scored almost 50 points per game and Burrow is a touchdown machine that even Nick Saban and the Crimson Tide couldn't stop. The future NFL draft pick led the Tigers to an SEC Championship Game win and has a date with Oklahoma in the playoff as the team seeks a national championship.
What Happened to Ed Orgeron's Voice?
Born in Larose, Louisiana, Orgeron is of Cajun descent. He went to South Lafourche High School in Galliano, Louisiana, and played football alongside future New Orleans Saints quarterback Bobby Hebert. Orgeron signed to play football at LSU but transferred to Northwestern State University after a year.
Orgeron's voice sounds the way it does likely because of his Cajun background. He used to have drinking issues that include a story of him being arrested for head-butting a bar manager in 1992 and eventually resigning as Miami's defensive line coach, but it's unclear if that had any effect on his voice.