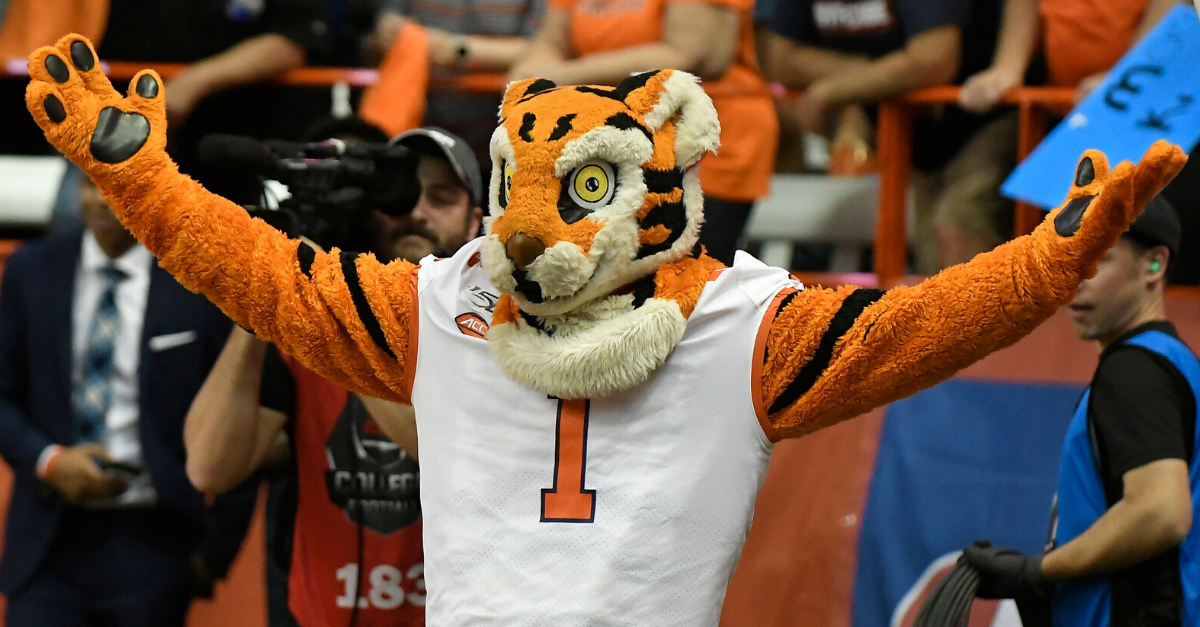 AP Photo/Steve Jacobs
College football mascots are more than just props used to hype up crowds on Saturday afternoons. Often times, they embody an entire university and are considered family. Imagine the Texas Longhorns without the fearsome, horn-wielding Bevo or the Georgia Bulldogs without the adorable Uga the Bulldog. Those are icons.
Some schools don't put in the same effort in the mascot department. That came to light during this year's installment of the College Football Playoff national championship game, during which the Joe Burrow and the LSU Tigers handily defeated the Clemson Tigers on and off the field.
While some fans of either program argued over which school was the real Death Valley, other fans compared the team's furry Tiger mascots.
The conclusion: Clemson's mascot, The Tiger, needs a serious makeover, and one LSU fan even started a GoFundMe titled "Purchase Clemson a new mascot costume" because they felt so bad for the mascot after it was turned into a meme on social media.
Now, the campaign has raised almost $2,500 and been shared more than 175,000 times.
LSU Raises Money for Clemson Mascot
"After turning on the national championship game on Monday the 13th I thought bad for The Clemson Tiger. It seems that the University purchased their mascot costume from the clearance rack from TG&Y in 1981. All proceeds will be mailed to the Clemson University Athletic Department at the conclusion of the fundraiser. GO LSU!!!"

? GoFundMe organizer Dion Grossnickle.
As of Wednesday, 291 donors had contributed money to the cause, and it easily surpassed its $1,000 goal. According to the page, all proceeds for the new costume will be mailed to the Clemson University Athletic Department.
Most contributors have chipped in $5 a piece, but some have donated more than $20 to help give a face lift to the Clemson Tiger mascot.
One donor, J Wells, put forth $10 and had some harsh words for the Clemson mascot:
"I had to give to the LSU-fan-initiated gofundme to purchase Clemson a new mascot costume. It?s HORRIBLE. It may be the worst College Mascot costume in the entire country. Those eyes, just…puke."
Clemson's tiger mascot was first introduced in 1954. It's huge, yellow eyes are supposed to be scary but instead make it look like deranged and sleep-deprived. It looks like an off-brand Tony the Tiger.
LSU, meanwhile, features Mike the Tiger — the name of both its live and and costumed mascot. The costume version's stripes are much more defined than Clemson's and it looks more like a tiger than the Clemson counterpart.
Hopefully Clemson puts the money to good use and upgrades its embarrassing mascot. Dabo Swinney, Trevor Lawrence and everyone else in South Carolina deserve better than that.