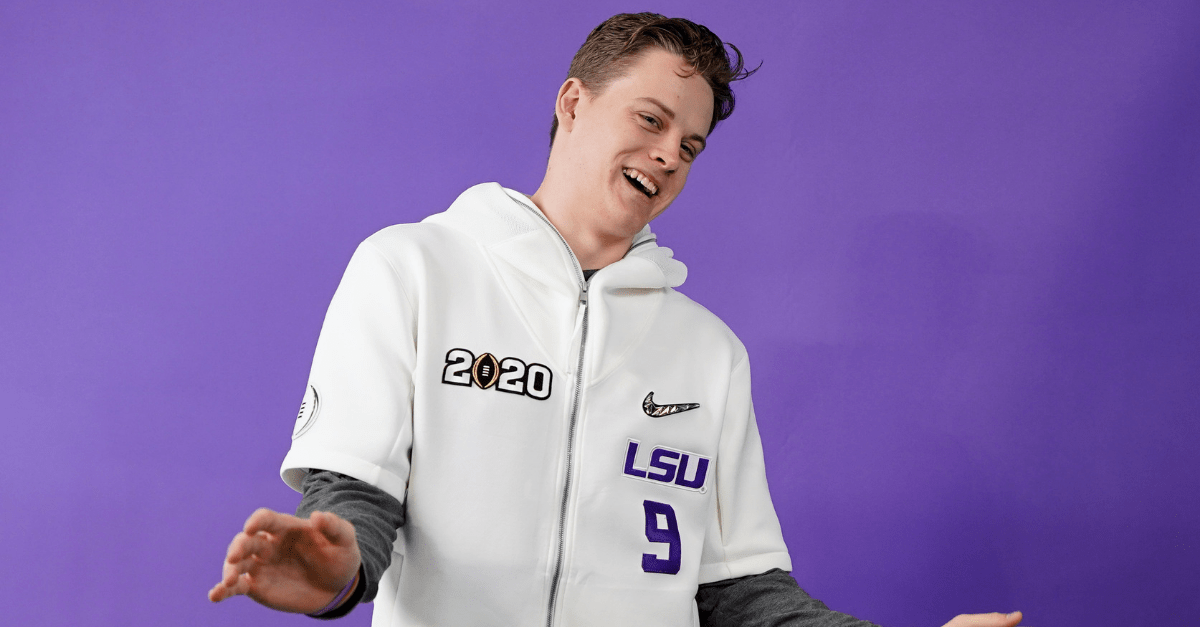 AP Photo/David J. Phillip
To the surprise of absolutely no one, former LSU Tigers quarterback Joe Burrow is the talk of the NFL Scouting Combine, and soon, he's likely to become the second LSU player picked No. 1 overall when the Cincinnati Bengals are on the clock at the 2020 NFL Draft. Let's just hope Burrow has better luck as a pro than JaMarcus Russell.
Burrow will be signing a handsome contract as the reigning 2019 Heisman Trophy winner and College Football Playoff National Championship MVP. But before his endorsement deals and commercial opportunities come, the humble Athens, Ohio native is capitalizing on his popularity in a big, big way.
An autograph signing event conducted by SportsCollectibles.com and Famous Ink, in a partnership with Fanatics, is being advertised as "Joe's only scheduled Louisiana signing!" Alongside two other NFL-bound national champions ? running back Clyde Edwards-Helaire and wide receiver Justin Jefferson ? the trio of Tigers will be at the Mall of Louisiana in Baton Rouge on Saturday, April 4 to sign autographs and take photographs with fans.
You'll need a ticket to participate in the event, but the ticket prices to get Joe Burrow's John Hancock are pretty hefty.
Joe Burrow Autograph and Photo Prices
Joe Burrow autographed flat item or LSU mini helmet ? $199

Joe Burrow autographed football helmet, full-sized football, or large item ? $259

Photo Op with Joe Burrow (One 8×10 photo) ? $219

Photo Op later signed by Burrow ? $349
In addition, you can purchase an added $79 "Inscription Ticket" to have either three words or one career accomplishment written on your sports memorabilia.
By comparison, getting either Jefferson or Edwards-Helaire's pictures would run you a nice $69, while their autographs on those premium items are $59.
For a player who just put on arguably the greatest single-season performance in college football history ? 76.3 completion percentage with 5,671 passing yards and an FBS-record 60 touchdown passes ? these price tags are certainly well-earned. It's unclear how much Burrow is actually making from this rare appearance, but if those prices are any indication, it'll be a handsome few hours signing autographs and snapping candids with LSU football fans.
RELATED: Joe Burrow's Ed Orgeron Impression is the Best One Yet
And for those of us balling on a budget, you can still find autographed Burrow memorabilia and collectibles to hang in your living room for a reasonable price.