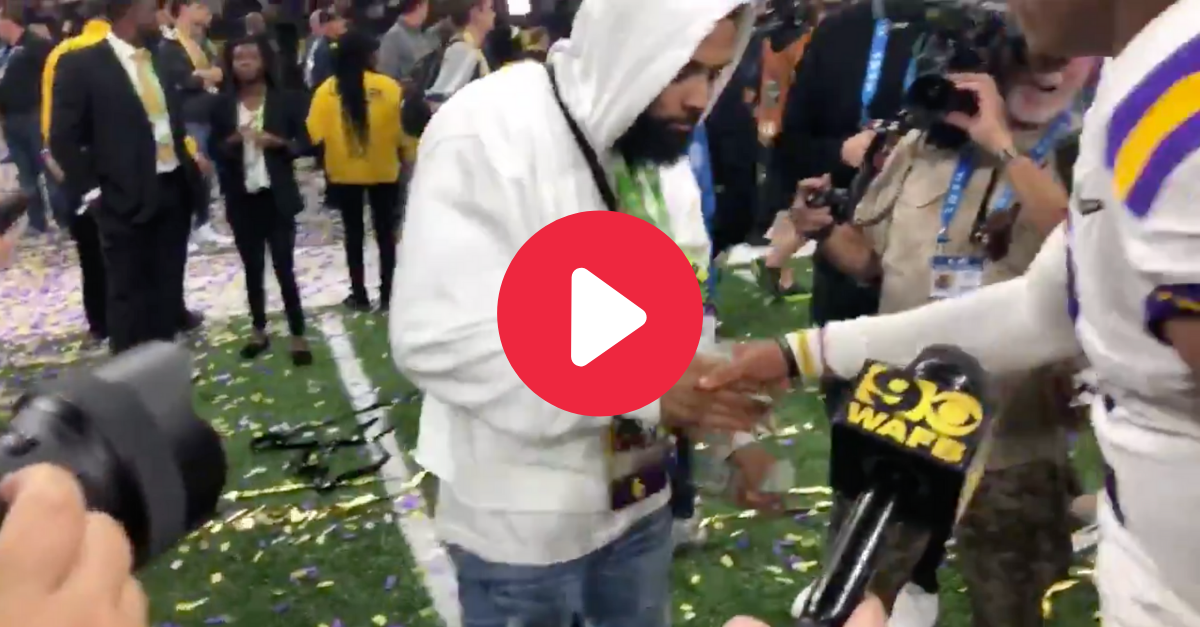 Screenshot from Twitter
The LSU Tigers won the College Football Playoff National Championship Game. It was impressive. It was awesome. This season was literally everything any fan could have hoped for. There was no doubt a celebration was in order down in New Orleans, Louisiana.
The 42-25 final score over the Clemson Tigers is what will be printed on t-shirts and will be remembered for years to come. Maybe even for a lifetime. However, there was an interesting scene that took place on the Mercedes-Benz Superdome field that raised plenty of eyebrows in the aftermath.
By now, it's no secret Cleveland Browns wide receiver Odell Beckham Jr. loves his alma mater. Giving them Beats by Dre headphones and a special message before the title game only was part of it. But OBJ was also spotted giving wide receivers Justin Jefferson and Jontre Kirklin a nice wad of cash late Monday night.
It was all caught on social media, too.
OBJ Gives LSU Players Wads of Cash
Justin Jefferson, a junior, caught nine balls for 106 yards from quarterback Joe Burrow in the CFP national title game. He was so good this postseason and has entered the 2020 NFL Draft because of it. But to be seen accepting cash from OBJ is something the NCAA will likely want to look at.
Is it an NCAA violation for this to happen? That's the question that needs to be answered. Odell Beckham Jr. definitely has the the money to do what he wants, but handing out cash to players on his college football team is pretty crazy to see.
It's one thing for the former LSU star to hand out the money privately in the locker room, but on the field? That's definitely a bold and daring move, especially considering current NCAA rules.
LSU Investigating Odell Beckham Jr. Cash Incident 
In a weird twist, LSU Athletics officials initially said it was fake money. However, everything has reversed course.
Joe Burrow admitted it was real money on the Pardon My Take podcast. Now the school is investigating the incident from the CFP national championship back in Baton Rouge.
"We are aware of the situation regarding Odell Beckham Jr. interacting with LSU student-athletes and others unaffiliated with the team following the championship game Monday night. Initial information suggested bills that were exchanged were novelty bills. Information and footage reviewed since shows apparent cash may have also been given to LSU student-athletes. We were in contact with the NCAA and the SEC immediately upon learning of this situation in which some of our student-athletes may have been placed in a compromising position. We are working with our student-athletes, the NCAA and the SEC in order to rectify the situation."
Only time will tell what will come from this, but there's a good chance LSU football fans are still partying and enjoying the big win.