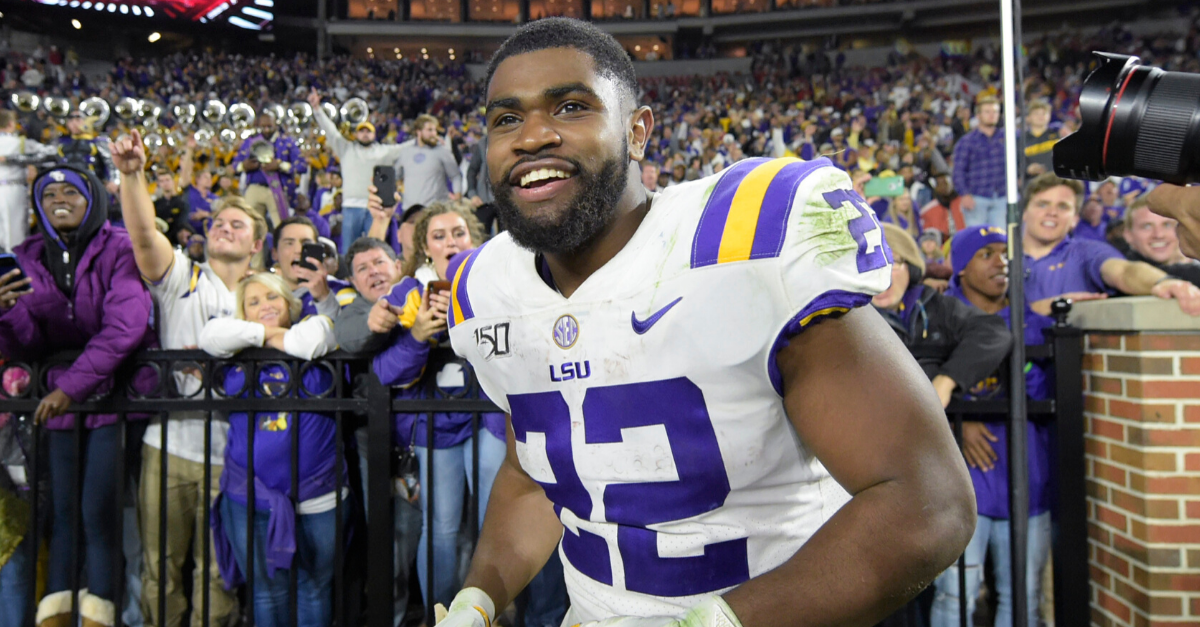 AP Photo/Vasha Hunt
Often forgotten among college football's greatest players ever, Hall-of-Fame running back Paul Hornung made history over and over again. He was the first pro football player to win the Heisman Trophy, be the NFL Draft's first-overall pick, win the NFL's MVP Award (1961), and earn Hall-of-Fame induction at the collegiate and professional levels. The Notre Dame Fighting Irish icon was known for his versatility, as "The Golden Boy" once led his team in passing, rushing, scoring, punting, kickoff and punt returns yards during the 1956 season.
His on-field accomplishments seem endless, and the four-time NFL champion and Super Bowl I winner's legacy lives on today through the Paul Hornung Award. Presented annually by the Louisville Sports Commission ? Hornung is a Louisville, Kentucky native ? the award was created "to recognize and reward versatile, high-level performers in major college football."
Since being established in 2010, some of the most electric players in the game received this honor, which is presented in partnership with Texas Roadhouse. Past winners include Stanford's Owen Marecic (2010), Georgia's Brandon Boykin (2011), West Virginia's Tavon Austin (2012), LSU's Odell Beckham Jr. (2013), Washington's Shaq Thompson (2014), Stanford's Christian McCaffrey (2015), Michigan's Jabrill Peppers (2016), Penn State's Saquon Barkley (2017), and Purdue's Rondale Moore (2018).
On November 14, the LSC announced four finalists for the 2019 Paul Hornung Award. These players are all kickoff return specialists, three are elite wide receivers, one plays a little quarterback, and the other is a workhorse running back for the No. 1 team in America.
Paul Hornung Award Finalists
Lynn Bowden Jr., Junior, Kentucky
Positions: Wide Receiver, Quarterback, Kick Returner
Joe Reed, Senior, Virginia
Positions: Wide Receiver, Kick Returner
Wan'Dale Robinson, Freshman, Nebraska
Positions: Wide Receiver, Running Back, Kick Returner
Clyde Edwards-Helaire, Junior, LSU
Positions: Running Back, Kick Returner
RELATED: Clyde Edwards-Helaire Shares Touching Moment With Dad After 'Bama Win
Through the first nine games of 2019, Clyde Edwards-Helaire ascended to a prominent role in LSU's offense alongside Heisman Trophy candidate Joe Burrow. After his 199 total yards and four total touchdowns against the Alabama Crimson Tide, the 5-foot-8 RB was named to the Paul Hornung Award Honor Roll and finally earned national recognition.
"22 for LSU" trended on social media following that Alabama game, mainly because Edwards-Helaire was largely unknown at the time. But now, everyone outside Baton Rouge recognizes the All-SEC candidate.
Appearing in 13 games as true freshman returner in 2017, the Louisiana native's stock continued rising as a versatile player when he totaled 1,181 all-purpose yards ? 658 rushing, 96 receiving, 416 returning, and an 11-yard TD pass ? as a sophomore in 2018.
A 17-member selection committee, plus an 18th vote through fan voting, will decide the 2019 Paul Hornung Award winner, which will be announced on December 11.
Bust out that LSU Tigers gear, Baton Rouge. This stellar season keeps getting better under head coach Ed Orgeron, and several Tigers could be taking home hardware for their efforts in 2019.