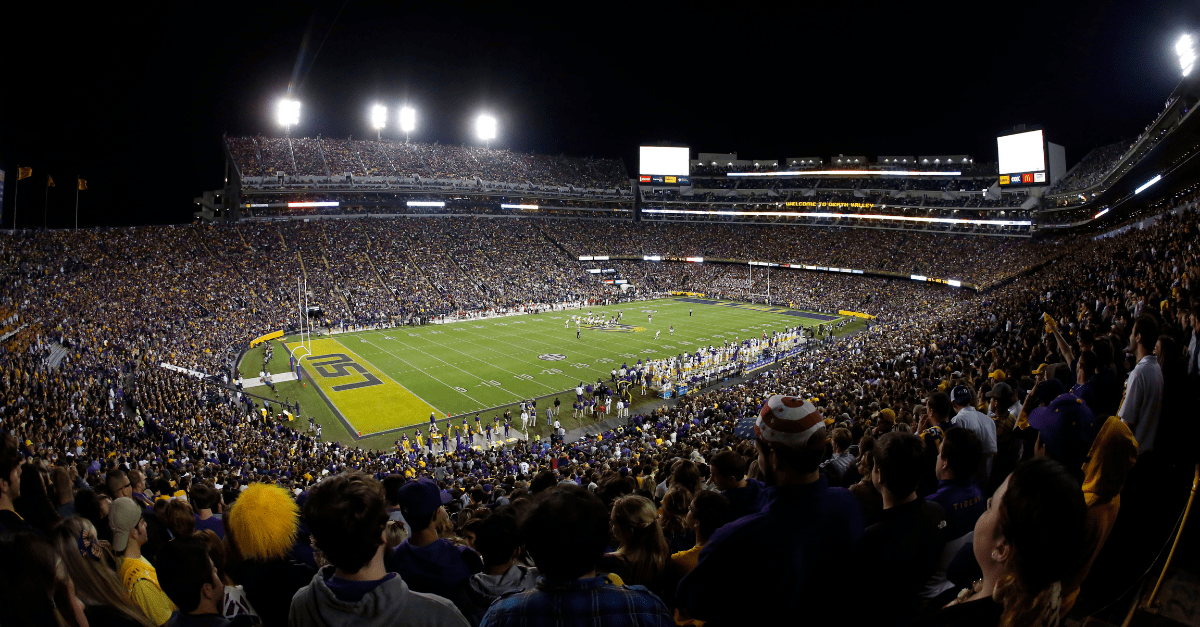 AP Photo/Jonathan Bachman
If you're on the road in college football, there is one place you definitely don't want to play, and that is against the LSU Tigers on Saturday night in Death Valley. But where did the famous name come from?
There is some disagreement on how LSU's football Stadium came to be known as the real Death Valley, and whether it was LSU or the Clemson Tigers that claimed the name first. Either way, traveling to Baton Rouge, Louisiana for a night game is never fun for the road team.
Why is LSU Called Death Valley?
The exact origin of LSU's Tiger Stadium first being called Death Valley is tough to find, but it was in 1959 that it first became a thing. Before that time, Tiger Stadium was known as Deaf Valley because it was nearly impossible to hear anything during a football game on Saturdays.
It was almost impossible to hear during game day then, but the stadium was built with space for just 12,000 in 1924. Thanks to expansions and renovations, it now currently seats 102,321 screaming fans. That is the third-largest stadium in the SEC, fifth in the NCAA, and sixth-largest stadium in the world.
Former LSU Sports Information Director Bud Johnson said LSU Tiger Stadium wasn't known as Death Valley until 1959 when the Tigers beat Clemson in the Sugar Bowl, but the name stuck ever since.
Clemson's Memorial Stadium has been called Death Valley since the 1940's, so they definitely have the edge on when the name was started, but Louisiana State University has the advantage of living up to the name these days.
RELATED: LSU?s 2019 Football Schedule Looks Promising for a SEC Title Run
Though it has been called Deaf Valley at times, former LSU head coach Les Miles probably did the best job of describing the nickname of Death Valley.
"That was Death Valley. That was the place where opponents' dreams go to die," he once said.
That isn't far from the truth with Tiger Stadium being known as one of, if not the most difficult, place to play in college football over the last half century. Everyone from fans and coaches to journalists have come to know Tiger Stadium as an impossible place to play because of how loud LSU fans are during games.
For any visiting team, the first time in the stadium should be nearly impossible to prepare for, but at least LSU gives a nice welcome with a sign on the side of the stadium. The name Death Valley became so popular that there is a large electronic sign that reads: "Welcome to Death Valley."
The LSU football team let their strength at home lead the program to not just great records, but SEC titles and their first College Football Playoff berth. Though other SEC West schools like Alabama, Auburn and Texas A&M bring elite programs into Baton Rouge, the amazing home-field advantage evens the playing field every time.
Why is Clemson Called Death Valley?
Clemson boasts plenty of success with a great home-field advantage, too. Their origin of Death Valley was solidified when Presbyterian College's coach Lonnie McMillian called Memorial Stadium "Death Valley" in 1948, simply because he couldn't win there. The name stuck and even led to Clemson coach Frank Howard being gifted a rock from the real Death Valley in California. This is now known as Howard's Rock and is touched by every Clemson player before running down the hill before each home game in the East end zone of the stadium.
So, which stadium is really Death Valley? College football fans will get to see when Clemson and LSU face off for a home-and-home series during the 2025 and 2026 seasons. Until then, I guess Joe Burrow and Trevor Lawrence battling it out for the 2020 CFP national championship game will have to do…
This article was originally published July 1, 2019.