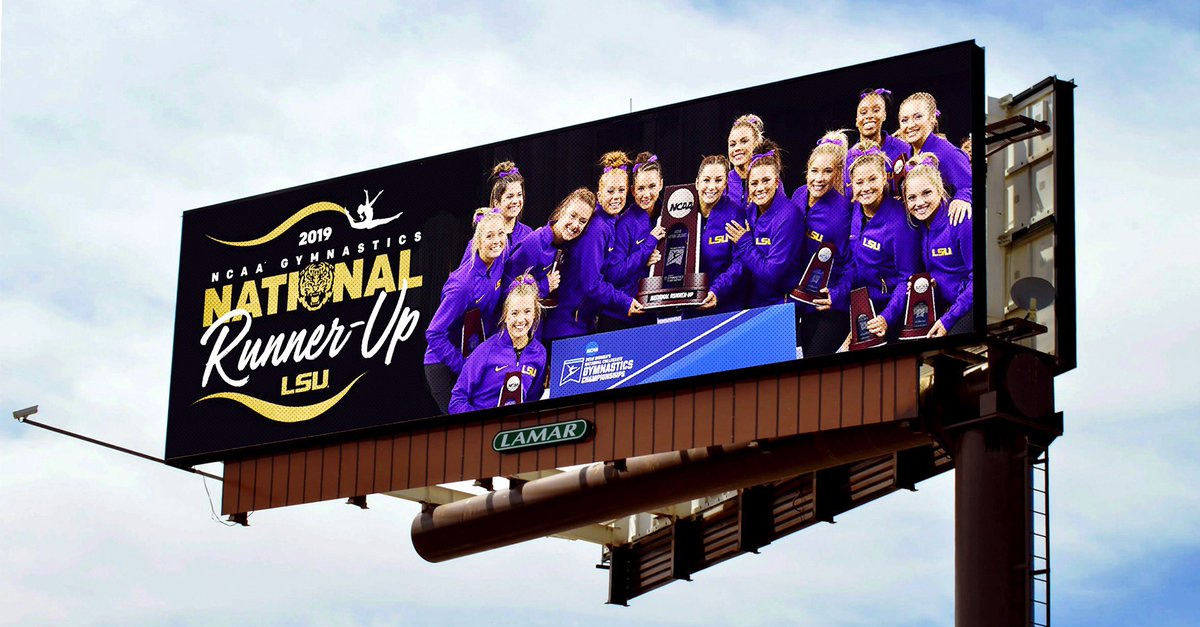 Twitter: LSUgym
The LSU Tigers gymnastics team finished second place for the third time in four years at the 2019 NCAA Women's Gymnastics Championships, including the second-highest score ever in an NCAA Final (197.825). The winningest senior class in LSU history finishes their careers with four-straight NCAA Championship Finals appearances, three-straight SEC Championships, and dozens of All-American awards between them.
To honor their time and accomplishments in Baton Rouge, the university thanked them with a giant billboard that read "2019 NCAA Gymnastics National Runner-Up" with the team's photo. That, apparently, is a cardinal sin in the eyes of Action Network sports business reporter Darren Rovell, who tweeted a very unpopular opinion of the billboard on Easter Sunday.
Senior Sarah Finnegan won her second national championship on the uneven bars with a score of 9.95, while Kennedi Edney finished in a four-way tie for first place on vault, also her second individual national title. McKenna Kelley, who is the daughter of famous American gymnast Mary Lou Retton, secured LSU's title with a near-perfect 9.95 in her floor routine.
This is one of the most decorated teams in LSU athletics history, regardless of sport, so honoring them like this is a no-brainer after their 2nd place finish in Fort Worth, Texas.
Rovell didn't exactly see it that way, though. The former ESPN reporter responded by saying, "No, you can't put up a billboard for coming in second."
RELATED: Ranking the 6 Best Los Angeles Lakers Recruiting Billboards
Rovell tried making the argument that during a time when the current generation is mocked for getting participation trophies, honoring second place with an electric LSU gymnastics billboard might be unnecessary.
Clearly, Rovell didn't bother to consider what the team thought about the billboard, but you better believe each of them saw his hot take on social media. Several members of the team, and even the LSU gymnastics account itself, clapped back at Rovell on Twitter.
While the entire LSU team was hot on the trail, they weren't the only ones who attacked Rovell's tweet. His initial tweet generated more than 1,000 comments in 24 hours, and most of them bashed Rovell for being out of touch with the spirit of the billboard.
Tom Satkowiak, who is the Assistant AD for Communications at the University of Tennessee, responded to Rovell by saying:
"Unless you know what a particular team means to a particular community or fanbase—and my guess is you don't—it's very poor form to send this tweet. You know, deep down, you'd like a mulligan on this one."
Rovell weirdly applauded himself later on for tweeting something that most people hated. He pointed out how Twitter allows us "to passionately express how they feel about topics and issues and debate those takes."
You might be on the fence about awarding a second place billboard, but there's no denying how important this LSU gymnastics team was to the entire Baton Rouge community and the university. While their careers didn't finish with a national championship on a team level, they put together an incredible run that will launch the program even closer to its first-ever NCAA National Championship.
For the record, LSU was competing against a dynasty. Oklahoma won the national championship for the fourth time in six years and finished the year undefeated (32-0).