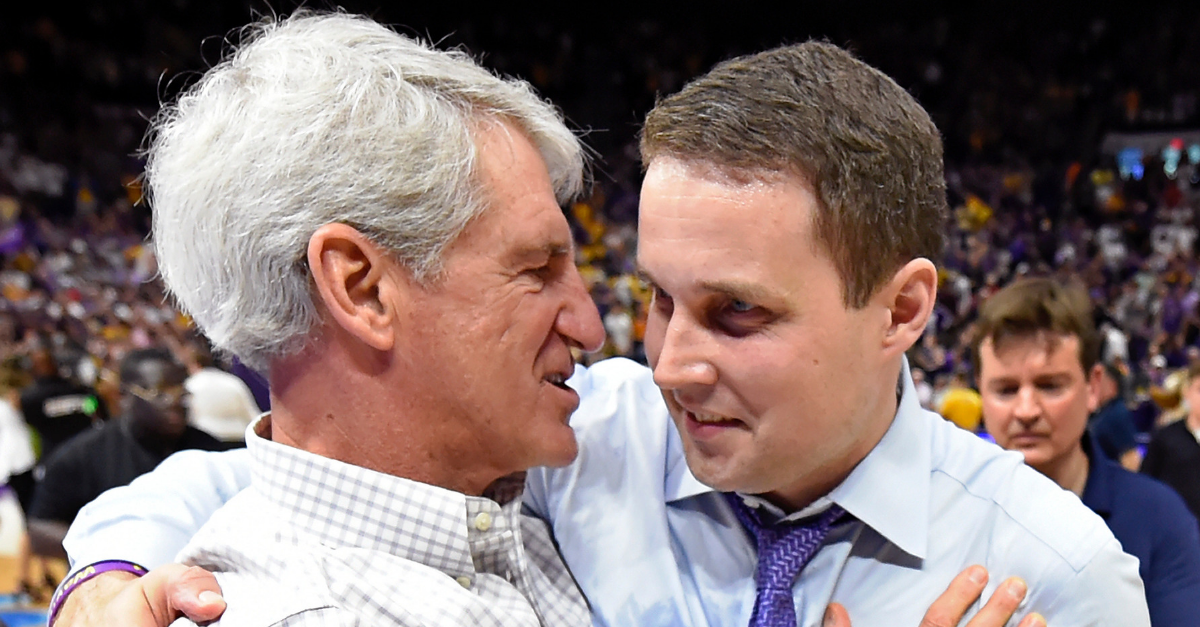 AP Photo/Bill Feig
In a perfect world, a high-major university would have a dominant football program, an elite basketball team, stellar coaches, top-notch facilities, and an athletic director in charge that makes it all happen. The LSU Tigers check off a lot of those boxes, but it appears there will be a change in leadership very, very soon.
According to The Baton Rouge Business Report, LSU athletic director Joe Alleva — the man who hired both football coach Ed Orgeron and men's basketball coach Will Wade — is expected to step down from the position he's held in Louisiana since 2008.
Why this is all happening right now is unknown at this point, but it is, and several fans and boosters are rejoicing at the news.
The job of the director of athletics seems pretty cut and dry, but it's far from easy. Overseeing an entire athletic program is certainly not a cake walk. This administrator is responsible for hiring and firing coaches, making sure finances and other logistics are in order across the board, and is responsible for fundraising and improving facilities.
Basically, an entire university's athletic image is on the shoulders of the athletic director.
When the 66-year-old Alleva arrived at LSU from Duke University to succeed AD Skip Bertman in 2008, the hire appeared to be one full of optimism. It eventually turned pretty ugly with fans and boosters alike.
Whether it was LSU AD Joe Alleva's failure to fire Les Miles and not hire Jimbo Fisher years ago or the recent handling of head coach Will Wade's suspension following recruiting allegations and FBI wiretaps, the end of the road appears here, and it seems like Louisiana State University is in need of a new leader.
"I tried to take him out years ago, but I swung and missed. And it looks like the Board and administration have finally got it — if the story is true. I tried fervently to take him out."

— Former LSU Board Member Stanley Jacobs, via the Daily Advertiser
For a man who was not liked for years, including by LSU officials, you start to wonder why it took so long for this to happen?
Sure, LSU football winning a big-time bowl game last season, basketball winning the SEC regular-season title and making it to the Sweet 16 of the NCAA Tournament, and other sports performing at a high level certainly makes things easier, but goodness. Sometimes it's better late than never, though.
According to the Daily Advertiser, LSU was likely targeting Texas A&M athletic director Scott Woodward to replace AD Joe Alleva. Woodward is a Baton Rouge native, graduated from LSU, and was a former vice chancellor.
Then, TexAgs.com reporter Billy Liucci said it was happening.
Until everything is confirmed and ironed out, all anyone really knows is a big change is coming and it's needed.