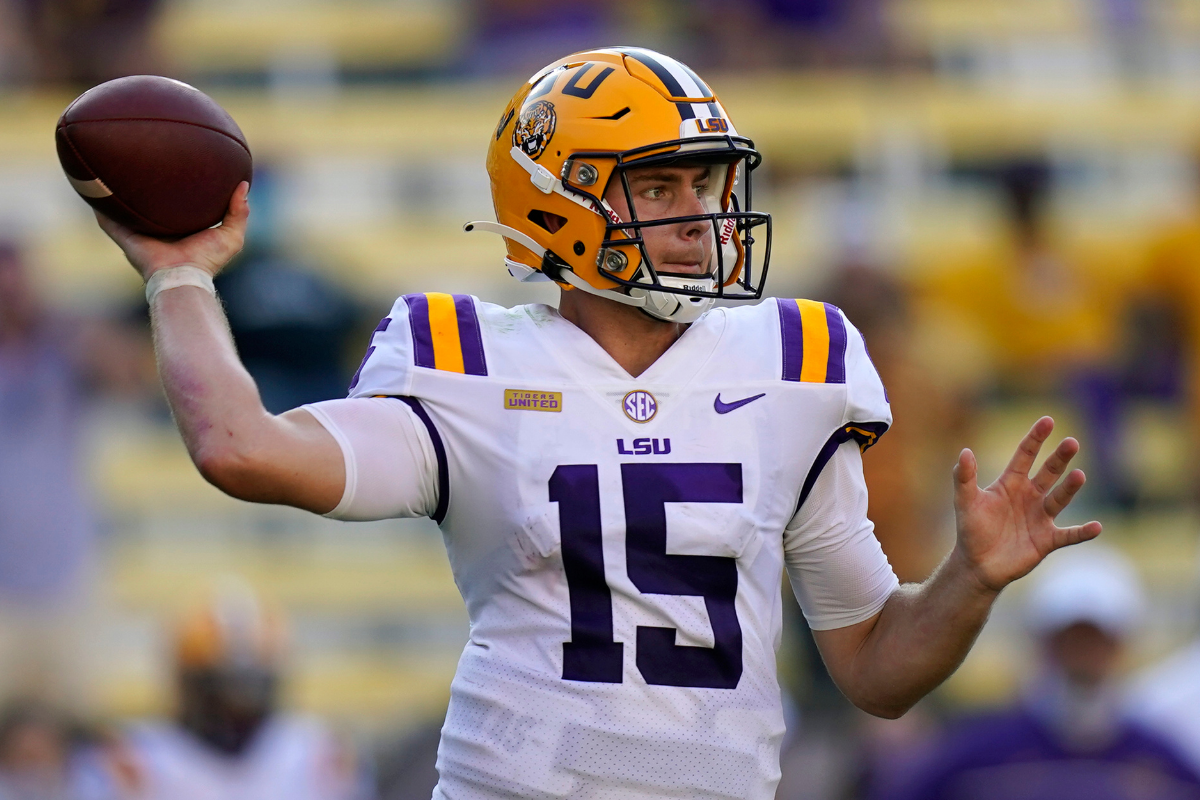 AP Photo/Gerald Herbert
LSU quarterback Myles Brennan is not Joe Burrow. He?s not. He was never supposed to be. He?s never going to be. The redshirt junior is his own man, a signal caller with elite talent, and he?s just getting warmed up.
A loss to the Mississippi State Bulldogs in the season opener is what many fans will remember about Brennan?s first start in Baton Rouge. The disappointing start at Tiger Stadium is a sour taste that?s hard to get over, especially since last year was so perfect with a national title. Yet, Brennan showcased flashes of brilliance for the future.
Brennan went 27-for-46 for 345 yards with three touchdowns and two interceptions. He was also sacked seven times. It was hardly perfect, but the completions, attempts and yards were all records for a first-time LSU starting quarterback.
LSU QB Myles Brennan?s First Start
RELATED: Myles Brennan?s Girlfriend Is Related to a Former New Orleans Saints QB
A former four-star recruit from St. Stanislaus High School in Mississippi, Myles Brennan waited patiently for his turn to be a starting quarterback in college football. He earned the right to be under center for the defending national champion LSU Tigers, too. Then he showed why.
After a sluggish start, a touchdown pass to tight end Arik Gilbert gave LSU the lead again in the second quarter. He found wide receiver Terrace Marshall Jr. in the end zone twice during the second half. He helped the Tigers score 34 points. It just wasn?t enough.
"Myles did make some good plays," LSU coach Ed Orgeron said. "But we dropped too many balls. The offense woke up in the second half. But we made too many mistakes.?
Mistakes are understandable. It was the first game in a SEC season delayed by the coronavirus pandemic and COVID-19 outbreak. Nobody in Louisiana was expecting national championship form, but most were at least expecting a win.
That didn?t happen, of course, but the blame definitely shouldn?t all be on Brennan, who completed five passes over 20 yards in the loss. Sure, he missed some throws, but setting records is no fluke and it?s not like it?s all his fault for taking seven sacks while also watching MSU quarterback K.J. Costello set an SEC record with 623 passing yards.
Last season is in the past. So much of that playoff team is gone to the NFL, including Heisman Trophy winner Joe Burrow, who plays for the Cincinnati Bengals. As much fun as it was, it?s time to move on.
LSU football will get better and head coach Ed Orgeron will make adjustments. It?s time to buy into Myles Brennan, though. There's more to come, and it all starts with his next game at Vanderbilt.