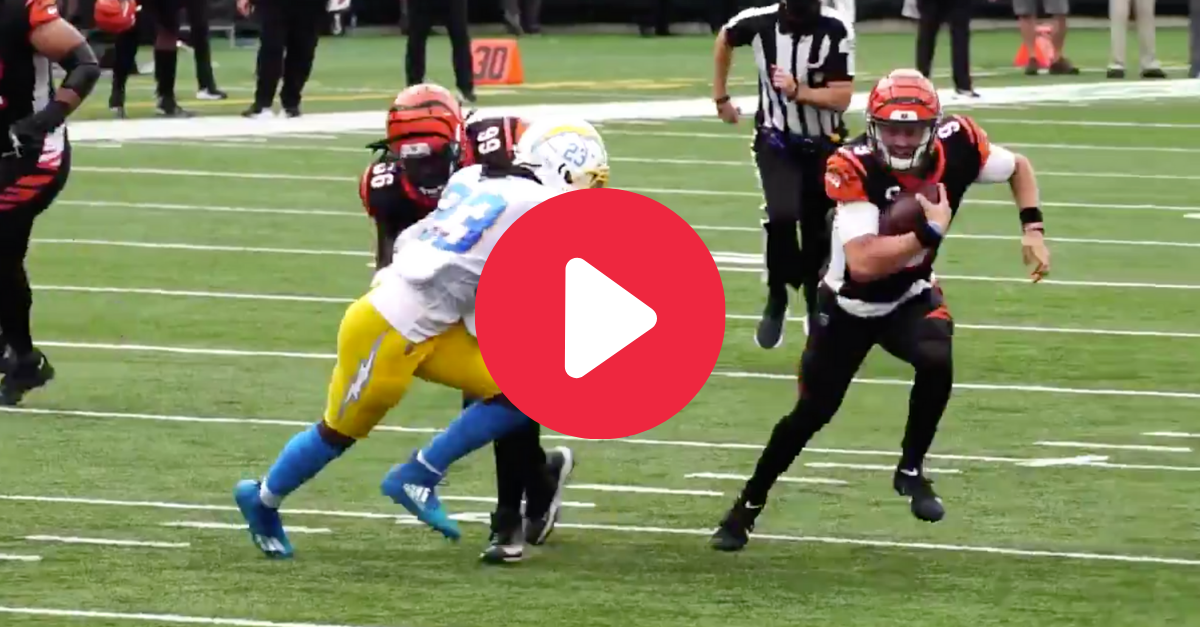 Screenshot from Twitter: NFL
There have been a lot of firsts in quarterback Joe Burrow's career. He won his first game with the LSU Tigers against Miami in 2018. He threw his first LSU touchdown to Ja'Marr Chase against Southeastern Louisiana the following game.
He was only getting started. The Ohio State transfer went on to throw more single-season touchdown passes than anyone in college football history in LSU's 2019 national championship run en route to a Heisman Trophy and yet another first: The Cincinnati Bengals drafted him with the first-overall pick in the 2020 NFL Draft, making him a very rich man.
The 23-year-old Burrow can now cross off another first from his bucket list: first professional touchdown.
Joe Burrow's 1st NFL TD
RELATED: Joe Burrow and His Girlfriend Are The NFL?s Next Power Couple
Everyone knows Burrow has a great arm and incredible accuracy, but some may not realize just how athletic he is as a runner.
When the Cincinnati Bengals and Los Angeles Chargers took the field at Paul Brown Stadium in Cincinnati, Ohio, Burrow relied on his legs for his first NFL touchdown.
The rookie quarterback took the snap and ran up the middle with two and a half minutes left in the first quarter. The designed quarterback run worked to perfections, as Burrow received a block and blew into the end zone for a 23-yard rushing touchdown, the first of his career.
NFL Next Gen Stats tells us that Burrow hit a maximum speed of 14.87 miles per hour on his impressive run. Per ESPN, he became the first Bengals rookie QB to rush for a touchdown in a season opener since 1968.
Of course, Bayou Bengals fans and Cincinnati Bengals fans who watched the rest Burrow's debut know it ended in heartbreak. He led his team on a late fourth quarter drive down three points, but kicker Randy Bullock missed a chip shot 31-yard field goal. The Chargers won, 16-13.
Burrow's face said it all:
Welcome to Cincinnati, Joe Burrow.
Hey, at least Burrow showed he's a gamer like Tampa Bay Buccaneers' Tom Brady in his NFL debut. He finished with 193 passing yards, one interception and 46 rushing yards. The Bengals get the Cleveland Browns next on Thursday night, so we'll get to see Joe in prime time.