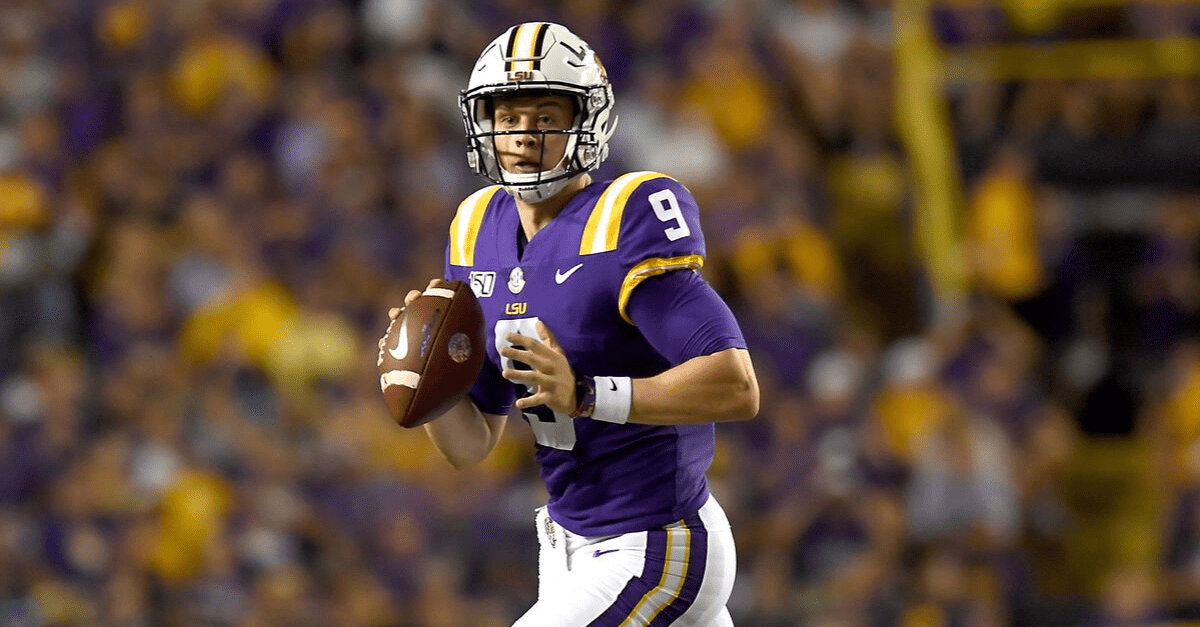 AP Photo/Patrick Dennis
Finding a reliable starting quarterback in college football is a little like seeing a shooting star. For what seems like a few brief moments, it's a beautiful sight. "Finally," you exalt, "our team has an answer!" Then, as the red-hot space rock disintegrates in the atmosphere, the spectacle is gone.
In 2019, that shooting star is LSU Tigers quarterback Joe Burrow. Seemingly out of nowhere, the redshirt senior ranks No. 2 among all quarterbacks with 1,520 passing yards and 17 passing touchdowns, plus he ranks first in the nation completing 80.6 percent of his passes through LSU's first four games. LSU ? yes, that LSU ? averages 57.8 points per game, the most of any team in college football.
Burrow quickly jettisoned up Heisman Trophy predictions and made seasoned football minds like FS1's Colin Cowherd look like fools with no idea where this guy came from.
But long before his rise to national fame, Joe Burrow was turning heads in Baton Rouge as the proverbial "other guy" on the Tigers roster.
LSU Quarterbacks 2018
Danny Etling, the former Purdue transfer, shined in his final year at LSU, finishing 13th in the nation in passing efficiency and averaged 14.9 yards per completion; that ranked sixth in the NCAA. Just like our shooting star analogy, the 2018 seventh-round NFL Draft pick of the New England Patriots disappeared as quickly as he came.
Following LSU's 2018 spring game, head coach Ed Orgeron said that despite the three quarterbacks who participated, none was a clear front-runner for a starting job, according to The Times-Picayune.
Redshirt junior Justin McMillan started the spring game and amassed 182 passing yards and one touchdown; he also ran nine times for 69 yards. Lowell Narcisse played well, throwing for 205 yards and a touchdown. Sophomore Myles Brennan was 11-for-21 for 125 yards and one touchdown, but did toss the lone LSU interception.
All told, the three LSU quarterbacks completed 30 of 61 passes that day. Not going to cut it in the SEC.
Orgeron added, "We have some guys that, as you saw tonight under the lights, Justin played better than the other quarterbacks. That's a fact. But the quarterback competition will stay open through camp."
Finding "the guy" would take time, but there was one player who didn't participate in spring practice or the spring game who grabbed Orgeron and the LSU staff's attention more than the others.
Enter: Joe Burrow
In three years with the Ohio State Buckeyes, the former four-star, pro-style quarterback appeared in 10 games, none of which were under meaningful circumstances. Burrow did, however, throw for 287 yards, two touchdowns, and complete 74.4 percent of his passes when called into action. Buried behind J.T. Barrett and Dwayne Haskins on the depth chart, Burrow decided to take his two remaining years of eligibility on the road and immediately found a home at LSU as a graduate transfer.
?The guys are competing more in the weight room, competing more when they?re running," Orgeron told NOLA.com. "I think that he?s [Burrow] going to bring a tremendous amount of leadership and competition to our team."
"He's a football junkie," LSU offensive coordinator Steve Ensminger said of Burrow. "For that young man, in 2018, to want to be in that office as much as you, is a big deal."
As a senior in high school, Burrow threw for almost 4,500 yards and 63 touchdowns on his way to being named Ohio Mr. Football and earning All-State honors for the second year in a row. His 11,428 career passing yards rank fourth all-time in Ohio high school football history.
Burrow's 2,894 passing yards in 2018 were the fourth-most in LSU history, and his 17 passing touchdowns were tied for ninth-most in a single season. Those numbers looked great last year, but it's nothing like what he's done to start 2019 for the purple and gold.

Burrow threw for the second-most yards in program history (471) in a massive road win over the Texas Longhorns. Two weeks later, he set the LSU record for touchdown passes in a single game, tossing six of them in a 66-38 win over Vanderbilt. In LSU's first four games of 2019, Burrow has three of the top-10 single-game passing marks.
Reminder: The LSU football program first took the field in 1893.
LSU faces the likes of Florida, Mississippi State, Auburn, Alabama and Texas A&M in 2019, all of which have the talent to bottle up Burrow. But while this offense is doing things no one saw coming outside of Baton Rouge, the people in that locker room knew exactly what they had coming from the moment Joe Burrow arrived.
This guy is a winner, and if this success continues, he could do a lot more than just rewrite the LSU record books in his final season.