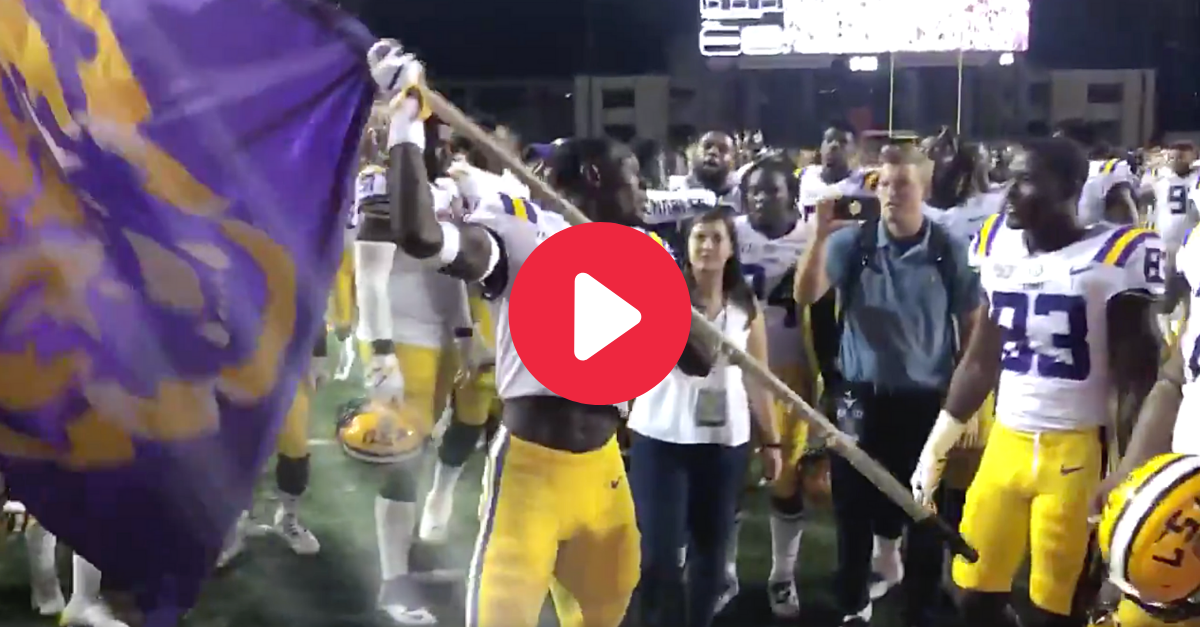 Screenshot from Twitter: Tema Masters
It's not even close what college football's game of the season was after two weeks in 2019. When the No. 6 LSU Tigers traveled to face the No. 9 Texas Longhorns, all eyes were locked on Austin. Led by quarterback Joe Burrow's 471 passing yards ? the second-most in LSU history and most by any player at Darrell K Royal-Texas Memorial Stadium ? the Tigers held off the Longhorns to score a huge 45-38 win on the road.
Obviously, LSU was going to bask in this victory. The day began with ESPN's College GameDay broadcast and ended in a College Football Playoff-sized win. But before Ed Orgeron's team headed back to Baton Rouge, there was one final statement to make before LSU left the field.
LSU Plants Flag in Texas
Sophomore safety Kenan Jones didn't record any meaningful stats in the game, but that didn't stop him from hoisting the purple and gold LSU colors afterwards. With an LSU flag in hand, Jones made his way onto Texas' field, and surrounded by teammates, "planted" the flag into the end zone turf. He then declares, "This is our house now!"
You can hear someone off camera yell, "No, Kenan!" This sounded like a warning to not cause unnecessary attention, but it wasn't even the first action by LSU football players that caused a stir Saturday night.
Before the game even began, LSU players walked over to the UT sideline and started drinking the Longhorns water, which caused a pregame scuffle involving both teams. After sealing the football game, Joe Burrow was among several LSU players who waved goodbye to the Texas Longhorn faithful.
RELATED: LSU Night Games are Legendary, But How Did They Become Famous?
There was a diatribe against LSU for these acts of "disrespect" by not only Texas football fans, but from SEC fans all over the country. But what they're quick to forget is that before it all began, members of the Texas spirit squad fired a cannon shot right through a Joe Burrow LSU jersey.
Kenan Jones' flag plant won't get as much attention as former Oklahoma quarterback Baker Mayfield, who planted an OU flag in Ohio State after the Sooners beat them in 2017. Still, stunts like this put a HUGE target on LSU's back for the future.
Don't forget: Tom Herman and Texas travel to Death Valley for a rematch with LSU on Sept. 12, 2020.