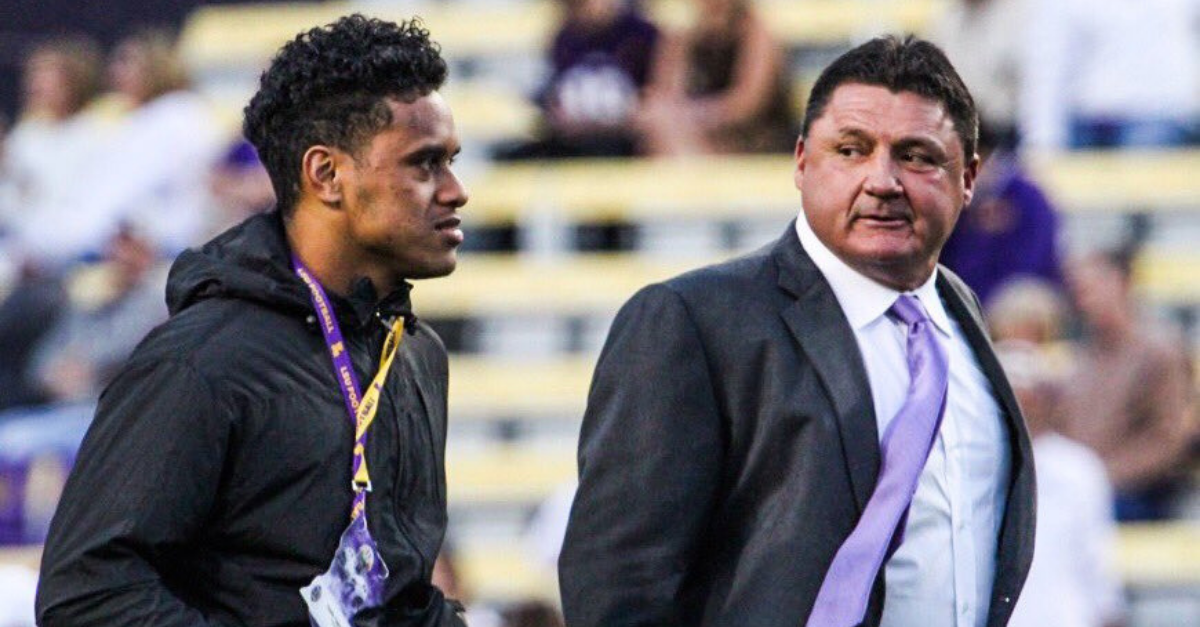 Photo by Tre'von Ware, 318Photo
Photo by Tre'von Ware, 318Photo
One of the biggest names coming in with the Alabama Crimson Tide recruiting class for 2019 is Thompson (AL) quarterback Taulia Tagovailoa. The younger brother of the Tide's star quarterback Tua Tagovailoa, the No. 6 pro style passer in the nation has put on a show during his senior season and has the Thompson Warriors poised for a run in the Alabama state playoffs.
Tagovailoa committed to play for coach Nick Saban in Tuscaloosa back in April, and with his brother already tearing up the NCAA this season, it feels like a perfect match to pair the brothers together. However, after being seen on Saturday with LSU Tigers head coach Ed Orgeron, and with the log jam at quarterback at Alabama, there are a few reasons for Tide fans to fear that the younger Tagovailoa could be wearing purple and gold in 2019 and beyond.
Prior to LSU's 29-0 blowout loss at home to Alabama on Saturday night, Taulia Tagovailoa and Orgeron were seen strolling around Tiger Stadium in Baton Rouge, with the highly sought-after recruit dawning noticeable purple and gold credentials.
What is Orgeron up to seeing Taulia just hours before the biggest game of his LSU career? His Tigers have 2019 commitments from Derek Stingley, the No. 1 cornerback recruit in the country, and 350-pound offensive lineman Kardell Thomas, the nation's top-rated guard, but the only signal caller among the incoming class is four-star quarterback Peter Parrish from Phenix City, Alabama.
Orgeron isn't the only one thinking Taulia could be a Tiger next season, either. Check out this exchange between LSU's Breiden Fehoko and Tagovailoa after the game.
With transfer quarterback Joe Burrow staring at one year of eligibility left, could Taulia Tagovailoa be thinking about a move to Louisiana? Here are three reasons why he could make the jump:
1. Alabama's Quarterback Room
We all know that Tua isn't going anywhere. With junior Jalen Hurts staring at one year of eligibility left, he could likely try to make the jump to the NFL in the offseason, but a return to Alabama next season isn't out of the question. Behind him is Mac Jones, a top-10 recruit in his own right and a former high school All-American. Plus, four-star quarterback Paul Tyson is a big Alabama kid who is rated just behind Taulia, according to 247Sports, that will be coming to Tuscaloosa next season. Why should Taulia wade through this muck when other places will allow him more playing time?
2. He's a Day-One Starter
The kid isn't a lefty like his older brother, but he can throw the ball around the yard just as well as Tua. The senior has thrown for 3,026 yards and 29 touchdowns through Thompson's 8-1 start to their season with the state playoffs looming. He's accurate and is being recognized at national camps like the Elite 11 and The Opening Finals, as well as being selected for the All-American Bowl and Polynesian Bowl rosters. Joe Burrow is a placeholder QB at LSU, and Tagovailoa could very easily come in and push for the starting job as a freshman.
3. Taulia's Tired of Being "Kid Brother"
If you have older siblings, you know that living in their shadow is anything but fun. The Tagovailoa's have a reputation for being family-first, supporting each other on a weekly basis, but maybe it's time for Taulia to step out of Tua's shadow? Tua is likely to win the Heisman Trophy this season as a sophomore, cementing his legacy in Alabama forever and securing his place there for next season. Is it possible Taulia isn't willing to sit and wait for big brother to finish his moment in the spotlight?
Coach Orgeron is going to pull out all the stops to get the other Tagovailoa to his school, and with all these factors in play, it makes a lot of sense for Taulia to decommit and head to Alabama's SEC rival in Baton Rouge for 2019.