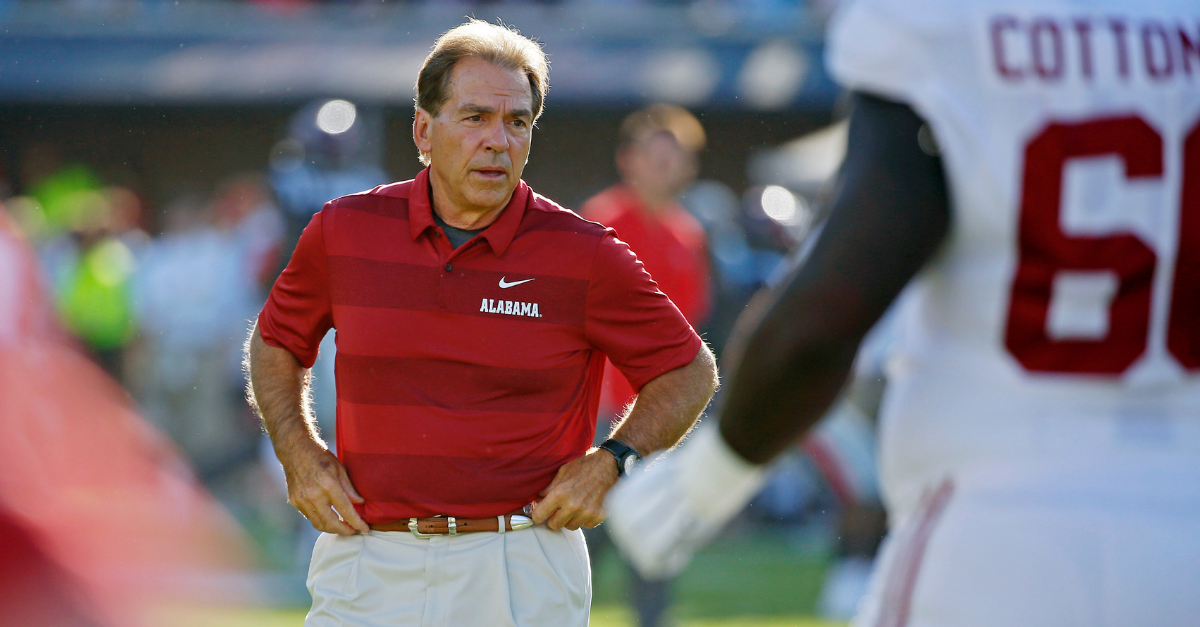 AP Photo/Rogelio V. Solis, File
AP Photo/Rogelio V. Solis, File
Rivalry games are built on trash talk and bad blood, and no rivalry knows that better than Alabama versus LSU. What started with a 12-6 victory by the LSU Tigers back on November 18, 1895 has built into one of college football's most anticipated rivalries of the modern game, and there's no shortage of smack talk between the two programs.
Every Thursday night, Alabama Crimson Tide head coach Nick Saban talks all things football and takes fan questions as part of the "The Nick Saban Show." One of the questions during the "Hey Coach" segment that came through was simple: if Alabama wins the coin toss, what will they choose to do — kick or receive? Saban's answer will get every Tide and Tigers fan on the edge of their seat in anticipation for Saturday night.
Fresh off a birthday celebration, the 67-year-old head coach answered the basic question on his weekly radio show with a little trash talk that's going to echo all the way over to Baton Rouge, Louisiana.
"To be honest with you, I hope we elect to kick ass, is what I hope we do." — Nick Saban, via Charlie Potter on Twitter
RELATED: Ed Orgeron's Mouth Gave Alabama All the Motivation It'll Need
Yeah, this rivalry is definitely going to be like that.
During a press conference earlier this week, LSU head coach Ed Orgeron sent similar jabs at the Alabama team when he, unprompted, guaranteed his team would go out and win the SEC clash at Tiger Stadium.
The Crimson Tide have a significant edge in recent years, having won the last seven meetings in a row that all started with the 2012 BCS National Championship win. Saban, who seems to be aging backwards and is always full of energy and enthusiasm, always gets his team fired up for this game.
Back in 2008, the Alabama coach delivered a pregame speech that is going to make you throw on a crimson and white jersey, find the nearest brick wall, and run directly through it.
It'll be Tua Tagovailoa versus Joe Burrow. It's Alabama's high-powered offense versus LSU's All-American defense. It's consistent Nick Saban dominance versus Ed Orgeron's program-defining game.
Alabama is a two-touchdown favorite for their road game on Saturday night in Death Valley, but this game could very well come down to a few plays or players that swings this game one way or the other at the very end.