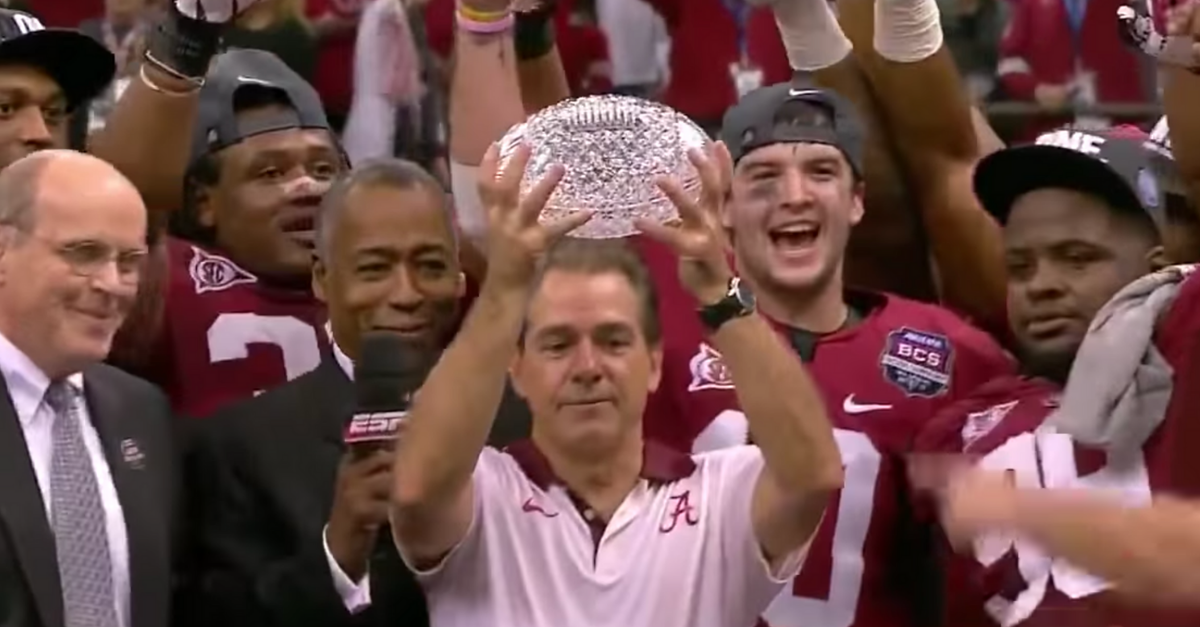 YouTube: Blackbeard Owns
YouTube: Blackbeard Owns
Every season, the most important game in the Southeastern Conference pits the Alabama Crimson Tide and LSU Tigers against each other. While the series extends as far back as 1895, there's arguably been no game that's impacted college football as a whole than the 2012 BCS National Championship game, which Alabama won 21-0.
It was a game that never would have happened if it weren?t for a November 2011 matchup between the two in Tuscaloosa. Depending on your perspective, you either watched the best defensive game ever played, or the most boring game ever played.
No touchdowns were scored by either team in that game, just missed opportunities by both teams, great defensive plays, and, of course, great field goal kicking by both teams.
RELATED: Why Devin White's Suspension Could Doom LSU Against Alabama
Led by head coach Les Miles, LSU would win that game 9-6 and jumped Alabama to become the No. 1 team in the country. LSU would eventually win the SEC Championship and make their way to the national championship game (sound familiar) and meet up with who? Alabama. The 2011 game marked the last time LSU had defeated Alabama. From the 2012 national championship game until now, Alabama has won seven straight in this series.
The 2012 title game in New Orleans also marked the beginning of the end of the BCS as we know it. The BCS was supposed to matchup the two best teams in the country, and the rematch of LSU/Alabama angered a lot folks in college football who didn?t think there shouldn?t have been a rematch.
Some argued, LSU had nothing to prove. They had already beaten Alabama and head coach Nick Saban, so why should they have to face them again?
But even the critics of this move thought the second best team in the country was Alabama despite not winning their own conference.
The Crimson Tide would dominate that game, which also didn?t have a touchdown until nearly the end of the game. After the contract was over with the BCS, there was an outcry in the college football world to change the system to include more teams competing for the national championship.
Now, we have the modern day College Football Playoff, which some thought should prevent two teams from the same conference making the playoffs. Clearly, that hasn't happened.
We should be grateful for that 2012 national championship game because if it wasn?t for that game, we wouldn?t have today?s modern day system which has made college football more exciting than ever before.