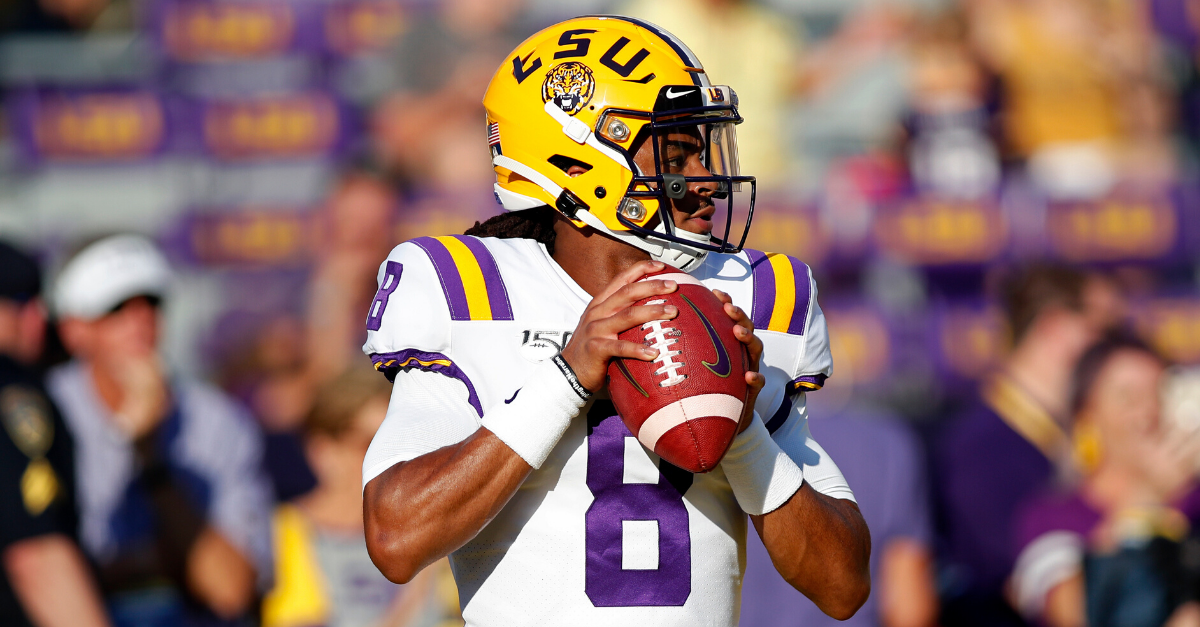 AP Photo/Tyler Kaufman
For LSU Tigers head coach Ed Orgeron, replacing quarterback Joe Burrow is not going to be easy. After all, how does anyone really follow a record-breaking 65 touchdowns, the Heisman Trophy, and a College Football Playoff National Championship. There are some solid options, but one of them isn't in the mix right now.
For all intents and purposes, the starting quarterback job likely belongs to junior Myles Brennan. He was the backup to Burrow each of the past two seasons in Baton Rouge, Louisiana and was QB1 to start spring practices.
One of his biggest competitors in practice was supposed to be dual-threat quarterback Peter Parrish, but he hasn't been with the team. Now we now why.
LSU QB Peter Parrish Suspended Indefinitely
RELATED: Meet LSU's Newest 4-Star QB, Son of Super Bowl Champion
LSU quarterback Peter Parrish never saw the field during his redshirt freshman season, but he had a full year in the Tigers' system. That's why he was going to be considered for playing time in 2020. He's now got to work his way back onto the team.
The former four-star recruit for Central High School in Phenix, City Alabama, according to 247Sports, has been suspended from the team indefinitely for a violation of team rules. It's unclear what the violation is, but Orgeron confirmed Parrish hasn't been with the team "for a while," according to The Advocate.
So without Parrish, a 6-foot-1 quarterback who led his high school team to a state championship, LSU's quarterback room now only features Brennan and freshmen TJ Finley and Max Johnson during spring football.
Adding a transfer quarterback is a possibility this offseason, too.
"We'll see. We're going to see at the end of spring. We don't know that yet. We haven't made a decision yet. It's not either way right now, whether we're going to take one or we're not going to take one. Right now, I'm very pleased with what Myles is doing."

— LSU coach Ed Orgeron, via The Advocate
LSU football is going to look a lot different next season, especially in the SEC and with Joe Burrow in the NFL. And while only time will tell if Parrish will return or enter the NCAA Transfer Portal, it appears Coach O is still as confident as ever moving forward.