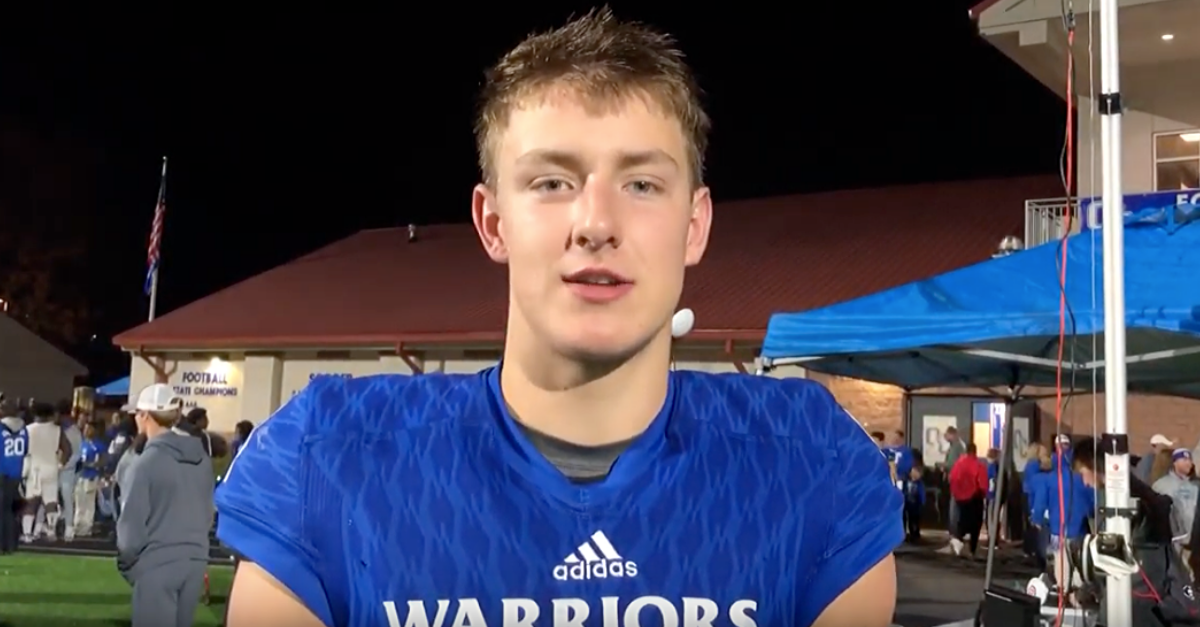 Screenshot from YouTube: Oconee Leader
Only six players in NFL history completed at least 60 percent of their passes in 13-straight seasons. Five of them are obvious — Aaron Rodgers, Philip Rivers, Peyton Manning, Drew Brees and Tom Brady. But the sixth? That'd be former NFL quarterback Brad Johnson, who was the first to accomplish the feat between 1995 and 2007. Johnson reached two Pro Bowls in his career — one with the Washington Redskins and another with the Tampa Bay Buccaneers — and helped lead the Bucs to victory in Super Bowl XXXVII alongside head coach Jon Gruden.
It's safe to say Johnson knows a thing or two about being a successful signal caller, which he passed down to his son, Oconee County High School quarterback Max Johnson.
A native of Watkinsville, Georgia, Max Johnson is a unanimous four-star prospect by every major recruiting service. The 247Sports Composite ranks Johnson as the No. 10 pro style quarterback of the 2020 recruiting cycle, while ESPN ranks the 6-foot-5 gunslinger as the No. 14 overall player in Georgia.
During the first day of December's Early Signing Period, the left-handed QB made it official and signed his National Letter of Intent to play college football for Ed Orgeron and the LSU Tigers.
QB Max Johnson Signs with LSU
Johnson was named Georgia's Region 8 Player of the Year after racking up over 2,000 passing yards, completing 66 percent of his passes, and accounting for 35 total touchdowns during his senior season. The Oconee County Warriors finished the 2019 season with a 13-2 record, but fell to Blessed Trinity in the Class AAAA state championship game.
Auburn, Florida State, Georgia, Miami, Michigan, Ohio State, Tennessee and Texas A&M were among the schools offering scholarships to the prized quarterback recruit, but LSU received a verbal commitment from Johnson in November 2018, and he never wavered.
With a football pedigree that runs deep — former Georgia and Miami head coach Mark Richt is his uncle — it shouldn't take long for Max Johnson to make a splash in college football.
Max Johnson Highlights
Heisman Trophy winner Joe Burrow is headed to the NFL Draft in the spring, which means the College Football Playoff's top-ranked team needs a new leader in 2020. A stable of underclassman arms including Myles Brennan, Peter Parrish, Walker Kinney, A.J. Aycock, and John Gordon McKernan will all be fighting for the starting job next season in Baton Rouge.
Three-star quarterback T.J. Finley also signed his NLI with LSU as part of a top-5 recruiting haul for the Tigers.
This article was originally published December 18, 2019.