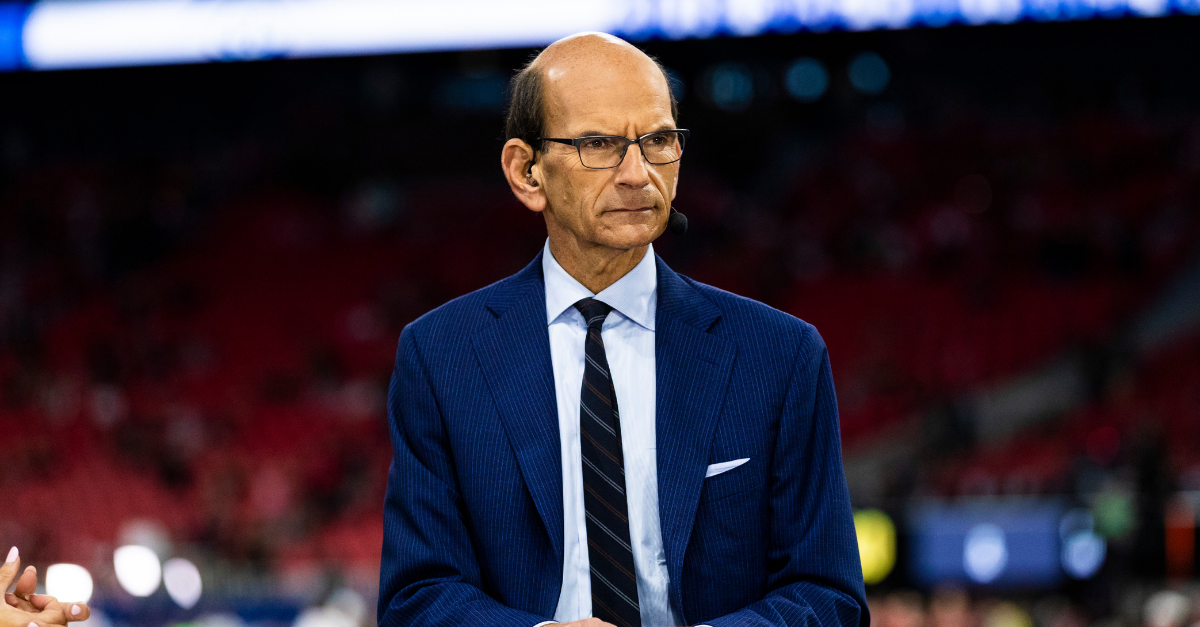 Ric Tapia via AP
One of the most recognizable faces in not just the SEC football world, but in the entire college football landscape, is Paul Finebaum. So, it should come as no surprise that the famed sports reporter has a net worth up in the millions.
The best-selling author has his own radio show, makes appearances on some of the biggest sports talk-shows, and is deep into a long, successful career in sports journalism. Every college football fan probably know either Finebaum's name, face or voice, but how much has Finebaum actually made over the years?
Outside Sports
Finebaum has had his hands on college sports journalism for decades, but he didn't begin covering sports at all. He began his career at the University of Tennessee writing about the student government for the school newspaper, which makes sense because he was first a political science major.
Before he was a writer-host-producer, Paul Alan Finebaum was the second-born child of Gloria and Benjamin Finebaum from Memphis, Tennessee. He was born on July 26, 1955 and would eventually attend Christian Brothers High School and White Station High School before eventually going to his home-state school. He has been married to his wife, Dr. Linda Hudson since 1990.
Getting His Start
After graduating from Tennessee, he moved to Birmingham and became a reporter and columnist for the Birmingham Post-Herald.
This explains why he has such a connection to Alabama-based teams and why his radio show always seems to gravitate back to the Alabama Crimson Tide and Auburn University. It is also a large reason why he was able to play a large role in the ESPN documentary "Roll Tide/War Eagle".
He has been a part of sports-talk radio for almost 40 years, most notably in his early career running the Mark and Brian Radio Show at WAPI-FM. The future radio personality would eventually become a radio host with his own show on that same network. But that was a long time before he eventually would have the Paul Finebaum Radio Network that SEC country loves to hear today.
Best-Selling Sports Author
Though he got his start at a newspaper, the former columnist has other experiences including writing books, some of his most famous being in the "I Hate…" series. This series followed the idea of "I Hate (school): 303 Reasons Why You Should, Too."
His most recent book was titled "My Conference Can Beat Your Conference: Why the SEC Still Rules College Football." This spent five months on the New York Times Best Seller List and is probably his most successful book he has written.
Television
In the last two decades, he has most notably been an American TV personality on ESPN, and all of its shows like College Gameday. He may not be one of the main voices on the show, but he is definitely a go-to for all-things Southeastern Conference and can be counted on to take part in the show every week of the college football season.
He is probably one of the main faces on SEC Network with his radio show being broadcast on the network, as most people grew to know him because of The Paul Finebaum Show. Maybe one of the more entertaining parts of the show is when he has fans call into the program, which has hosted some pretty colorful characters over the years.
Paul Finebaum Net Worth
With so much experience over so many mediums, it is not really much of a surprise that Finebaum has built up a net worth of $2 million, according to CelebrityNetWorth.com. He may not be a person that would scream money, but when you become one of the best and most-respected professionals in your field, you can expect to get a pretty big pay day.