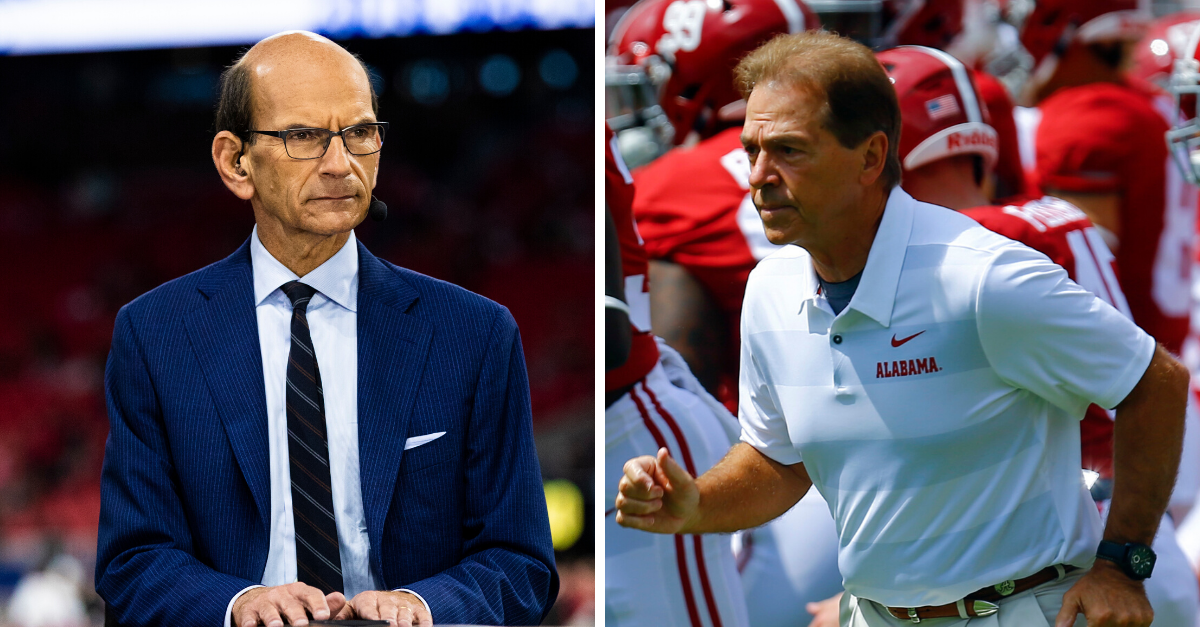 AP Photos/Ric Tapia (left), Butch Dill, File (right)
Alabama Crimson Tide head coach Nick Saban is 68 years old, and plenty of rumors over the years about when he might retire have been used in negative recruiting tactics against him and the Alabama football program. With the ongoing success in Tuscaloosa, though, it sure doesn't seem like Saban is planning on leaving any time soon.
However, iconic SEC supporter and sports columnist Paul Finebaum believes that Saban's day of retirement is coming sooner than you think.
On ESPN's Get Up, Finebaum joined host Mike Greenberg and college football insider Laura Rutledge to talk about the Crimson Tide program under Saban's guidance, and more importantly, how vital the upcoming college football season will be to the Alabama football coach's legacy.
Paul Finebaum on Nick Saban's Legacy
"I don't want this to sound blasphemous, but time is running out on Nick Saban. It's been two years since he's won a national championship, two seasons. That's a long time. He hasn't gone that long at Alabama since the early part of his career there. I think this is his best team. The season is unknown at this point.

"However, there are many other programs catching up a little bit. You can no longer make a blanket statement 'Nick Saban is going to win a bunch of national championships.' I think he needs to win one this year or that hour glass is going to be become very dangerous for him."
If Saban leads an offense in 2020 led, presumably, by quarterback Mac Jones, powered by running back Najee Harris, and a top-tier defense led by senior linebacker Dylan Moses, Finebaum believes there's no questioning Saban's place in history.
"[A seventh championship] would mean he stands alone atop of college football, and it's not debatable," Finebaum said.
Earlier this year, Finebaum picked Alabama to win the 2021 College Football Playoff National Championship.
RELATED: 6 Dark-Horse Teams to Win 2021 National Championship
This isn't Finebaum's first prediction on the end of Saban's career, either. He told SEC Country back in 2018 that he expects a retirement before the future Hall of Famer turns 70.
?I happen to believe he won?t be there significantly longer. Now, if you force me to say, ?What does that mean?? I don?t know what that means. We talked to somebody the other day, and he said, ?He?s going to be there until he?s 70.? I just don?t [believe that].

?I mean, I think he has two or three more years. I think he?d like to win another title, and I think he will. But I think there becomes a point where he looks at the situation and goes, ?Really, what else do I have to prove?? And I know it?s still fun for him, and I know he?s still energized.

?But it?s usually the little things that push coaches over the edge. With Saban, I couldn?t predict what it will be. It won?t take much for him to say, ?You know what? What do I need this for? I?m the greatest coach of all time. I?ve got six, maybe seven, national championships. Why am I doing this?? This idea that some Alabama fans [have] that he?ll just coach forever, I just don?t subscribe to.?

? Paul Finebaum, h/t SEC Country
The rumors of Saban making a return to the NFL randomly surfaced over the years, but obviously have not come to fruition. He's very unlikely to go back after his stint with the Miami Dolphins as most sane people believe he is going to finish out his career with the Crimson Tide.
I mean, why would he leave Tuscaloosa with six national championships in his pocket, plus a historically great program that's reached the College Football Playoff every year its been in existence except 2019?
Saban is the unofficial Governor of College Football, so leaving at this point in his career makes absolutely no sense. Then again, his age is becoming a factor, so maybe it'll be time for Saban to walk off into the sunset sooner than everybody thinks?