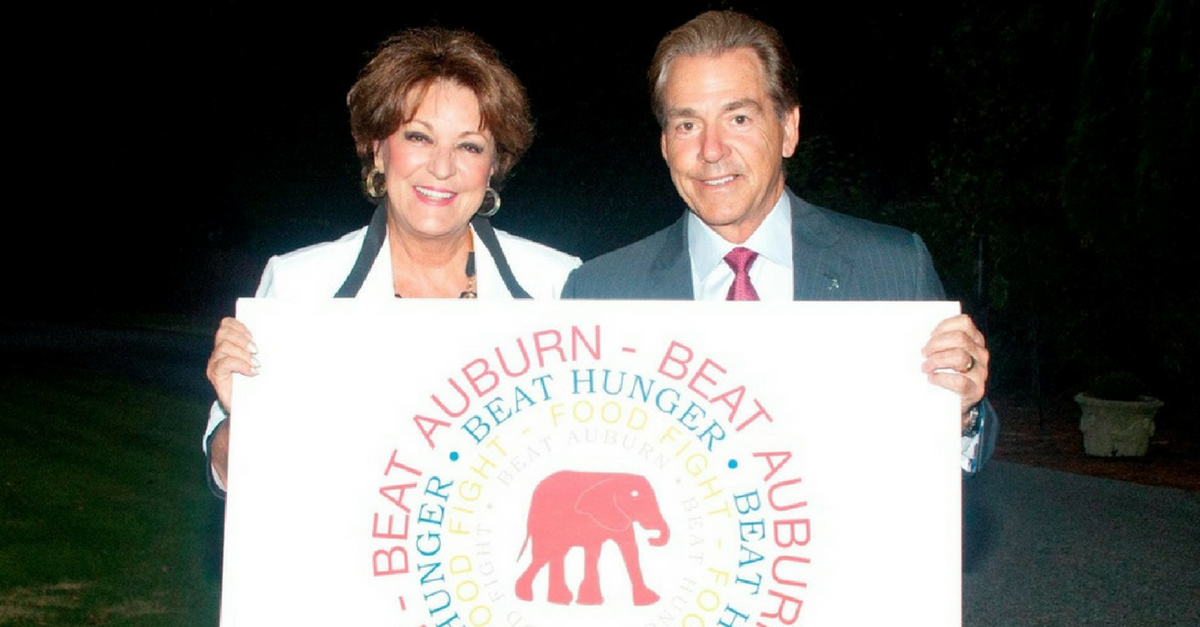 NicksKidsFoundation.org
Nick Saban's contract makes him the unofficial governor of Alabama. Saban, who is in the midst of leading potentially the greatest sports dynasty of all time, is put on a pedestal for his football acumen, but there is an incredible human being behind the stern-faced Crimson Tide leader.
Before Alabama, Saban's beginnings as an assistant football coach at Kent State (his alma mater) led he, and his wife Terry, on a trek through places like Syracuse, West Virginia, Ohio State, Michigan State and Toledo before Saban jumped to the NFL as defensive coordinator for the Cleveland Browns in 1991.
On James Andrew Miller's Origins podcast, Terry Saban told the story of getting their family's first big bonus check, and how big of heart Nick Saban really has.
"Way back when our first NFL job — I want to say we were with the Cleveland Browns, and we won our first playoff game, which gave us our first huge bonus," Saban's wife said. "In our mind, it was a huge bonus; it was probably $8,000. It was the first time we got a real chunk of money for winning some big championship. In my mind, I'm thinking, 'Ok. Pay off the Visa bill. Get a Baby Grand Piano. Go to the beach.' I'm thinking about all these wonderful things we can do with that check."
I mean, if you were handed $8,000, what would you do with it?
Temptation has to set in, especially after building a long career in football to get to this point, right?
Not for old Nick Saban. He had other plans.
Nick Saban's First Bonus Check
"And I'll never forget Nick came home, and he said, 'I think it's time we did something for your parents.' My dad was a coal miner and everything he had was the Cleveland Browns — sweatshirts and coats and hats and jackets. We arranged to pay off his mortgage on his house, which, you know, not a lot but at the time it seemed like a lot. It was one less thing they would have to worry about on a monthly basis.

"So, we did. We paid off the mortgage and got the title to the house and stuffed it in the pocket of the Cleveland Browns jacket. I'll never forget him opening that jacket and putting it on and tipping his hat and laughing, saying, 'Man, I love it.' I said, 'Check your pocket, dad.' And he reached in and saw the title to the house, and he said, 'Now, I can die in peace.'"
I'm not crying, you're crying.
This is incredible. The Alabama Crimson Tide head coach is a close-to-the-cuff type of man, and his personal side is often buried behind a wall of trophies and stats about Alabama's dominance.
But the first thing he thinks to do is help out his in-laws? There are some of us who take issue just going over to our significant other's parents to eat lunch.
This story offers a glimpse into Saban's life that is rarely seen, and it doesn't stop with a simple family donation.
RELATED: Nick's Kids Foundation Donates $560,000 to Local Organizations
Nick and Terry Saban devote a vast amount of personal resources and time to Nick's Kids Foundation, a charitable organization they founded in 1998 to help children, students and teachers reach their full potentials all over Alabama and the Southeastern United States.
One quote on the foundation's website, said by Nick Saban's father, is all you need to know about where the true character of college football's premier coach came from:
"No man stands as tall as he who stoops to help a child."
Nick Saban is arguably the greatest football coach who ever lived. He might also be one of the greatest men to ever give back to the people who need it most.
You can listen to the full Origins podcast below:
This article was originally published August 9, 2018.