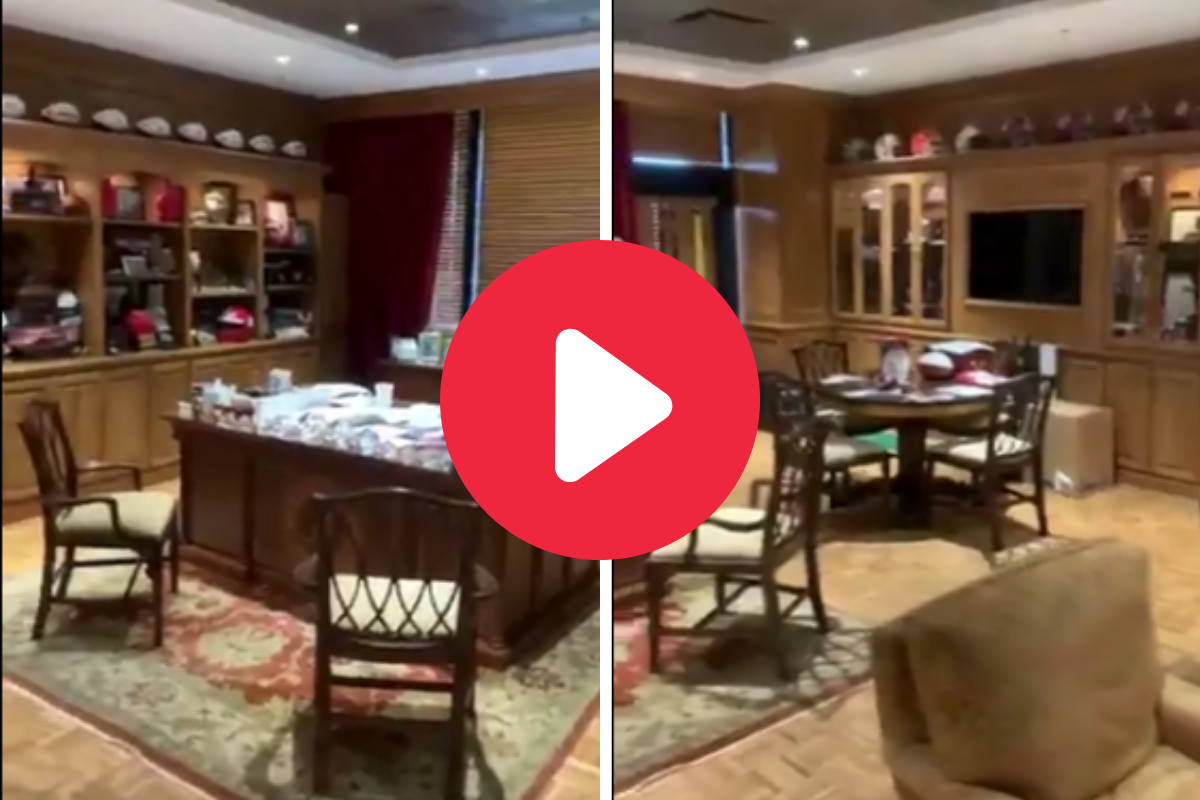 Screenshot from Twitter
A college football coach's office is a sacred place. It's where he can go to get away from it all and relish in past accomplishments while planning for the future.
It's a place where he can devise a game plan in rare solitude. It's a place where he can meet with assistant coaches and recruits.
A multipurpose room of this magnitude needs to be decked out, and if you're a college football legend such as University of Alabama head coach Nick Saban, your office should reflect it.
Nick Saban's Office at Alabama
RELATED: Nick Saban?s Response to Jimbo Fisher?s Trash Talk Cracked Everyone Up
A sneak peek into his office was given to us on Twitter by offensive line coach Clayton Sylve, who was on a trip to Tuscaloosa with some kids. Alabama fans can (virtually) step into Saban's office in the video.
If Saban's office was an apartment in New York City, it would go for at least $2,000 per month. It has all the essentials: a desk, a living area, a poker table for the guys and two walls decorated with memorabilia.
This place screams business. The sitting area is a great place to practice his living room pitch. As if he needs any more appeal, he places his national championship rings on the table to show potential Alabama Crimson Tide players their future jewelry. It feels cozy yet also like you could ink million-dollar deals.
We move onto the "dining" area which I'm referring to as the board room/poker spot. We have a round table accompanied by a huge entertainment center/trophy case. There's a TV in the middle to watch film or, if the boys are sitting down for a weekly poker game, to throw on a classic comedy like "Back to School" on in the background.
The focal point of the office is a gigantic desk where the king himself conducts business. Judging from the video, the desk and leather chair exude a power reserved only for someone like Saban. Anyone else who tries to sit there is a fraud.
All in all, this is the kind of office you want your college football coach to aspire for. It's equivalent to a corner office with an amazing view.
The Alabama football coach handles most of his business out on the field, but it's awesome knowing he has an office built for a Forbes 500 executive if he ever wants to cool off from the hot Tuscaloosa sun.