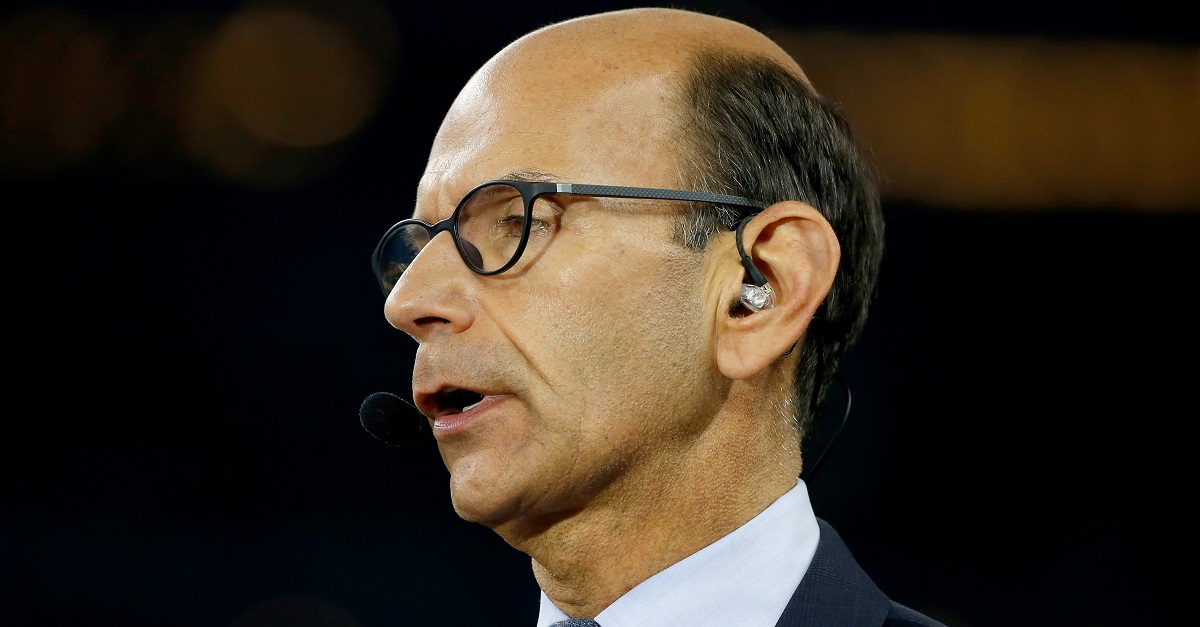 Scott Halleran/Getty Images
Paul Finebaum never pulls punches. When the outspoken radio host and Southeastern Conference stalwart turns on his microphone, everyone is listening. The 64-year-old University of Tennessee graduate joined ESPN in 2013, and he became the SEC Network's first on-air personality when he brought The Paul Finebaum Show to ESPN Radio airwaves in 2014.
Few know college football in the South like Finebaum. He heralded Dabo Swinney's Clemson Tigers as the top team in America in 2019, but Finebaum is back to his SEC-loving ways with his predictions for the 2020 campaign.
Joining ESPN's Get Up! with host Mike Greenberg, and fellow ESPN analyst Laura Rutledge, Finebaum was asked about his predictions for the upcoming season.
When it came to his Heisman Trophy winner, he answered with the presumptive No. 1 overall pick in the 2021 NFL Draft.
"I like Trevor Lawrence," Finebaum said. "He was the favorite last year, Greenie. He struggled, he tried too hard to be Tom Brady and Peyton Manning and Russell Wilson all wrapped into one, and when he finally calmed down, he got them in a rhythm."
Lawrence and Clemson ran into the LSU Tigers' buzzsaw in the championship game of the 2020 College Football Playoff, but they're among the favorites once again this year.
Time for the big question: who does Finebaum think will win it all this year?
Paul Finebaum Predicts Alabama as 2020 National Champion
"I don't want to shock you here Greenie, but I'm going with Alabama, and I'm going with Alabama for a specific reason. It has been two years, two long years since they won a championship. Nick Saban probably will find his team ranked No. 3 in the preseason behind Ohio State and Clemson. They've got an ax to grind and that can be very dangerous.

"And one more thing, I think Saban has taken advantage of the offseason while other coaches have been wondering, 'What am I supposed to be doing right now?'"

? Paul Finebaum, via ESPN's Get Up
RELATED: Nick Saban Names His Favorite Win at Alabama Head Coach
Alabama's 2020 schedule has the Crimson Tide facing the USC Trojans on opening weekend, but that game could be changed as plans formulate amidst the coronavirus pandemic. Nick Saban's football team also hosts SEC rival Georgia for a home game in Tuscaloosa, and Kirby Smart's SEC powerhouse is the only team Finebaum believes offers Alabama a challenge.
As for Rutledge, her SEC dark-horse team is the Florida Gators and head coach Dan Mullen. (Laura and I must drink the same Kool-Aid.) She went on to predict that Ohio State quarterback Justin Fields, not Lawrence, would win the Heisman Trophy.
"I think that's going to have to do more with the type of games and the type of competition that Ohio State is going to have," Rutledge said.
Clemson's schedule, if you haven't seen it, is doo-doo.
I can't wait for college football to begin. We're entering a stretch when sports will never be like this ever again, and it's something we should all rally around. We're in this together, and no matter who you're rooting for this college football season, do not take these games, rivalries, players and moments for granted.
You never know when they could be taken away.